Small Farmhouse Pantry Organization: Overhaul Time!
Why the Pantry?
The pantry is one of those spots in a home that gets zero glory. When it's a mess it becomes a roadblock to your morning, making you run late to work or to dropping the kids at school. You come home at the end of a long day and it's time to make dinner. One look inside the jumble of spaghetti sauce, salsa, and expired spices and honestly, it's just easier to order something in than fight through your jungle pantry for ingredients. And we all keep living this way!
Maybe it's because you can shut the door on the mess that nothing ever changes. But with a little intentional thought, a reasonable amount of organization, and a few hours of elbow grease, you can actually love your pantry. After you overhaul your own kitchen command center you'll be out the door double quick, excited to try new recipes for dinner, and smiling every time you open that door. Read on to find out more about small pantry organization with a shot of farmhouse style!
Our Tiny Pantry
Judgement Free Zone, y'all!! And I'm saying this to myself, too! These photos are terrifying proof that a closed door is permission to procrastinate. You can see the catastrophes waiting to happen… I may or may not have had tortilla chips rain down on my head while searching for black beans. And you should never stub your toes in a pantry. Ridiculous.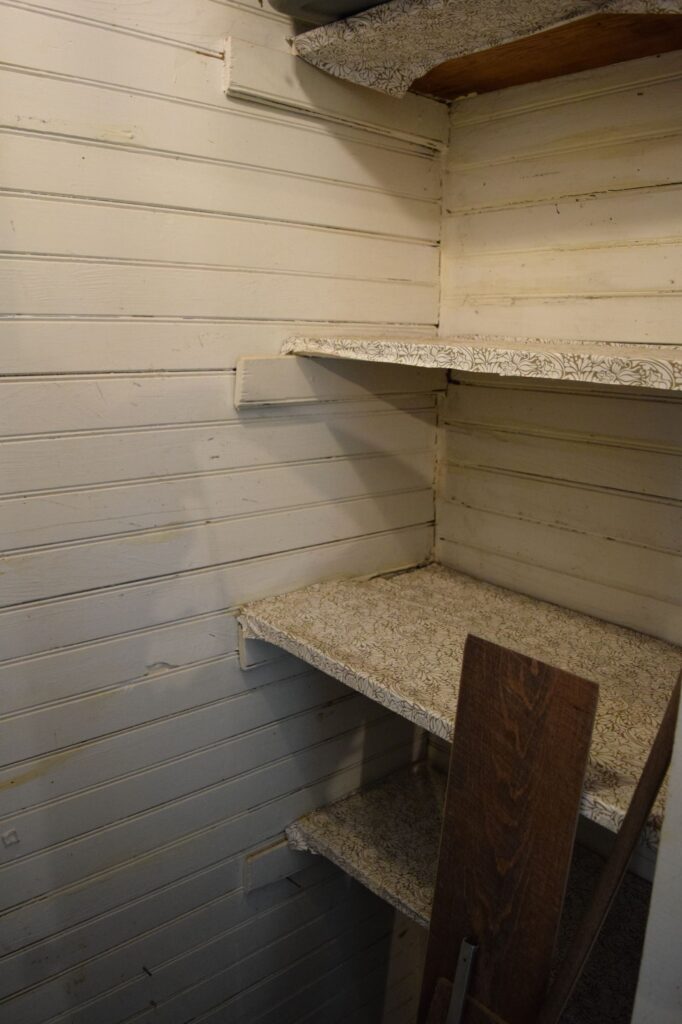 Everything was taken out and sorted, old food tossed (so much waste when your mess keeps you from seeing all the food you have!), and the renovation portion of the project began.
Shelves were removed, the walls got a fresh coat of white paint, and new light wood shelving was installed. A low-maintenance cement tile floor was added, as well. Here's the finished pantry!!
The Big Reveal (cue farmhouse vibes)
After a fun and fairly painless process, our cozy pantry is now one of my favorite spots in the house!! I love the clean look of black and white with bamboo or any natural wood. Personally, I prefer as many foods decanted into glass as possible. This is my own quirk but I don't like the visual clutter of too much product packaging. A little is no big deal though, especially if like is with like.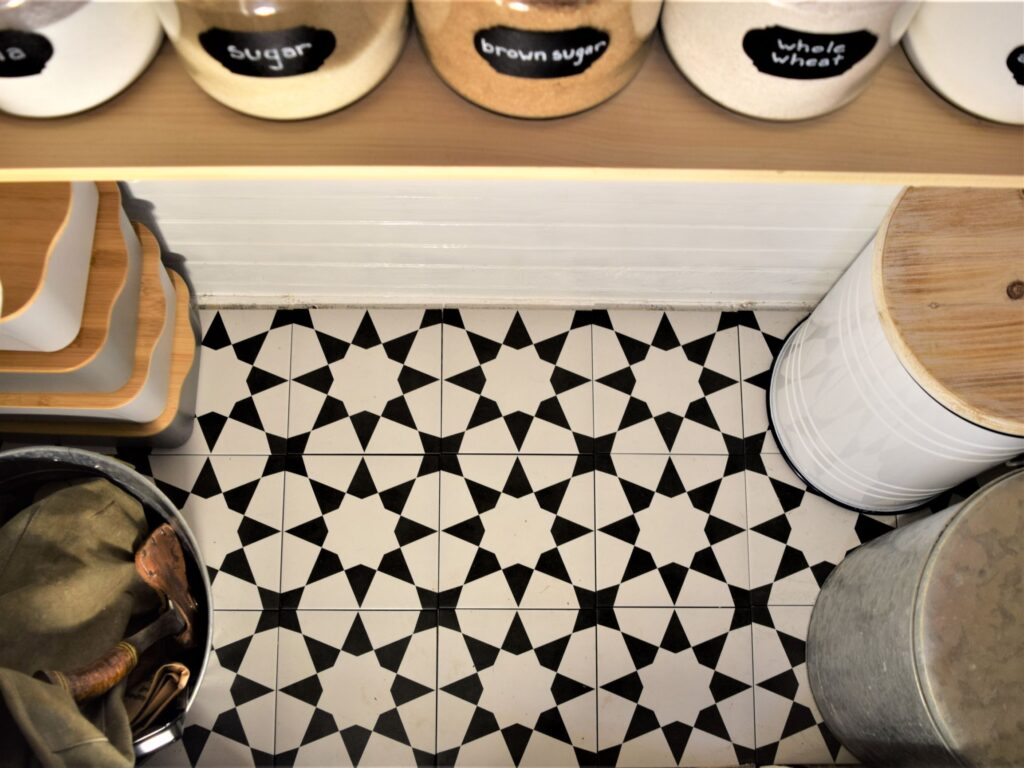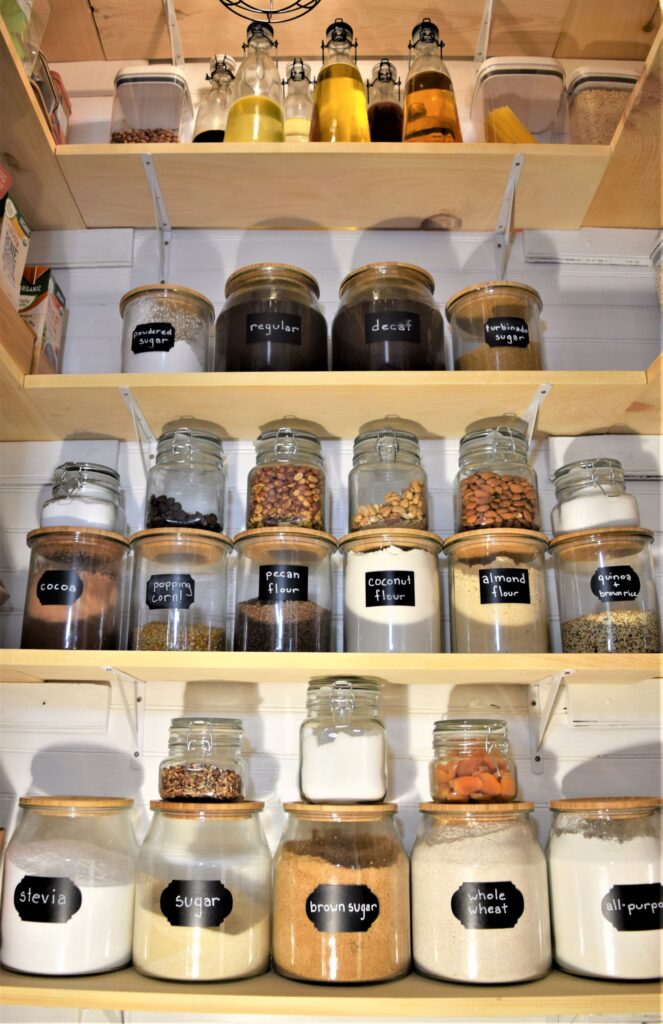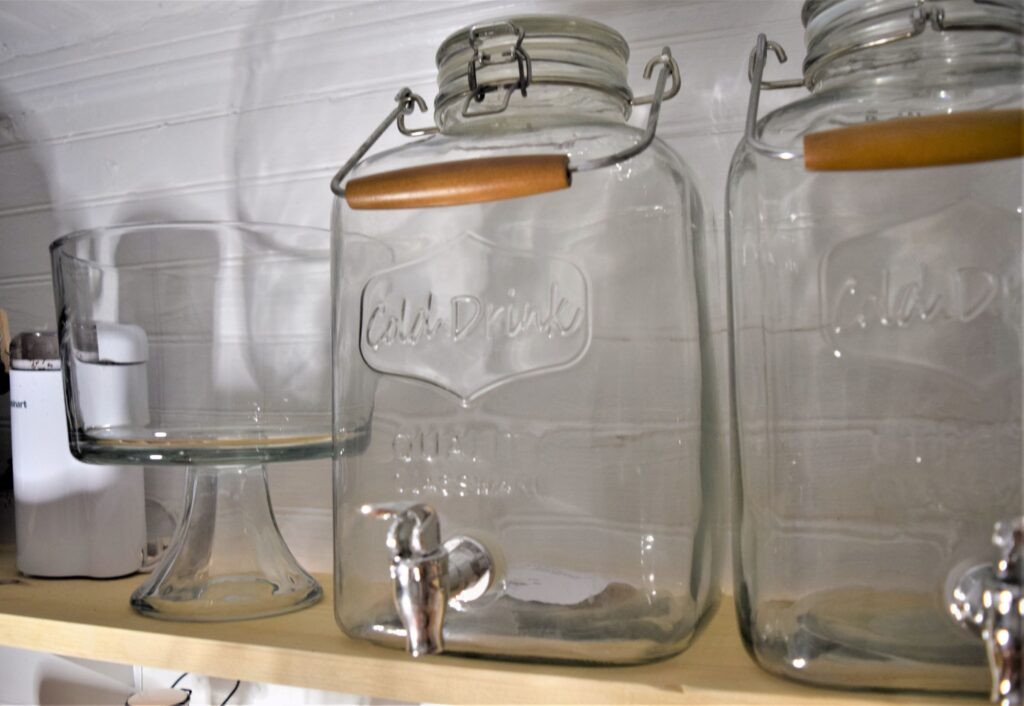 Is your pantry tiny like mine?
Don't be afraid of small. It just means efficiency is that much more important. Any pantry, no matter the square footage, feels tight when there's food overflowing from every nook and cranny. For a pantry of any size, organization and intention reign supreme. Spending the time to figure out how your family runs and then organizing accordingly is the secret to a pantry overhaul that lasts. Organization that fits how you actually live is top priority in remodeling the pantry. Here's how to do that.
Small Space Organizing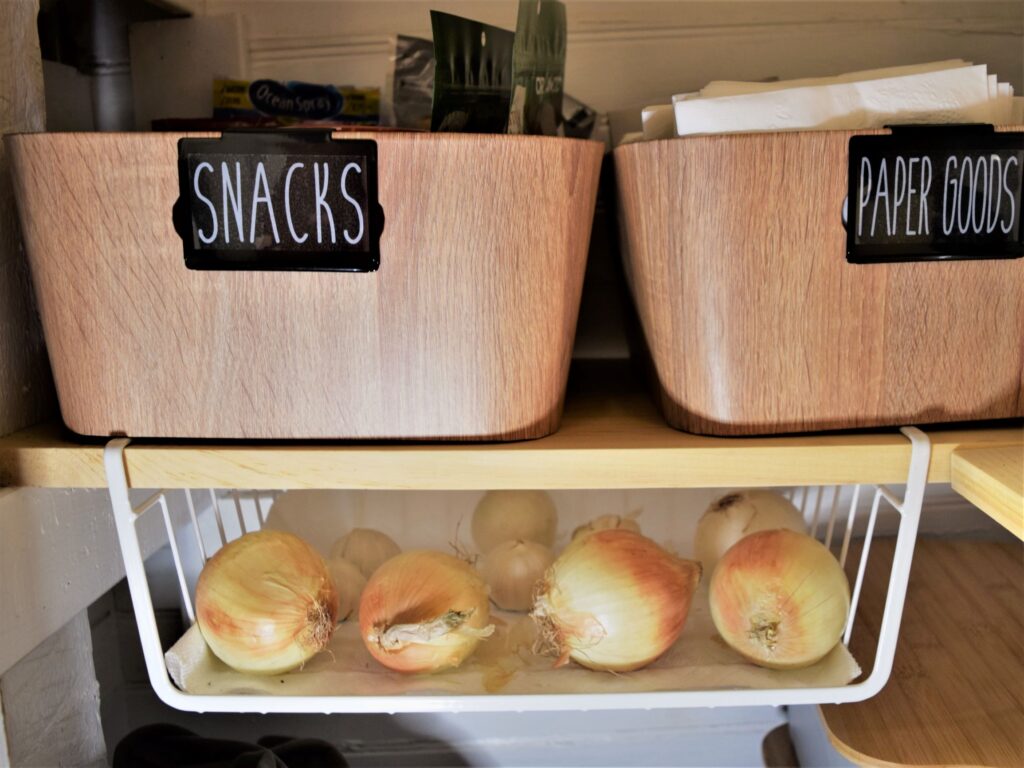 Step 1: Take Everything Out
This is where you assess what your pantry is storing versus what you're actually using. Sort the contents of your pantry into two groups; Using Regularly and Using Rarely. (Many pantries are also a dumping ground for small appliances, baking supplies, etc. Sort these items, too.) Toss any expired food, obviously. Donate items you never eat to your local church or food bank. The goal here is too reduce the stuff going back into your pantry to 80% capacity. You need margin to be able to maintain your organization.
Step 2: Assess Storage Needs
Grab a pen + paper (I also have a Pantry Edit Project Planner PDF on Etsy if you like that sort of thing) and get listing, sketching layouts, and figuring out what you and your family need from your pantry.
Ask yourself questions like:
Would meal planning simplify my life? If you have space for a daily dinner bin you could keep ingredients for each meal together!
What foods do we really eat most often? Is there a ton of space allotted to bottled water but you're always running out of brownie mix? Mm-hmm, I see you, friend. Time to get honest and give your real needs some space!
Am I forgetting to take my supplements because I don't see them? A lazy susan at eye level will keep your health front and center.
Do the kids need easier access to snacks? As your kids get older separate snack bins on a lower shelf might help them be more independent. Personal snack bins are also great if there are food allergies in the family!
Do we eat the same breakfast items every day? Maybe a designated breakfast bin would serve you! The morning is so much faster when you can grab one container and have everything you need at your fingertips.
What food traditions do we love? Maybe your family always has Friday Movie Night with popcorn. Keep the popping corn, salt, flavorings, and oil all together. Or maybe you're known for your amazing cake baking skills. You could keep all the ingredients of your Secret Recipe Red Velvet in one bin to save time. Whatever your habits, it's time to take notice and make this pantry fit you perfectly!
Get specific about the size and quantity of bins/shelves/can dispensers you'll need to hold your food. Make sure you measure your space! Don't forget to measure the depth of your shelving. Style also comes into play here. Again, be specific! Do you prefer the look of glass canisters? Or would plastic be more practical for your kids?
Step 3: Purchase Storage Needs
This one is obvious: go shopping. Because you're now armed with a list of your actual organizational needs, this won't be a terribly expensive trip. Don't buy everything that catches your eye. Stick to the list.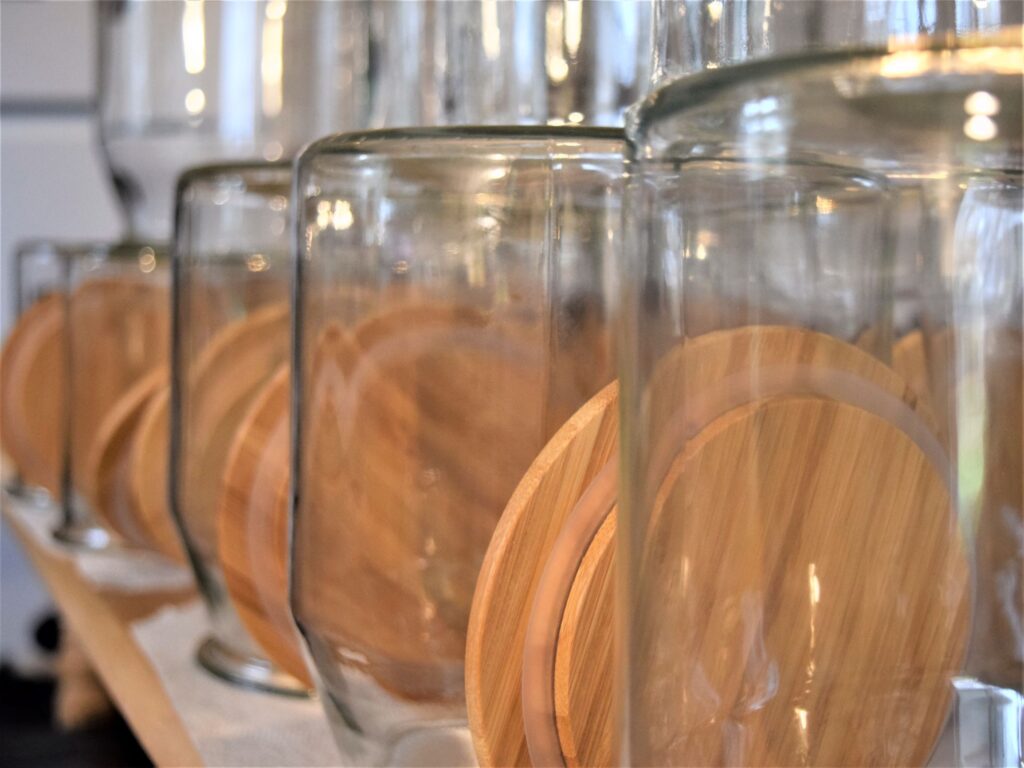 Step 4: Demo + Reno
Now is the time to remove or add shelving, paint the walls, or add lighting. And also to inject some fun personality into your space! Maybe a turquoise door would make you smile! Or try a floral wallpaper! The pantry is a small area so it's no big deal to take a risk here. You just might love it!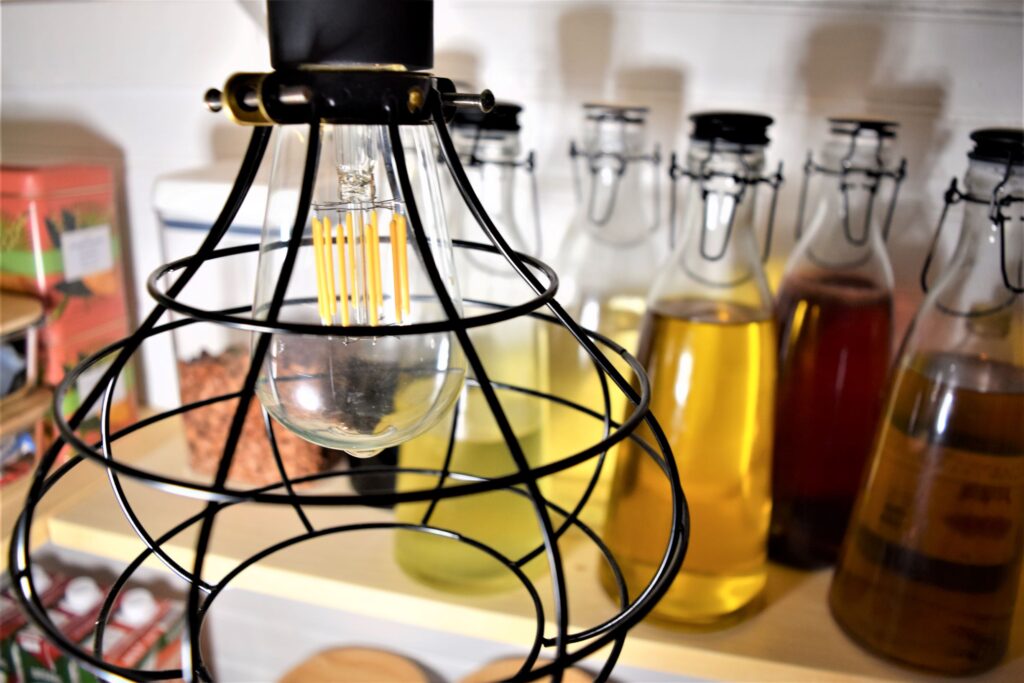 Step 5: Reassemble Your Pantry and Enjoy Your Extra Time!
You're so close! Labels? Check. Canisters? Check. Bins? Check. Ok, you got this. Turn on a playlist that energizes you and take an afternoon to get the nuts and bolts of this overhaul in place. This process takes a little experimentation to get right. Trust your plan but also be flexible! Rearrange and play until your layout suits you! Remember to only fill the pantry to 80%. Keeping the space from being maxed out keeps your organization intact. This way, you'll have room for extra holiday baking ingredients or back stock from a great sale. Margin is key for organization that sticks!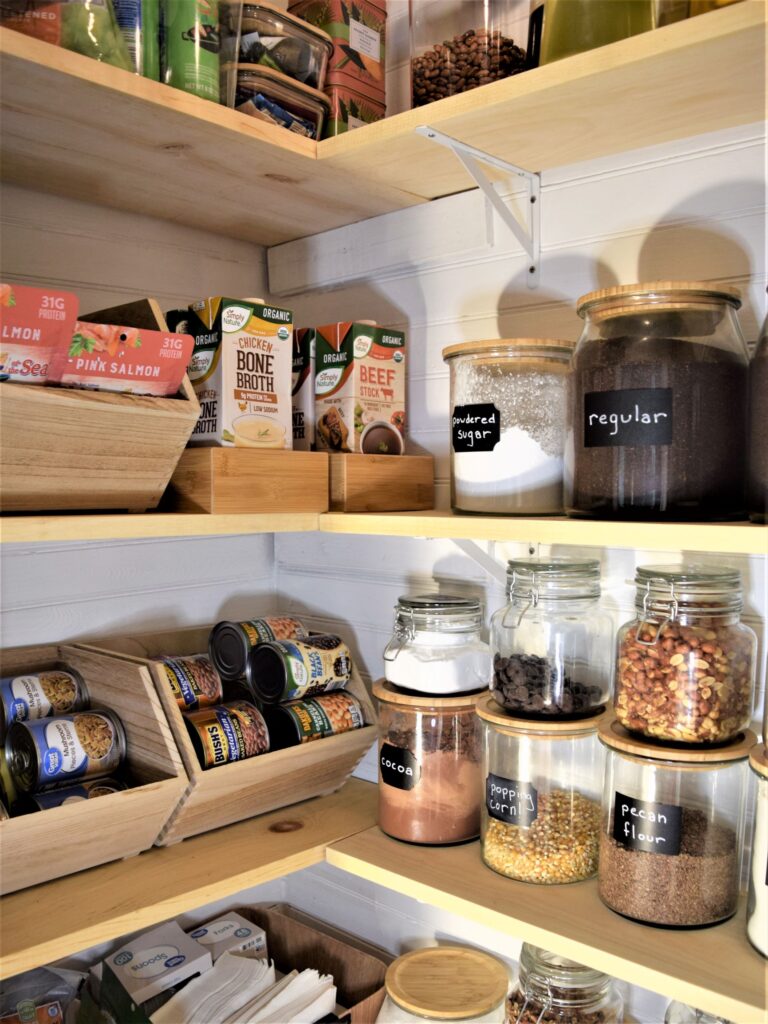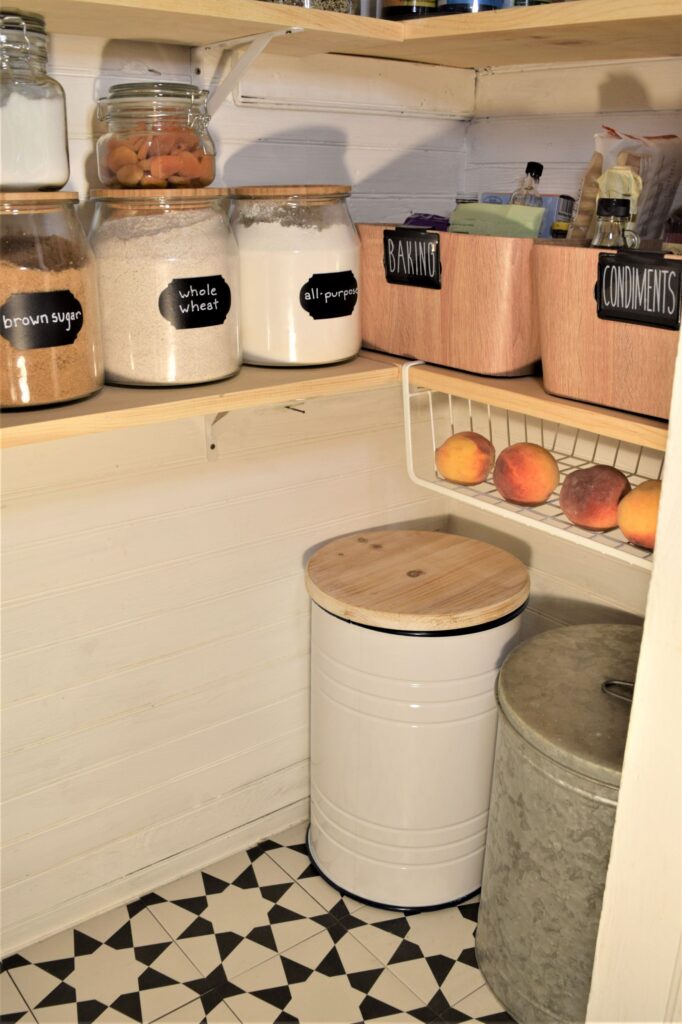 I'm so excited about your pantry project and for the peaceful efficiency you're about to experience every time you open that pantry door! Let me know how it goes! If you'd like to read about another DIY farmhouse project check out my Foyer Renovation post!
Project Resources for Small Farmhouse Pantry Organization:
Large Glass Jars from Ikea
Medium Glass Jars from Ikea
Small Bale Wire Glass Jars from Amazon
Wooden Dispenser Bins from Target
Bamboo-look Bins from Amazon
Lidded Storage Barrels from Amazon
Bamboo Lidded Plastic Storage Bins from Amazon
Chalkboard Labels from Amazon
Wire Light Fixture Cage from Amazon
8 x 8 Cement Tile from Lowe's (similar)
*This post may contain affiliate links. This is not a sponsored post. Small farmhouse pantry organization.
small farmhouse pantry organization small farmhouse pantry organization small farmhouse pantry organization small farmhouse pantry organization small farmhouse pantry organization