A Raspberry Skillet Cobbler Fresh from the Garden
What to do with a bumper crop of the juiciest produce of summer? It's time to break out the cast iron skillet of course!
The Raspberry Patch
Our tangle of a berry patch started only two seasons ago from two cane sprouts my mom gave me. I can't believe how much it's grown and how much fruit we're harvesting! I always thought raspberries were hard to grow (Probably because they're so expensive at the grocery store) but this has been the easiest fruit or veg we've ever grown in our garden! Almost zero work!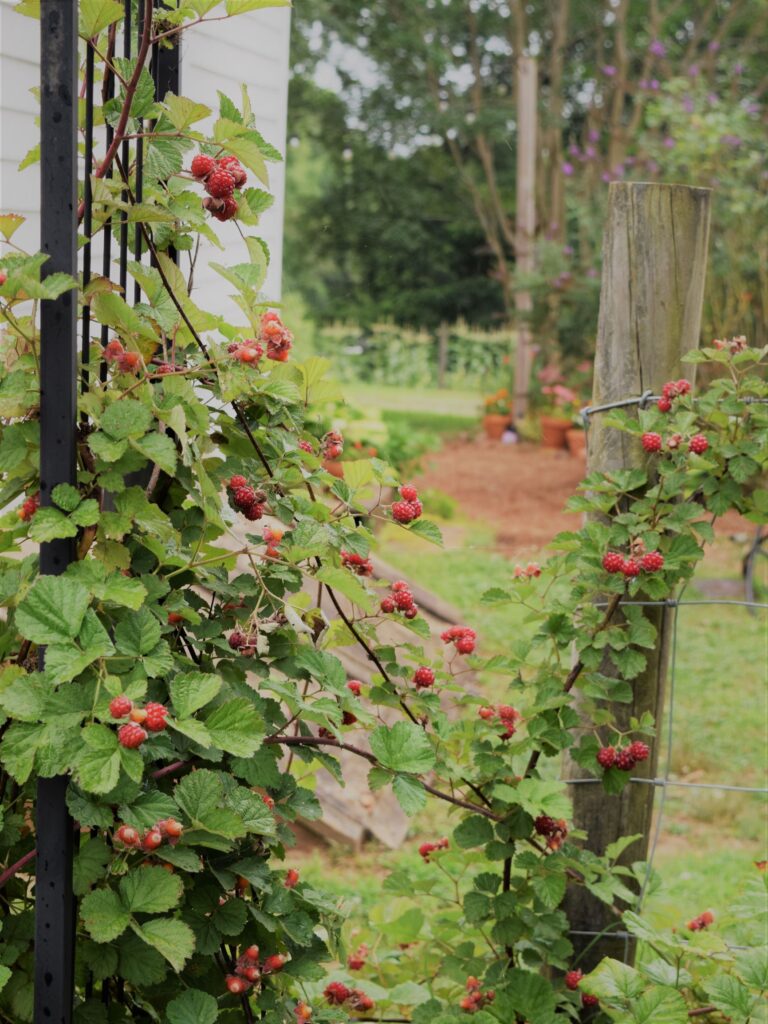 Now I love me some pass-along plants. Partly because they're free. (Yay! And thanks, Mom!) But mostly because of the connection you maintain with the person who passed it along to you.
Knowing you're growing a child-plant from the garden of someone you love is so meaningful! A story element is layered into all your work and provides a extra kind of sustenance. One that goes beyond the nourishment of freshly picked berries.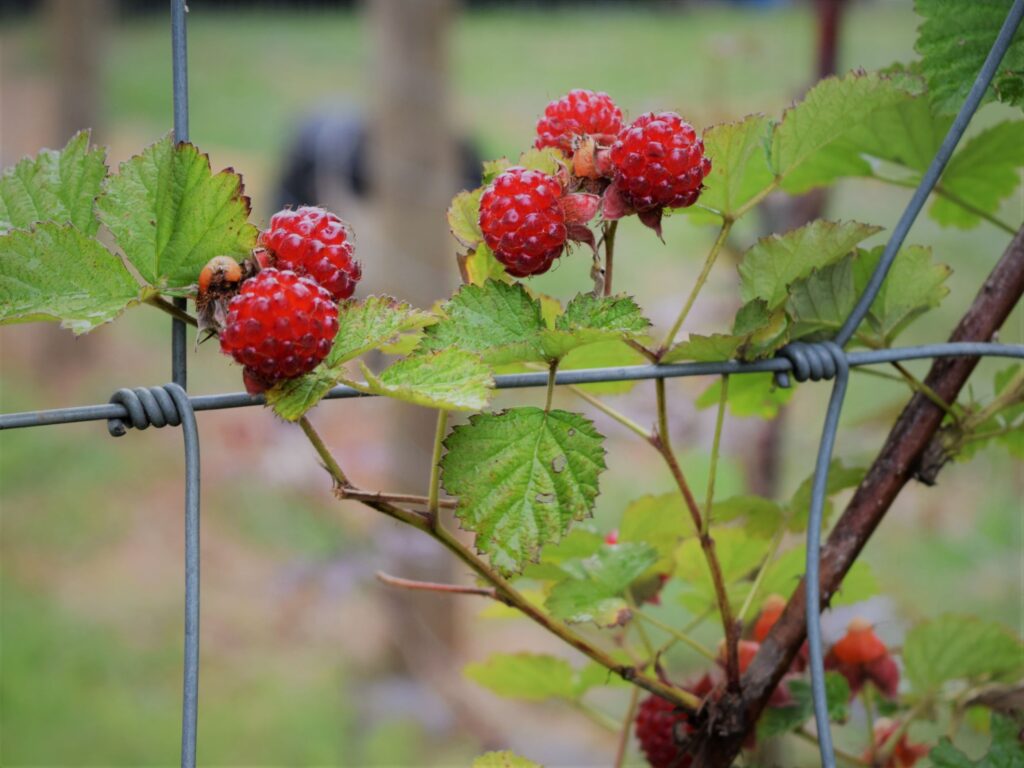 The canes have grown so abundantly this year that some ventured through the fence into our girls' play yard! (And by girls I mean our doggie-girls) The pups have learned to sniff through the leaves and pluck berries, and now love to graze along the fence line as the fruit ripens in the sun. It's so cute! Obviously I don't pick from their side of the fence! 🙂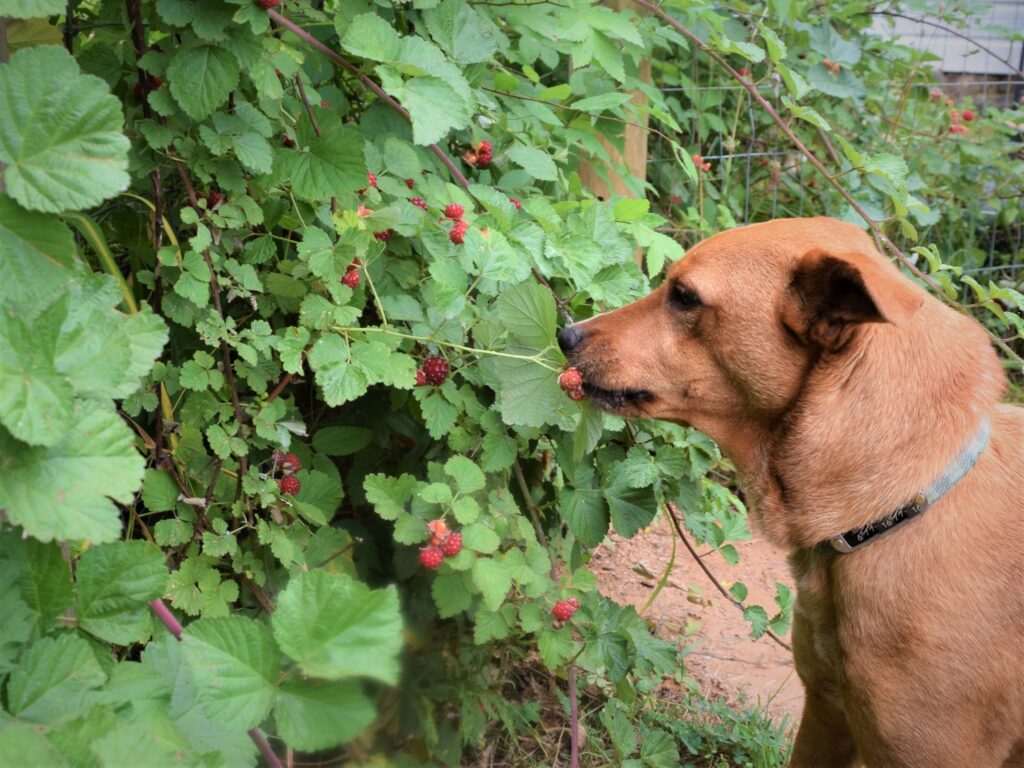 What You Need for Your Own Skillet Cobbler
I picked a little colander full of bright red berries for this cobbler, 24 ounces to be exact. If you have a larger amount of fruit to bake with, don't hesitate to scale up the sugar and cornstarch and make more filling.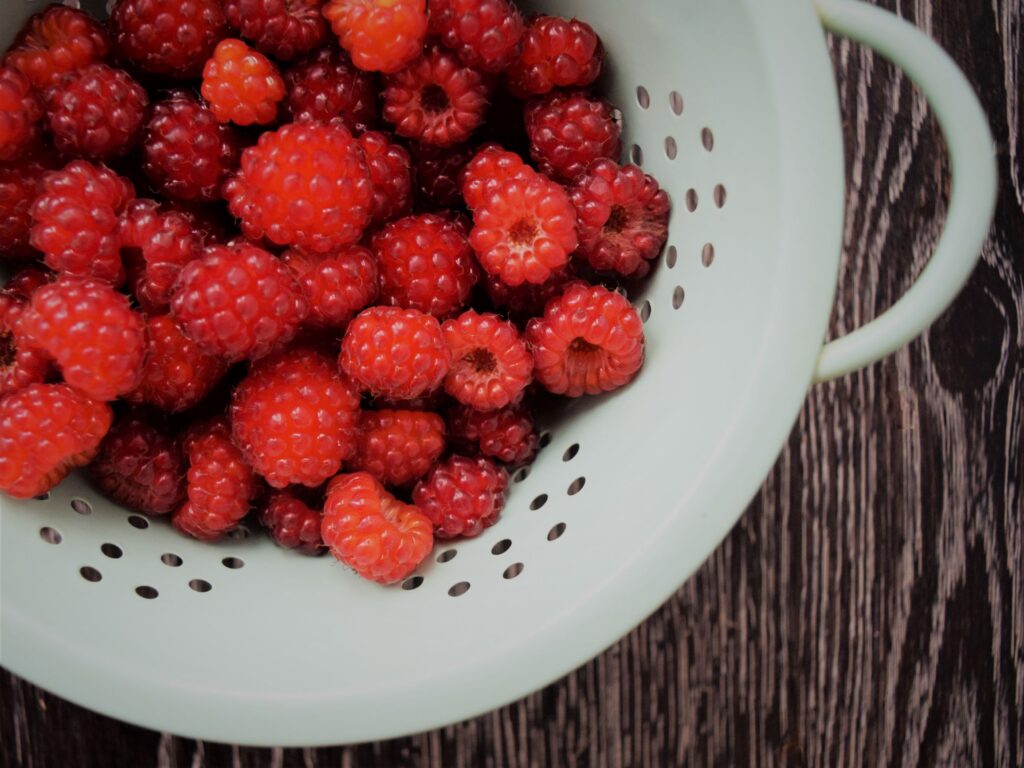 A hefty skillet is pretty much begging for a huge, bubbling cobbler, so don't be shy! This recipe makes plenty of crust, too, so the ratio of The Perfect Bite will remain untainted.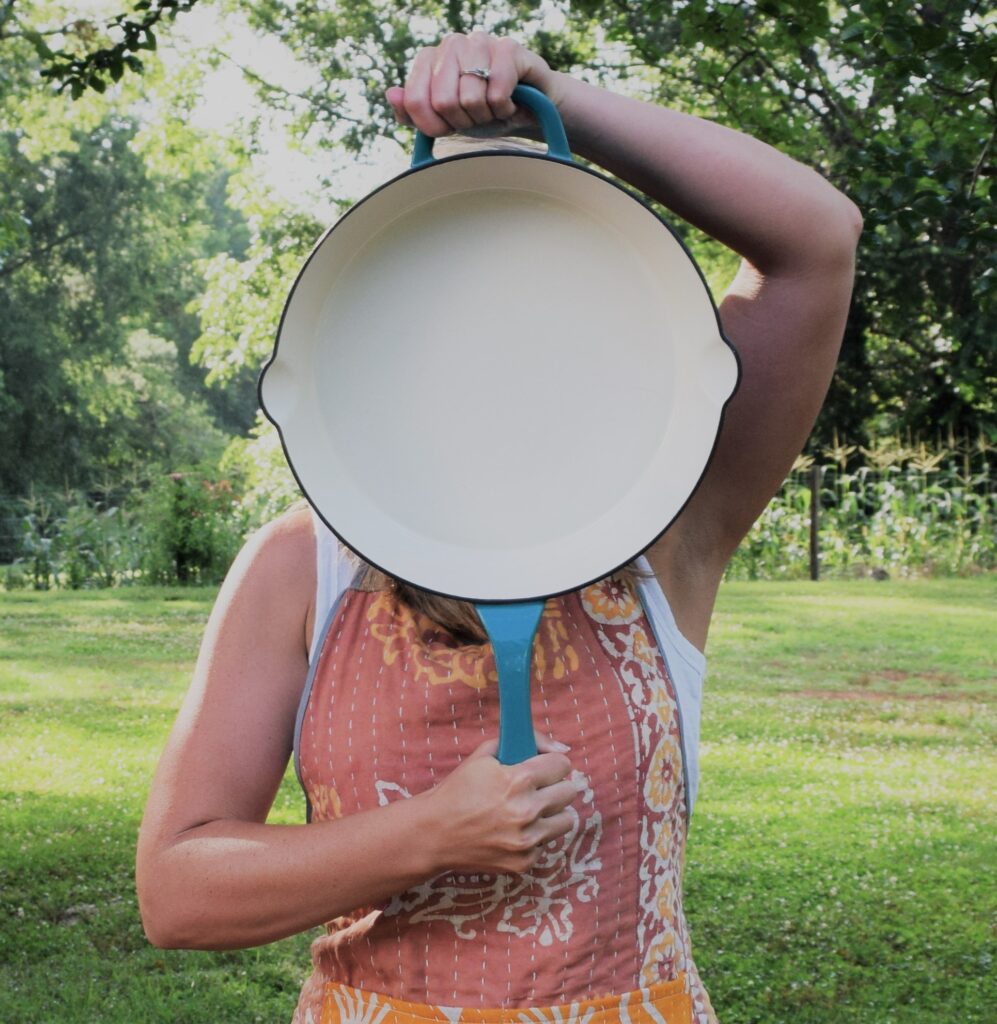 This enameled teal beauty is the cast iron skillet I use for my bright, juicy cobbler. It's the perfect size, and the deep teal color plays gorgeously with the rich jewel tone of the berries. I loved looking at the finished product as much as eating it!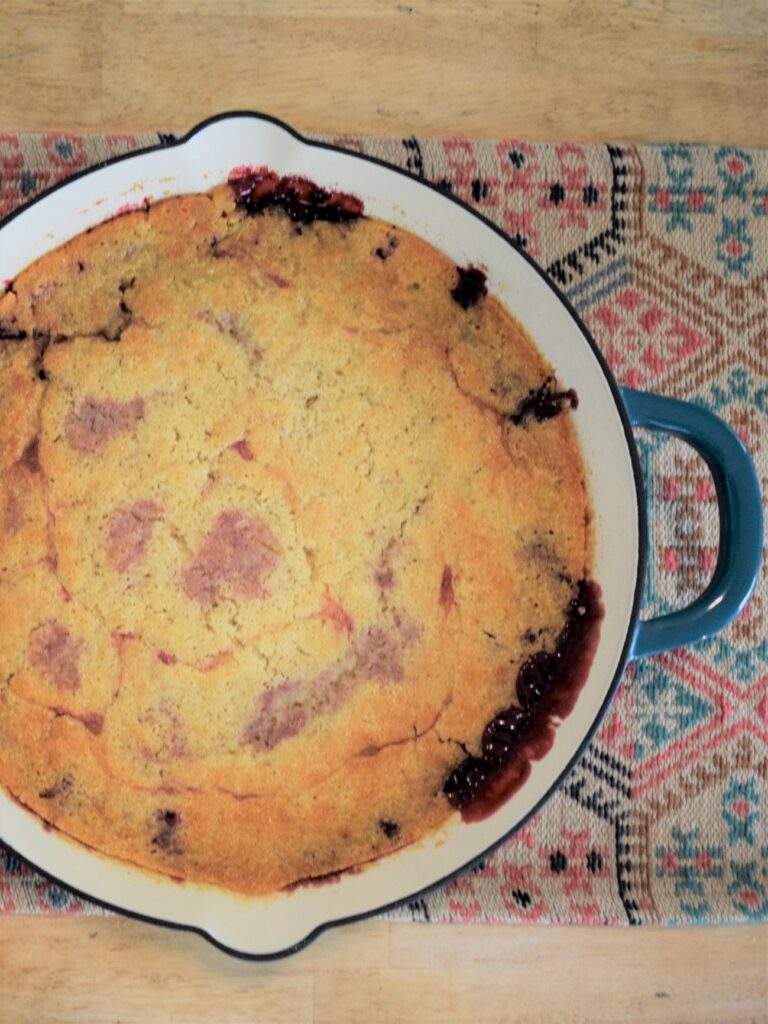 Make this easy summer classic and enjoy a juicy bite of summer! For more hot-weather desserts try my Peach Almond Tiramisu or Perfect Key Lime Pie!
Ooo, and why not try it with blackberries or peaches? Let me know in the comments what fruit you experimented with!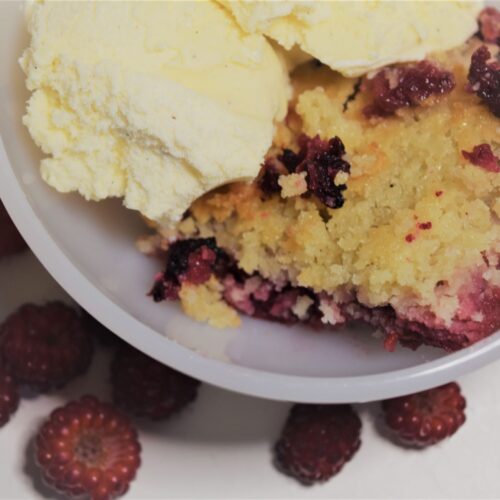 Raspberry Skillet Cobbler
A mouthwatering celebration of Summer. Simple, down-home deliciousness.
Equipment
12 inch Cast Iron Skillet
Ingredients
24

oz

Fresh Raspberries

(frozen, thawed is great, too!)

2 1/2

Tbsp

Cornstarch

1 1/2

tsp

Lemon Juice, fresh

1 1/2

cup

Granulated Sugar, divided

1/2

cup

Unsalted Butter, melted

1 1/3

cup

All Purpose Flour

1

cup

Buttermilk

(whole milk can be substituted)

1

Egg, large

1 1/2

tsp

Vanilla Extract

1/2

tsp

Almond Extract

2

tsp

Baking Powder

1/2

tsp

Sea Salt

1/4

cup

Turbinado Sugar
Instructions
Preheat oven to 350 degrees.

In medium mixing bowl, mix berries with 1/2 cup sugar, cornstarch and lemon juice until cornstarch dissolves.

In separate bowl, whisk together flour, 1 cup of sugar, salt, baking powder, buttermilk, egg, and extracts until just combined and no lumps remain.

Add melted butter to 12 inch cast iron skillet and swirl to coat bottom and sides. Immediately pour batter into skillet.

Dollop fruit over batter with a spoon and then sprinkle turbinado sugar on top.

Bake for 40-50 minutes, or until puffed and golden brown. Don't be afraid of a rich color on top. This means flavor!!

Serve warm with vanilla ice cream or whipped cream.
*This post may contain affiliate links. All items mentioned in this post were bought with my own money because I love them. This is not a sponsored post.