How to Grow a Cottage Garden in the South
A cottage garden is the undeniable epitome of a warm welcome.
Tall stems with heavy flower heads casually wave hello. Fireworks of cheerful color. Bees and butterflies keeping it lively. There's plenty to draw you in!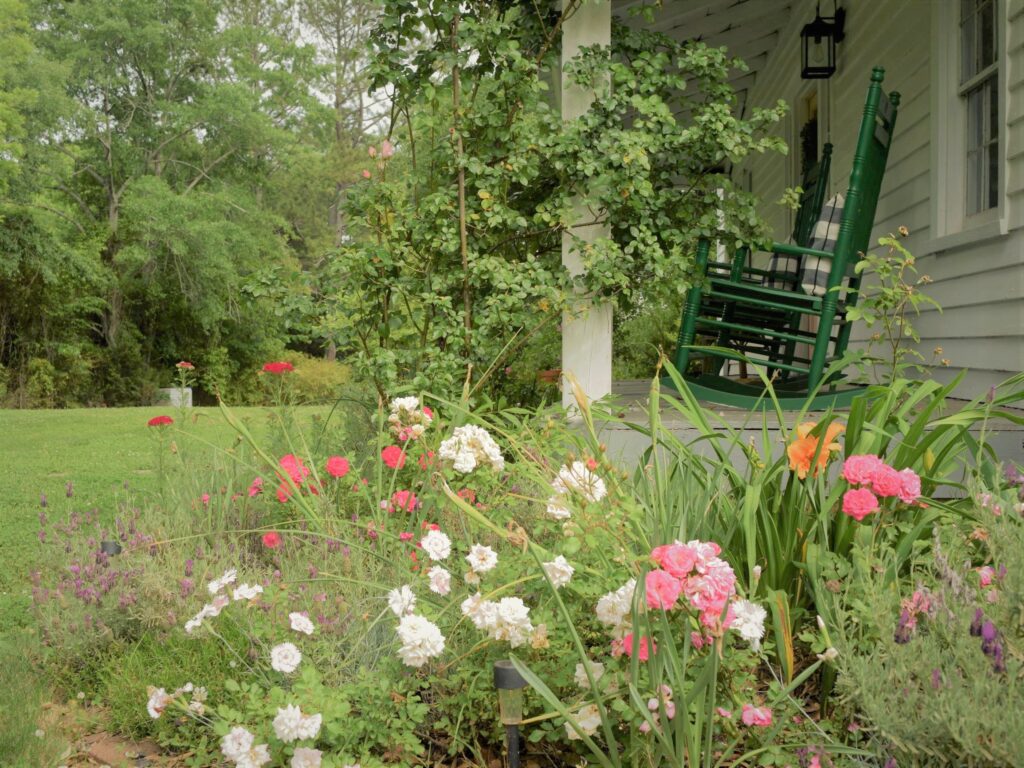 As the garden equivalent of a casserole, the cottage aesthetic completely jives with southern sensibilities. But you know as well as I do that the traditional English plants that make the look work just can't handle our scorching summers.
So how do you grow a cottage garden in the South?
Easy. Here are the three things you need to do to get the cottage garden you're dreaming of!

1- Roses Everywhere.
Climbers, ramblers, shrub roses, ground covers, all of them. This should be the foundation shrub of any area you want to have cottage garden vibes. A climbing rose up a porch post or around a window looks like a fairytale!! David Austin has wonderful recommendations for English style roses that grow disease-free in our hot, humid summers, as well as great info on how to keep them happy here. I've had great luck with their James Galway, Graham Thomas, The Generous Gardener, and A Shropshire Lad varieties.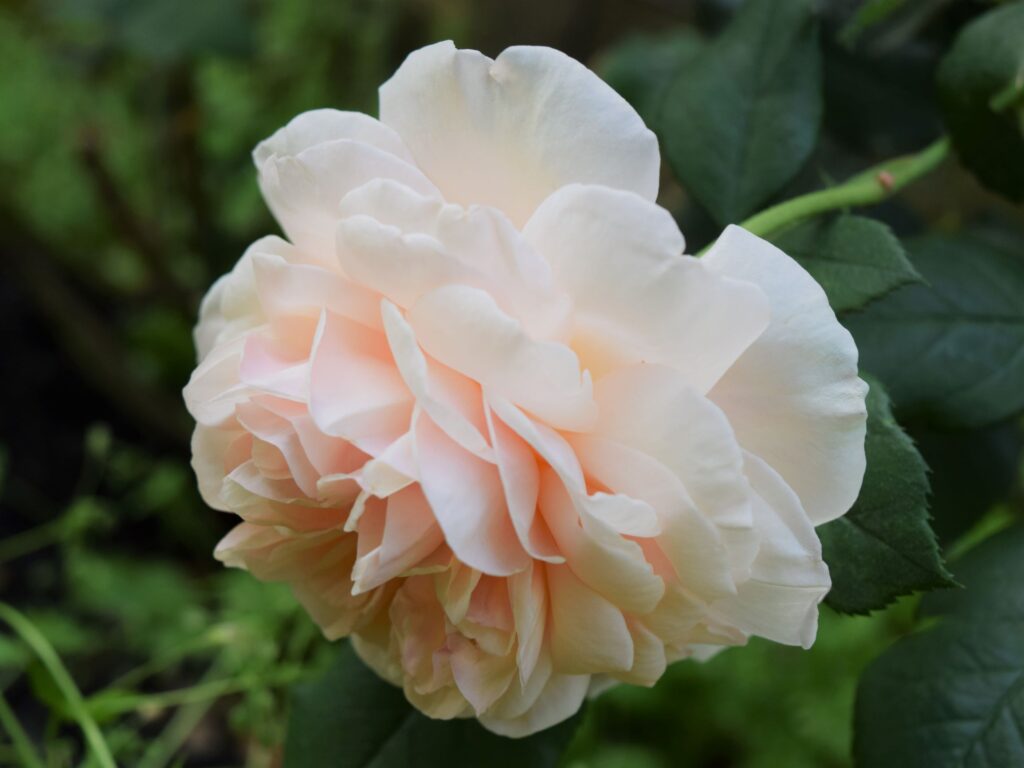 2- The Tall Mixed Bed.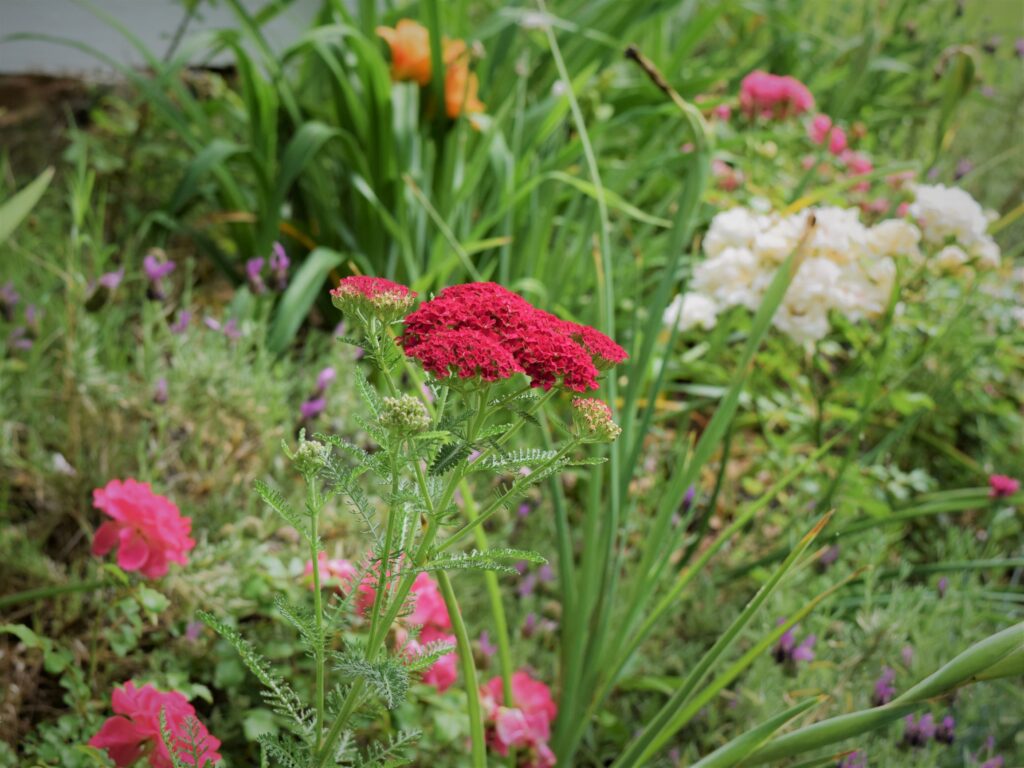 The cottage garden all about spires for height and blowsy, loose perennials. Instead of foxgloves and delphinium, I find that gladiolus and bearded iris work well in Southern gardens. Even hostas bloom on a tall stalk, lending height where needed.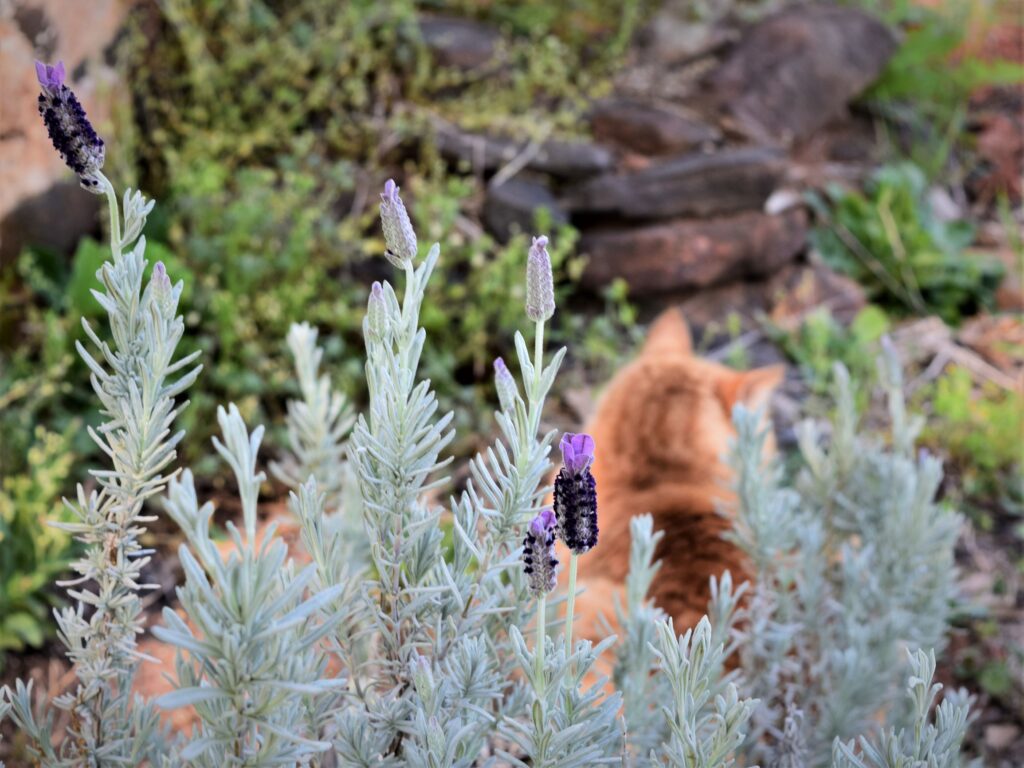 Lavender is a cornerstone in the cottage-style flower bed. Although English lavender fries in our summer, Spanish lavender (rabbit ear) thrives in humidity.
I throw multi-color, multi-height perennials at every bed and I plant them thick. Natural drifts (not rows) of Coneflower, Yarrow, Daylilies, Sweet William, Lantana and Bee Balm all give that relaxed, lush look. And I fill in with annuals as the summer comes on. (Think zinnias, snapdragons, geraniums.) A few containers splashed throughout your beds also add to the friendly atmosphere.
3- Hardscapes.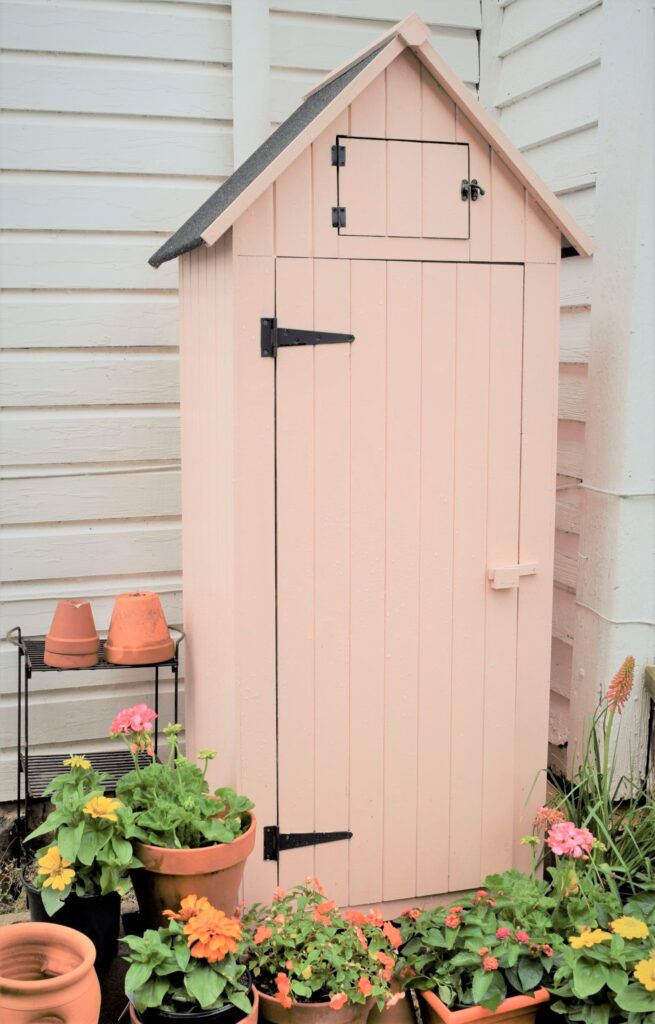 And here's where my little pink shed comes in. In addition to stone walls and brick paths, little elements that bring a whimsical touch to your garden year round are a worthwhile investment. (My definition of "hardscapes" is admittedly loose, but anything that is not planted goes in this category.)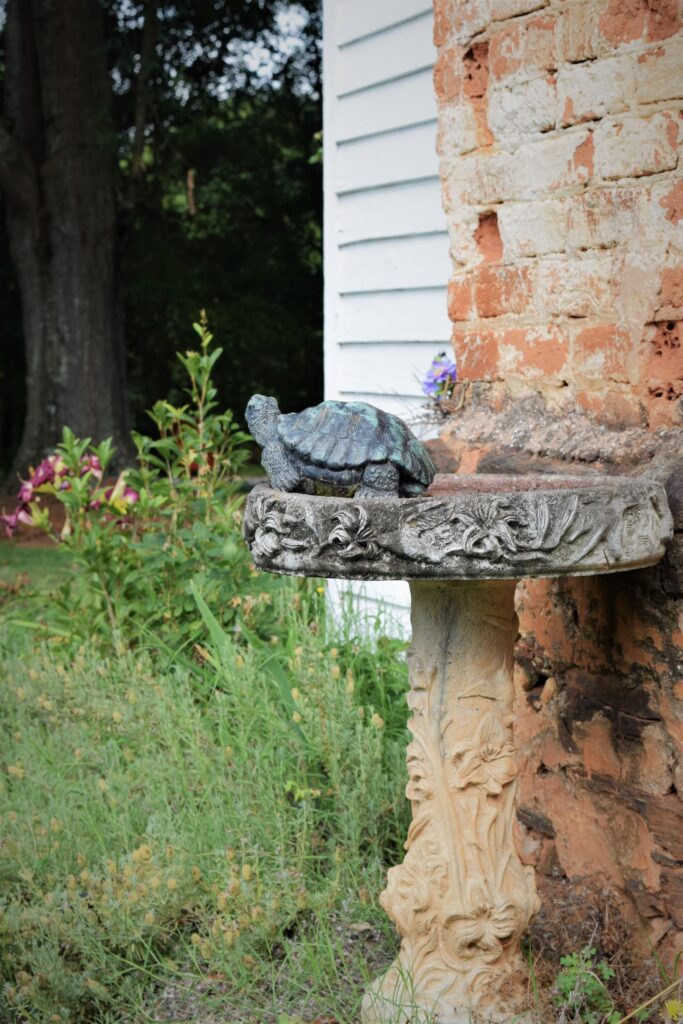 Window boxes, birdbaths, bistro sets, sheds; all these can add a cottage personality to even the most builder-grade landscape. I would err on the side of cute over kitsch to keep in the realm of British charm, but if you love your black bear chainsaw art, who am I to tell you not to throw it in the mix?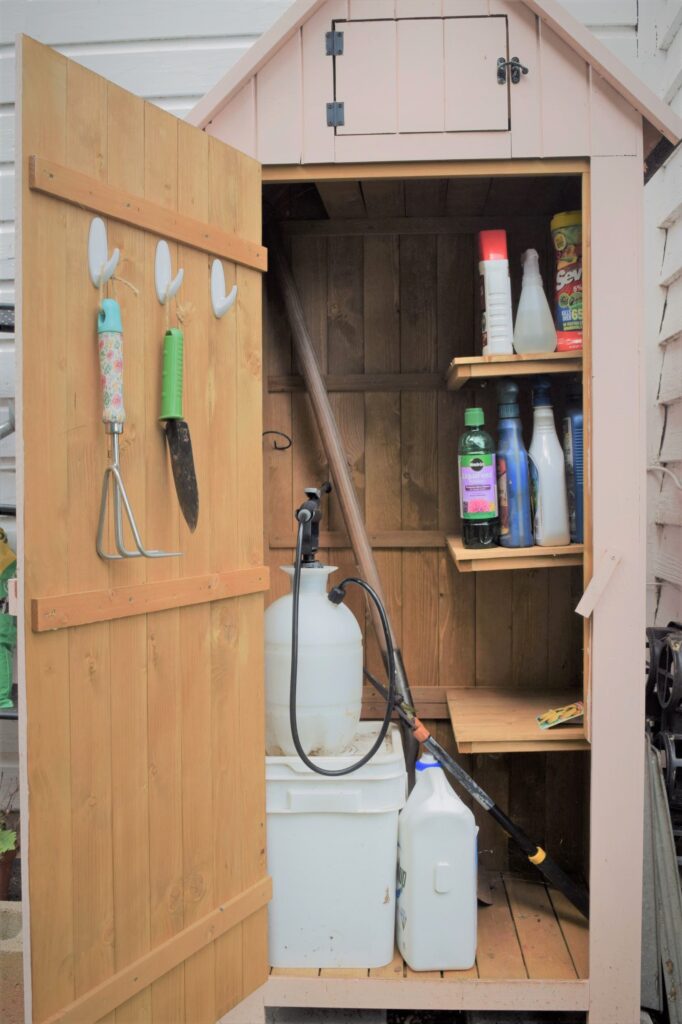 This little guy was a plain wooden kit that my husband and I put together one Saturday. It took awhile to find a budget friendly option but it was worth the wait! It fits everything I need (i.e. long handled shovel, bucket of chicken litter, hand tools, fertilizers etc.) and tucks in sweetly next to the cellar.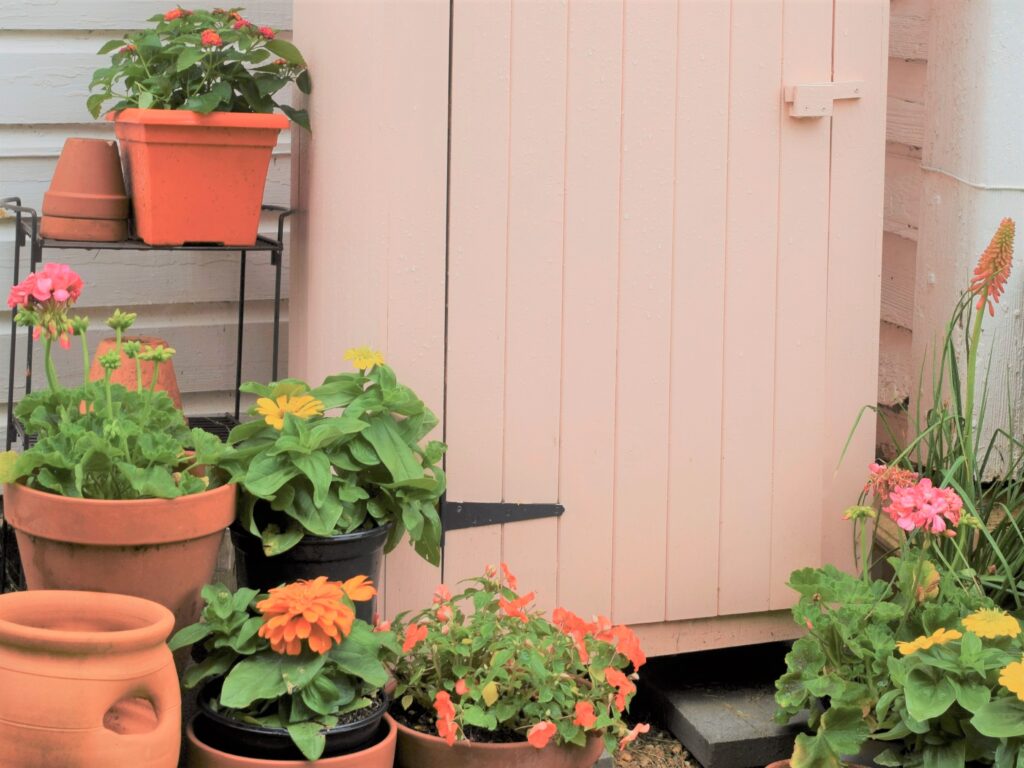 To bump up the cottagey vibes I painted it with two coats of "Coral Bells" Satin Enamel by Behr.
That color makes me smile every time I see it!
Progress over Perfection
Everything that's alive is a work in progress, our yard included. But I'm finally starting to reap what I've been sowing for eight years. So don't get discouraged! Our plants are maturing and filling in, I know what flowers not to waste my money on (I'm looking at you, azaleas.) The cottage garden gives me an escape that both cheers me up and peaces me out, while still honoring a sense of place that our real surroundings deserve.
Tell me, what are your favorite cottage garden plants? Anyone have luck growing foxgloves in the Southeast? For more garden inspo check out my post on raspberries, or the summer garden!
*This post contains no affiliate links, nor is this a sponsored post. All opinions and enthusiasms are my own.
how to grow a cottage garden in the south how to grow a cottage garden in the south how to grow a cottage garden in the south how to grow a cottage garden in the south