Coconut Tres Leches Cake
Summer is more than a season. It's a state of mind. Something about the endless sun, vacations, and the sound of kids biking up and down the street frees you up to follow a few whims. That's exactly how this Coconut Tres Leches Cake came to be!
July burns hot in Georgia. I was craving the cold, soaked sponge of this Latin American classic, but also rolling around in the back of my heat-wilted consciousness, a sunnier flavor combo was getting me excited: tropical coconut, sweet almond, and a hint of spicy cinnamon. (But not too much cinnamon. Fall flavors can wait.) After some experimentation, glorious vision became refreshing reality.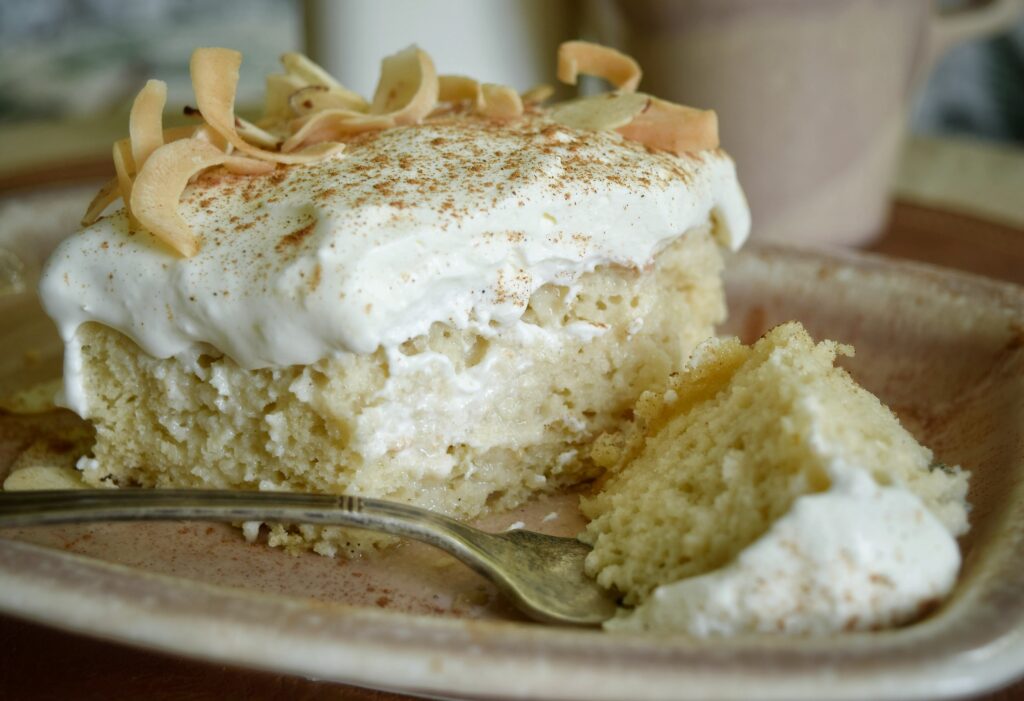 Let's Get to It
It all starts with a sponge cake. This style of cake contains no butter or oil, just the fat of egg yolks. Air is whipped into the egg whites before folding them into the batter, supercharging a high rise during baking. The lack of fat plus a strong lift creates an airy, open cake structure that's willing and able to soak up all those gorgeous, creamy milks.
Aruba, Jamaica, Ooo I Wanna Take Ya
That's where our coconut comes out to play. One of the "tres leches" (three milks, of course) we'll be using in this cake is coconut milk. Not only does it add the trademark silky texture, but surprisingly, there's enough coconut flavor in just the milk that no extract is needed.
Also, for those of you who hate coconut texture (my Dad likens it to fingernail clippings), you'll be overjoyed to note that no shredded coconut finds its way into this cake! Coconut CHIPS (very different) are an optional topping, but rest easy knowing your discerning mouth is safe from the offending shreds.
Basic, but not, you know, Basic
Simplicity reigns when it comes to summer desserts. This one is no different. A Tres Leches Cake is a straightforward 9×13 sheet cake (which makes it easy to tote), no fancy equipment required. The only "technique" needed is separating eggs and whipping egg whites into soft peaks. Not hard.
The Poke-and-Soak method is one any Southerner should be familiar with, as Poke Cakes are a staple at church picnics and backyard barbeques. But if you've never poked-and-soaked before there are a few things to know:
Run a knife around the edge of the cake straight out of the oven. This ensures that the milks have contact with the sides of the cake. No dry spots!
Wait until the cake has cooled to room temperature before poking.
Although most people use a fork or skewer to poke their holes, these both have a tendency to tear the sponge. I prefer a thin steak knife.
The more holes the better. You want even distribution of liquid into sponge.
While pouring liquid over the cake it's best to pause a couple times to let it absorb.
A proper chill is key! You'll be tempted to taste your cake after a couple hours- when it LOOKS like all the milk is absorbed. Don't! Wait four hours minimum, but honestly, overnight is best. The flavors get cozy with each other and the texture transforms into a divine richness that only time can create!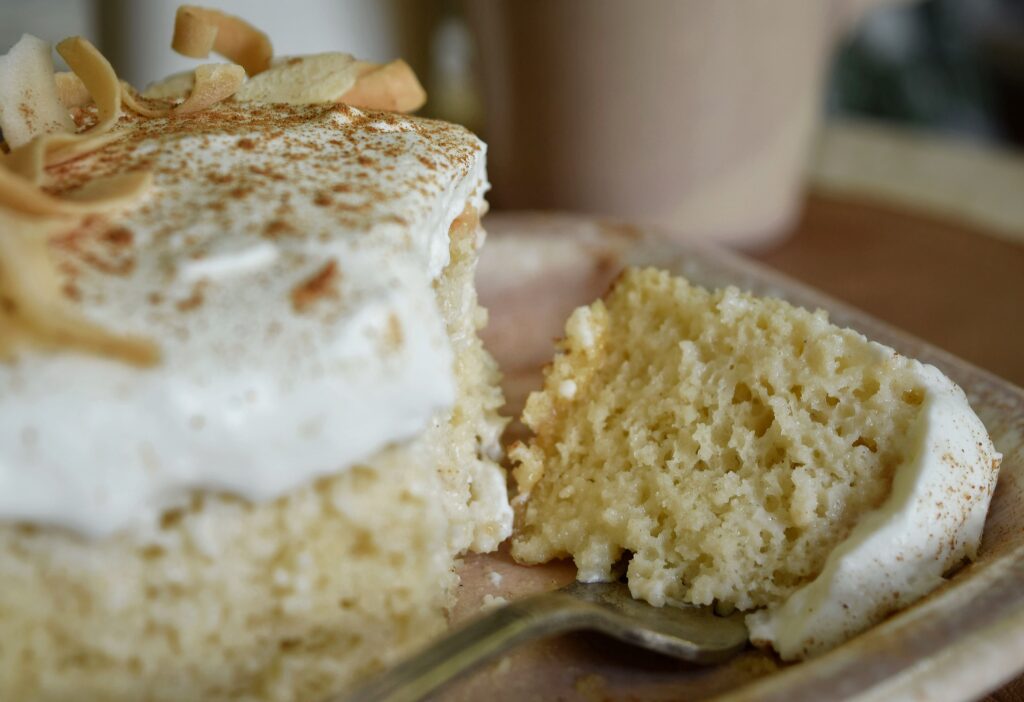 On Top
You could absolutely keep it summer simple and top your cake with whipped cream and just a kiss of cinnamon. But for a little more crunch I like to add toasted, sliced almonds and coconut chips, too. (Buy the coconut chips in the dried fruit section of your grocery store. Again, these are nothing like shredded coconut! It's a snappy texture, not chewy. They also add a fantastic caramel-y flavor.)
Your Turn
Following a whim turns out great once in awhile. This is one of those times, and I have the freedom of summer to thank for that! I hope you enjoy making and eating this Coconut Tres Leches Cake!
For more summery baking, try my Key Lime Pound Cake, and for some non-food ways to stay cool this season hop over to this post!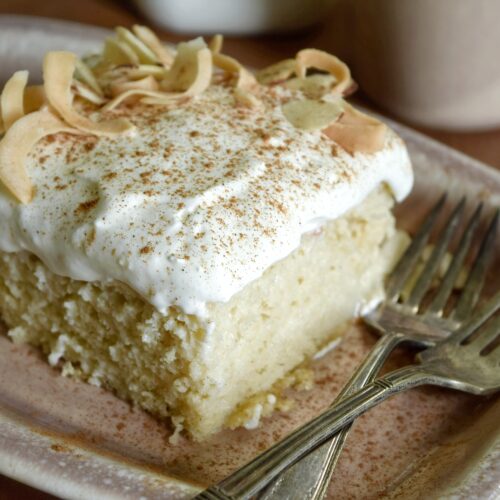 Coconut Tres Leches Cake
Tropical coconut, sweet almond, and a hint of spicy cinnamon take this classic cake on vacation.
Ingredients
Cake
6

Eggs, separated

1/2

tsp

Cream of Tartar

1 1/2

cups

Granulated Sugar

1/3

cup

Cold Water

2

tsp

Vanilla Extract

3/4-1

tsp

Almond Extract

2

tsp

Baking Powder

1/2

tsp

Sea Salt

1/4

tsp

Cinnamon

1 1/2

cups

Flour
Soaking Liquid
1

can

Coconut Milk, unsweetened

1

can

Sweetened Condensed Milk

6

oz

Evaporated Milk

2

tsp

Vanilla Extract
Topping
2

cups

Heavy Whipping Cream

1/2

cup

Powdered Sugar, sifted

2

oz

Sliced Almonds, toasted

4

oz

Coconut Chips

1/2

tsp

Cinnamon
Instructions
Sponge Cake
Preheat oven to 350 degrees Fahrenheit. Grease a 9×13 baking dish with cooking spray. Set aside. In a medium bowl combine egg whites and cream of tartar. Beat until soft peaks form (with an electric hand mixer this should take 2-3 minutes).

In a large bowl beat egg yolk until combined, then add sugar and beat until mixture thickens (about 3 minutes). Add water, vanilla, and almond extract to the bowl and beat to combine.

Add flour, cinnamon, salt, and baking powder to egg yolk mixture and mix until just combined. Gently fold egg whites into the batter until no white streaks show. Scoop into prepared pan and smooth out the top.

Bake cake for 30 minutes, until toothpick inserted into middle comes out clean. Remove from oven and run knife around the edge of cake to loosen in from the pan. Cool to room temperature.
Soaking Liquid
In medium bowl stir coconut milk, sweetened condensed milk, evaporated milk, and vanilla together. Using a thin knife poke as many holes as possible in the top of cooled cake, all the way to the edges. Be careful not to tear the sponge!

Pour liquid over cake, pausing occasionally let it soak in. Cover the cake and chill for at least four hours, preferably overnight. The texture and flavor get better the longer it sits!
Topping
Just before serving, whip cream until stiff peaks form. Add powdered sugar and beat until combined. Spread whipped cream over top of cake, then dust with cinnamon. Slice into 12 pieces. Garnish individual slices with coconut chips and toasted sliced almonds. Refrigerate leftover cake.

As usual, I'm not into sponsored posts or affiliate links. Enjoy binge-reading in this No Agenda Zone! You're welcome. : )