Wreathmaking 101: Handmade Fall Wildflower Wreath
Nothing says, "Welcome Fall!" like a beautiful, handmade wreath on your front door! Especially one wearing muted tones of dusty coral, sage, russet, and cream. While many premade wreaths available commercially are expensive and- can I say this? – gaudy, going the DIY route puts you in control of the cost and better yet? Gives you a completely custom wreath that expresses your refined-yet-festive style. Read on to find out how to make this elegant handmade Fall Wildflower Wreath!
---
This easy project is an enjoyable way to refresh your home for the new season. It takes very little time to prep or shop for, so no need to allow more than an afternoon. And even less time if you keep a stock of silk or dried flowers on hand!
Even though the principles in this project are drawn from my past experience working in floral design, you need to know that professional skills and fancy tools are NOT necessary to create your own stunning handmade wreath! We won't be conjuring wire mesh forms or using water tubes. Honestly? I think the less contrived the floral design, the more upscale the look.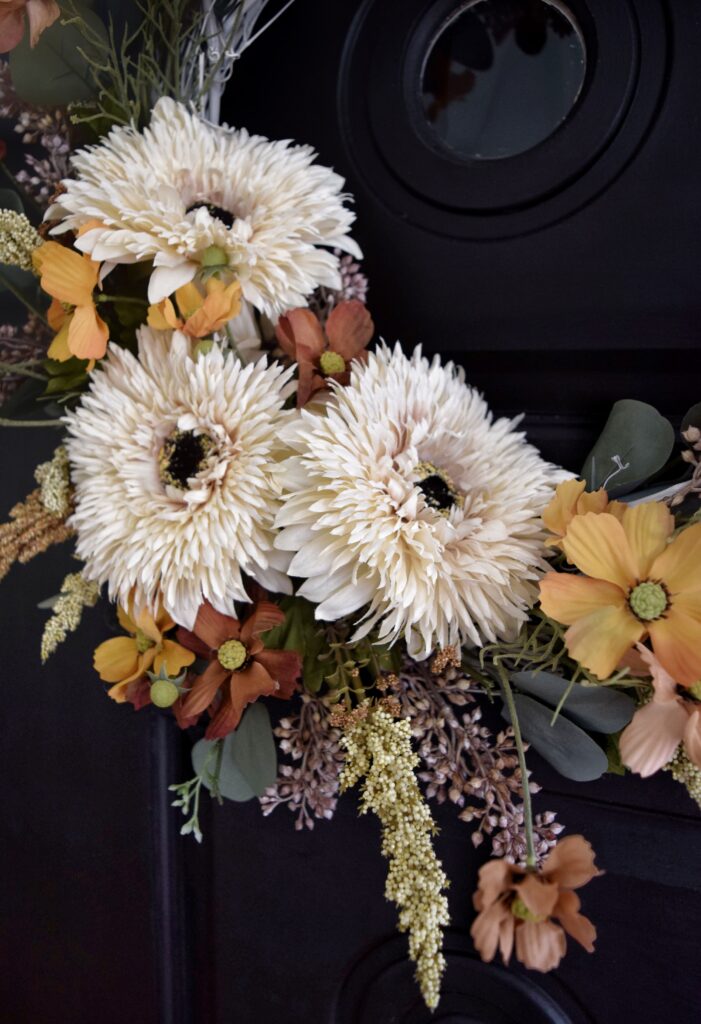 Form + Function
There are so many options for your wreath base! Which is best? For this project I prefer a grapevine form because it doesn't require wire or florist tape to attach the flowers. Simplicity is my favorite! Grapevine wreath forms are also readily available, inexpensive, and attractive on their own without covering the whole surface with florals. Leaving some of the form exposed can also add textural interest, create a rustic vibe, or even channel a minimalist feel depending on how you place your flowers! So versatile!
On Choosing Your Flowers
While I use silk flowers in this project for their durability outdoors, you can also use dried flowers if that's what you love. A dried flower wreath will either need to be hung indoors or in a very sheltered place outside. (Our front door is covered by a full porch roof and I'd still be concerned about rain blowing onto a dried flower wreath!) You can find a huge selection of silk and dried flowers at Hobby Lobby, Michael's, or any craft store in your area.
(This is a good time to remind you that I don't use affiliate links or accept sponsorships. Links are for your convenience only!)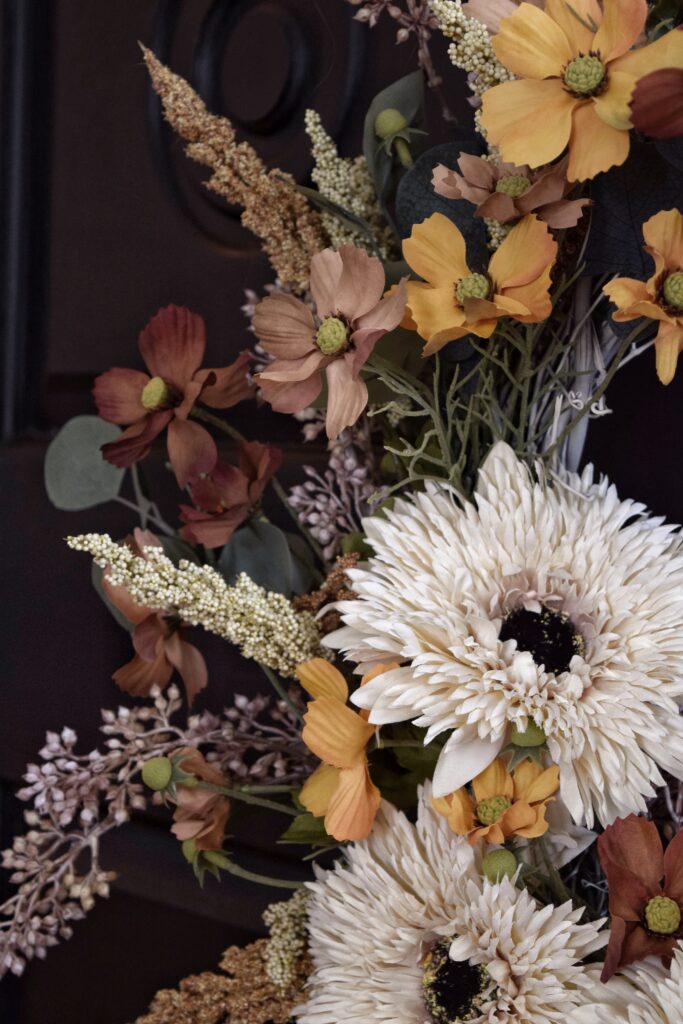 For the color palette, I'm in love with muted tones to celebrate autumn. Softer colors evoke the first foggy morning in September, fields drying into golden hay, wildflower meadows in late afternoon light. Of course, the traditional bright red, orange, and yellow of changing leaves is a lovely choice too, but for my house the dusty colors feel so livable. Choose the colors that make YOU happy- that's always the right way to go!
Wreathmaking Basics
We'll be using a technique similar to the popular container gardening arrangement formula, "Thriller, Spiller, Filler". While we don't really need the "spiller" portion, we will be layering in the arrangement in three groups, working large to small.

1- Large flowers are the "thriller" flowers. These create a focal point and are your high-impact florals. In this wreath design we'll group them in the lower left quadrant.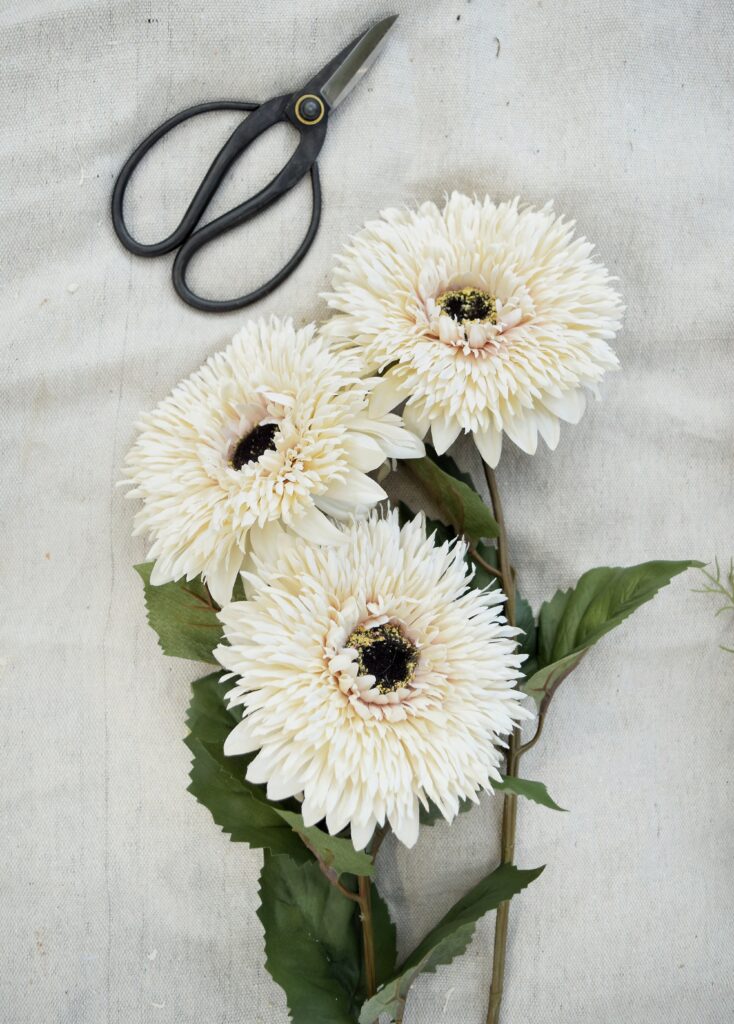 2- Medium-sized florals serve a dual purpose by both fleshing out your color palette, and by adding the loose "wildflower" look. Much of the feel of your wreath comes from this group!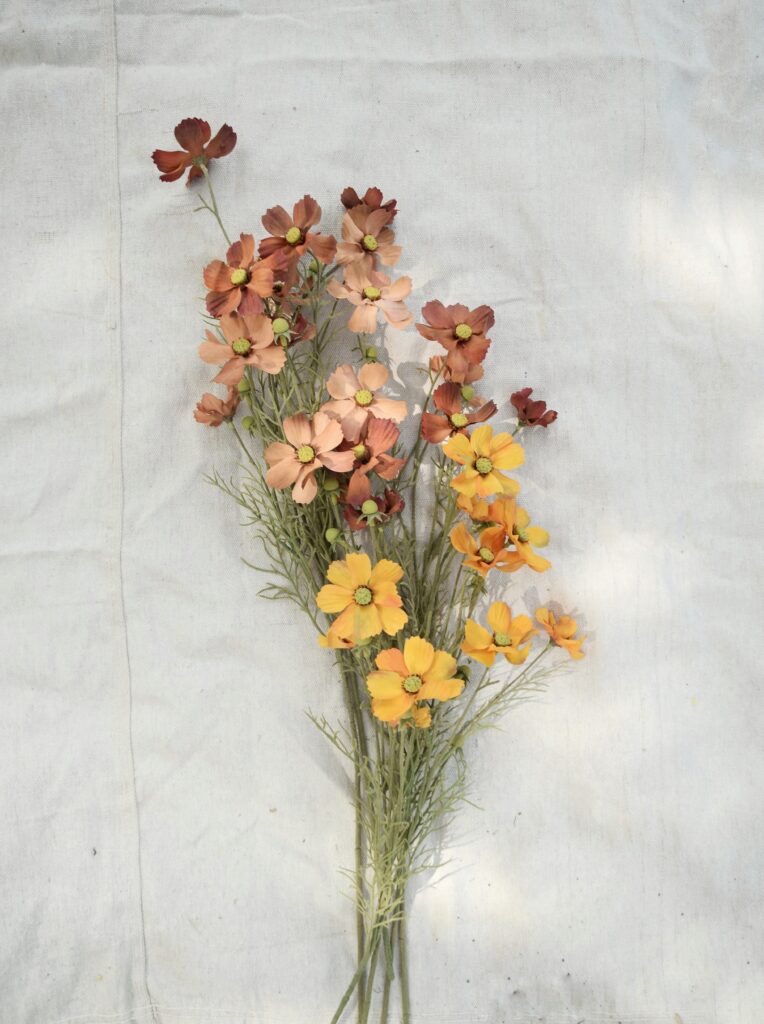 3- Small seed heads, floral sprays, foliage- all of these are "fillers". This group does exactly what it says, filling in the gaps between your main flowers. But just because they aren't stealing the show doesn't mean fillers are unimportant! They can add a very fall-ish feel with seasonal texture (think seedpods, corn husks, branches), and also make your wreath feel abundant, as a harvest-season creation should!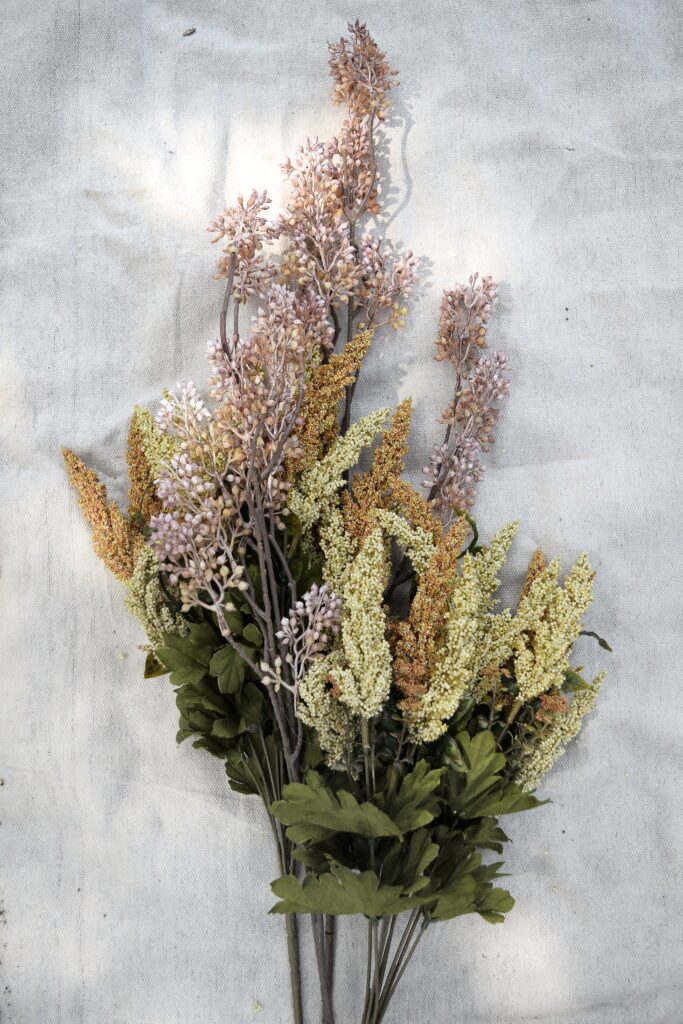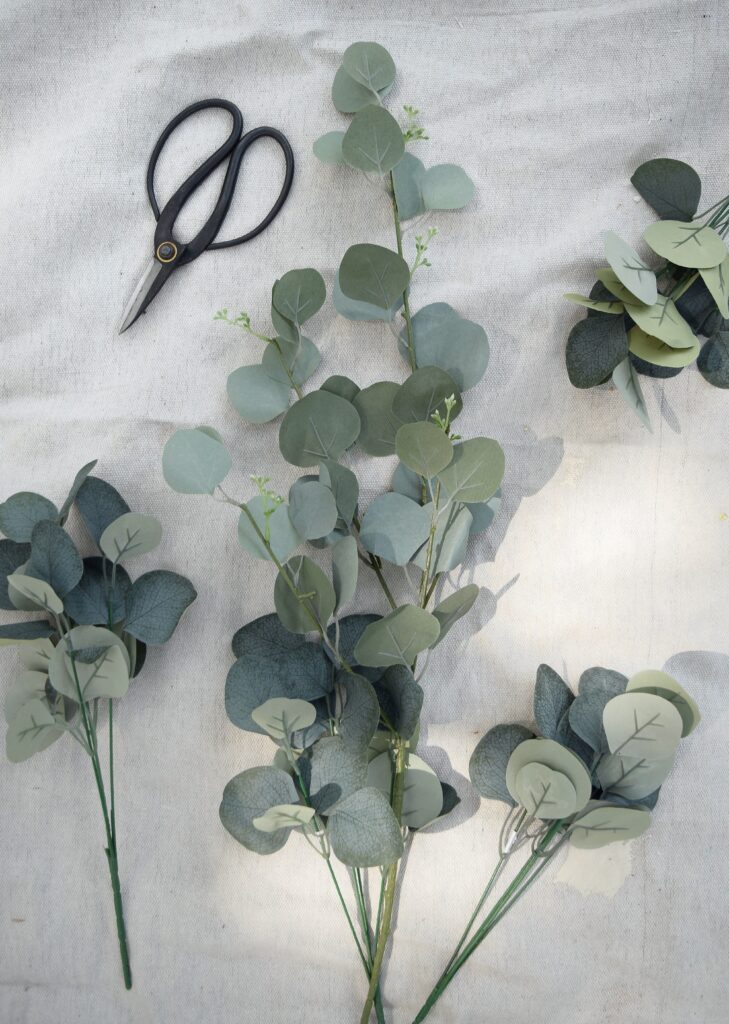 No tape or wire is needed to secure the stems to the wreath form, but to trim the stems to the proper length I'd recommend a good pair of florist snips. You can also use wire cutters from the hardware store.
Also, I painted my wreath before adding florals because I wanted a lighter look to contrast with my darker door. This is optional!
Ok, let's make a wreath!
---

Supplies:
1 18″ Grapevine Wreath Form
1 Can Krylon Chalky Finish Spray Paint in Colonial Cream
Drop Cloth
Florist Snips or Wire Cutters
3 Large Focal Point Flowers (such as sunflowers or dahlias)
2 Bush-Style Gypsophla or Heather with Foliage
3-5 Textural Multi-stems or Picks
6 Medium Sized Multi-stem Flowers in 2-3 colors
5-9 Foliage Stems (I used Eucalyptus)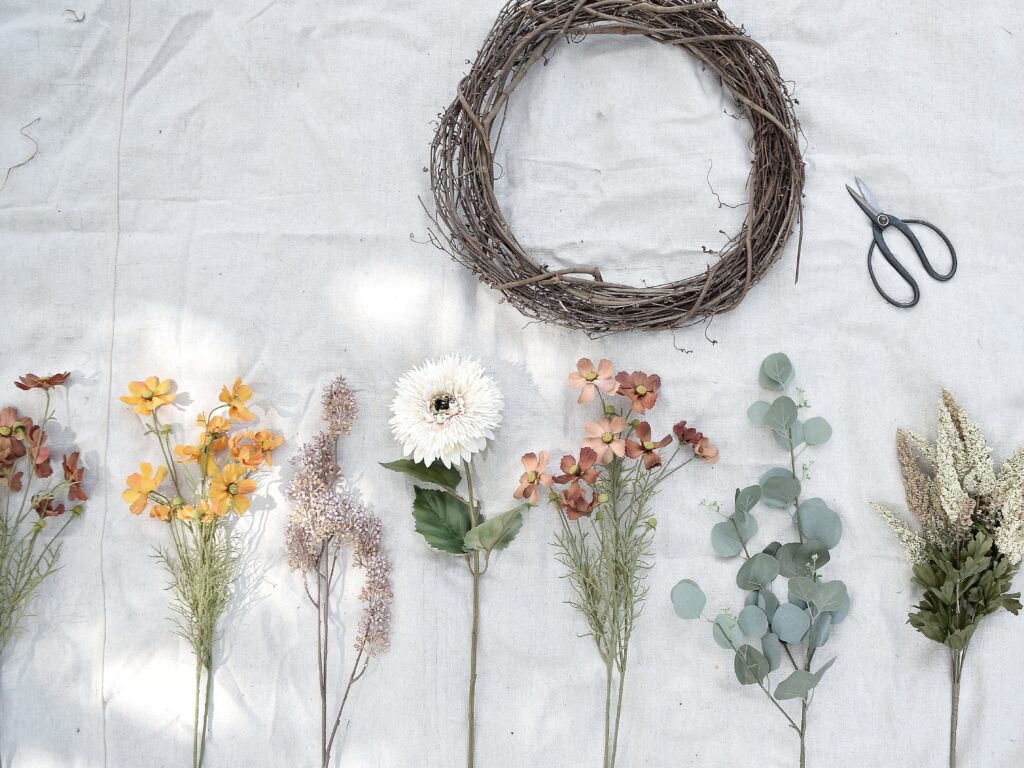 Directions:
STEP 1: On a drop cloth outside spray the top side of your wreath with one coat of chalk spray paint. Allow 20-30 minutes to dry. Flip wreath over and spray back side of wreath with one coat of chalk spray paint. Allow to dry completely.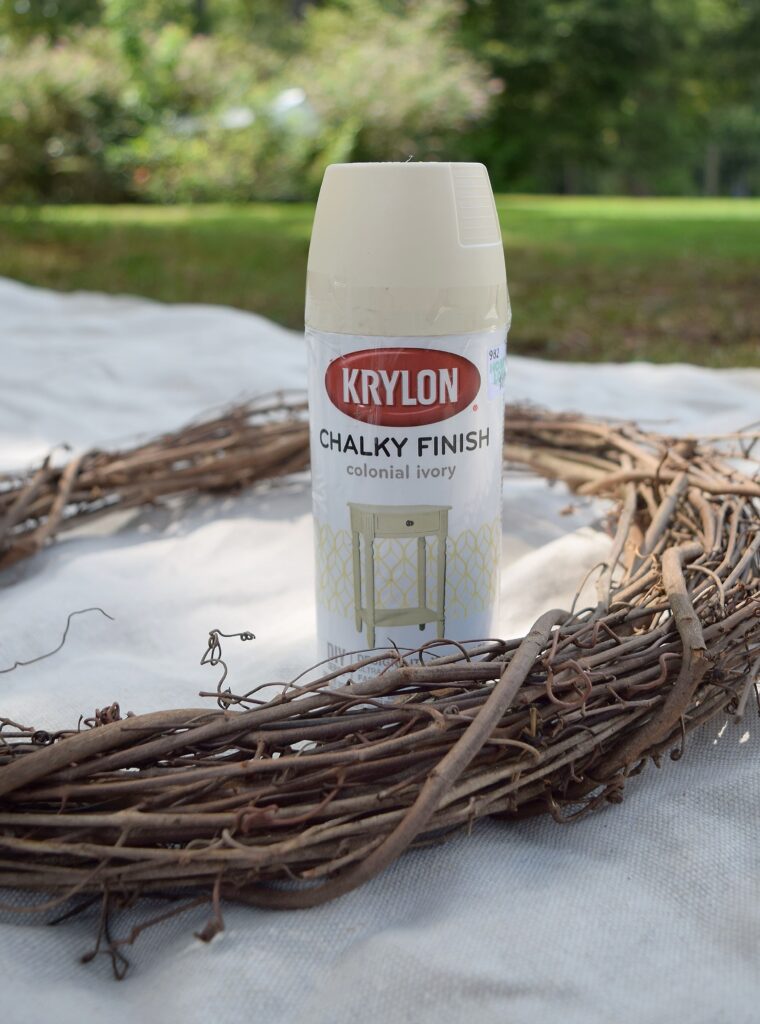 STEP 2: Gather your wreath form, florist snips, and all flowers onto a work surface. Snip all stems five to six inches beyond lowest leaf or flower. If you're cutting multi-stem flowers or foliage, you will be separating them into smaller groupings. The aim is to have about five inches of bare stem to insert into wreath form.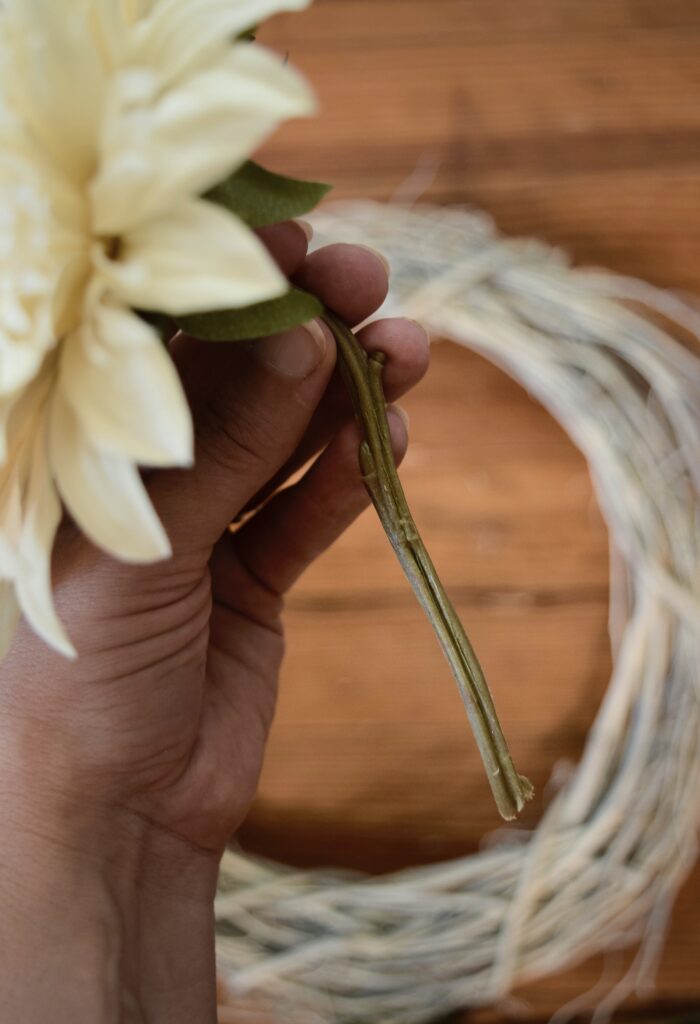 STEP 3: Gather your three large "thriller" flowers.
Arrange the three large flowers in a loose triangle in the bottom left quadrant of the wreath without inserting stems. Play with the placement until you like the look, then insert each stem into the grapevine. Keep working it in alongside the vines in the same direction, pushing it in so that the flower sits snugly against the wreath form. The stem will essentially be "woven" into the wreath, thereby securing it. (You could further secure the flowers using a hot glue gun, but I don't find it necessary.) Repeat with the remaining two large flowers.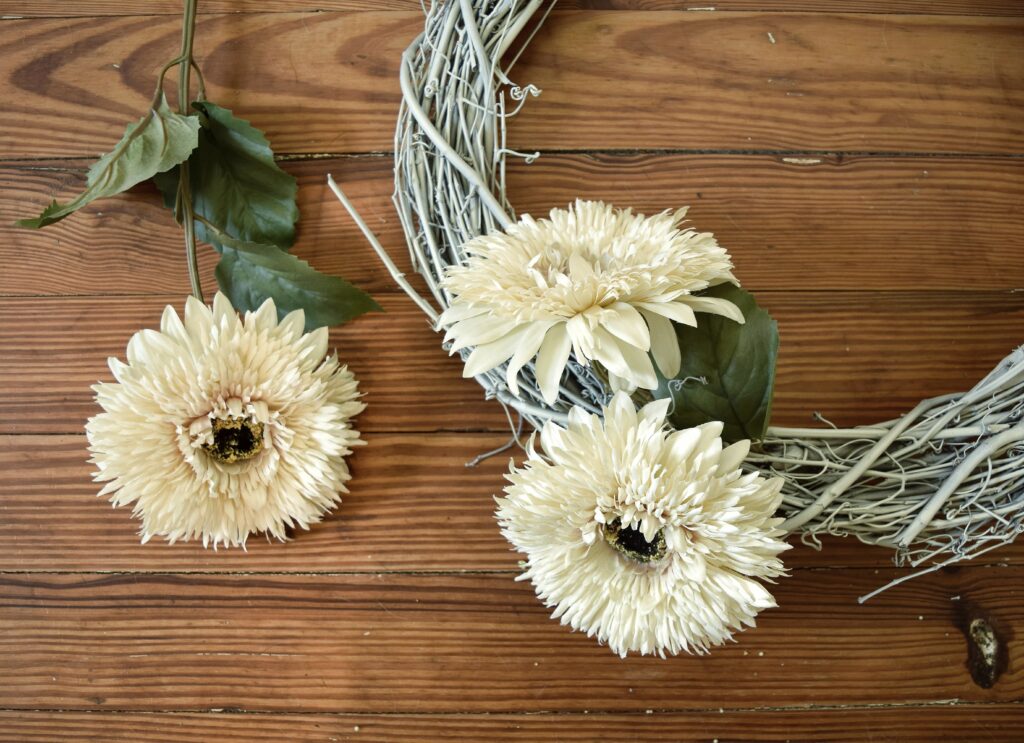 STEP 4: Next layer! Gather your heather or gypsophla and textural stems and picks.
Arrange these flowers around the large "thriller" flowers, extending outward from the focal point. Stems above the thriller flowers will point up, stems to the bottom or right of the thriller flowers will point down and right. Create balance by making sure you add heather flowers evenly on both sides of your focal point. Once you like how the placement looks, insert stems the same weaving technique used in step three. Repeat this process with your textural stems or picks.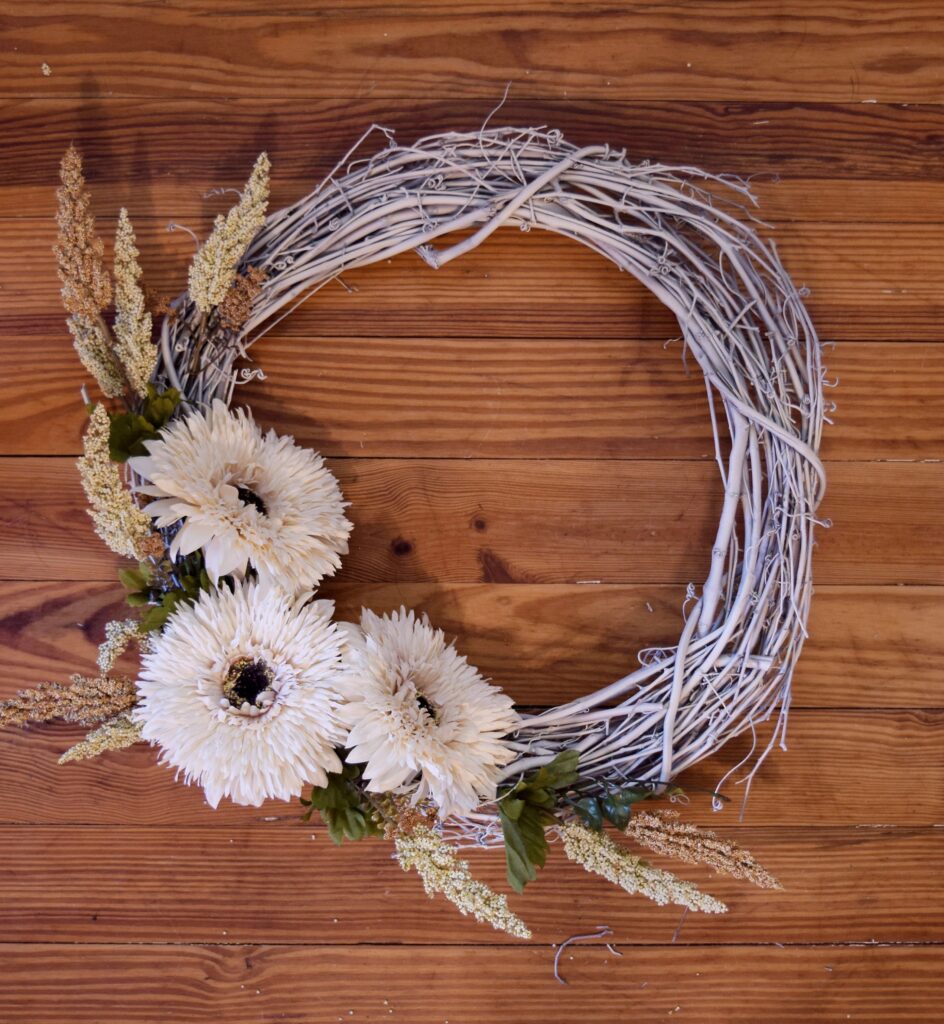 STEP 5: Gather your medium-sized flowers in multiple colors.
Arrange flowers around and in between the other flowers. Think about creating a crescent shape by extending these flowers further up the sides of the wreath base. Once you like how the placement looks, insert stems with the weaving technique, except this time don't push your flowers tightly against wreath form. By leaving the stems out a bit longer you create the loose "wildflower" look we're going for!
STEP 6: Lastly, the foliage! Gather all your stems of foliage.
Accent the shape of the focal point by inserting and weaving fillers around it, even underneath it. Fill in any holes between the rest of your flowers with foliage or leftover textural stems (these are both "fillers"). Add stems to the upper left and middle right sides of the wreath, bending the visible section of stems inward towards the wreath opening to follow the crescent shape.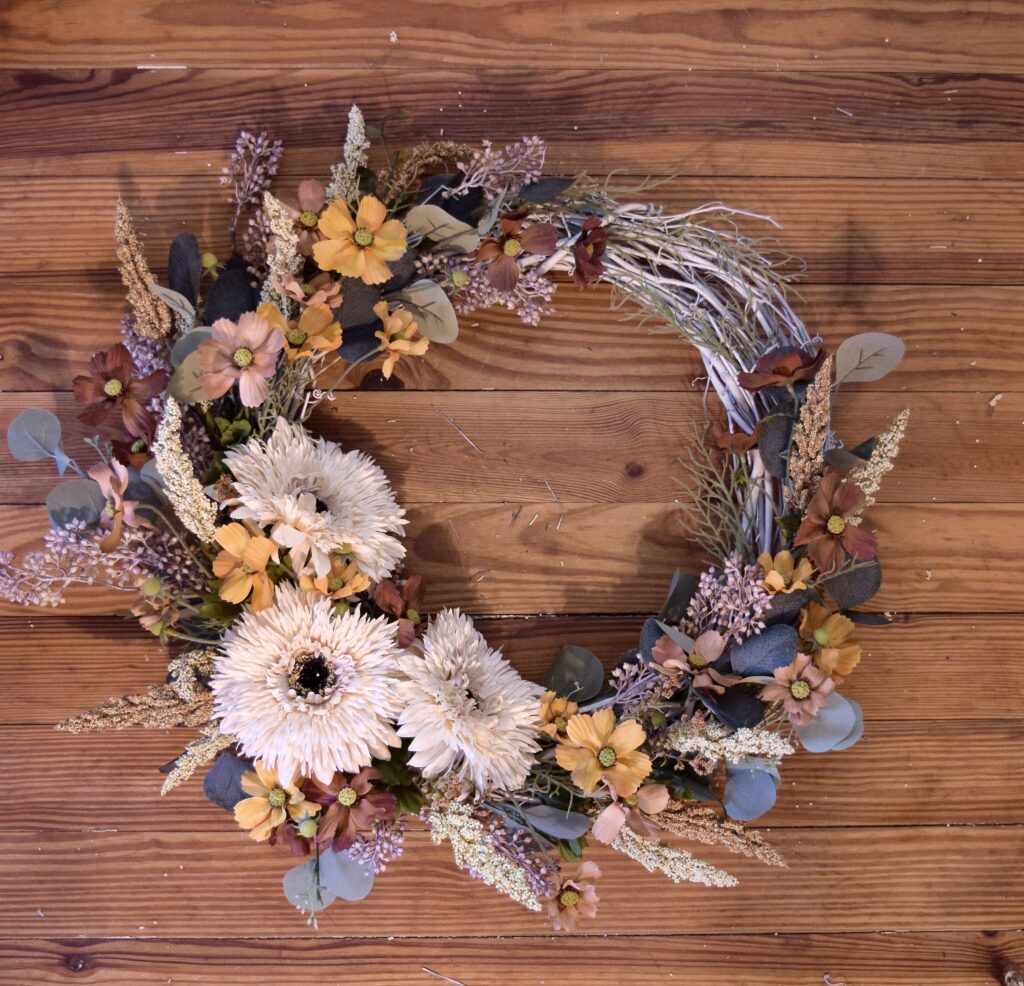 Step back and give it a good once-over. The design should look grounded in the lower left quadrant and thin out in the upper right quadrant. But here's the thing, this is an ART not a science. If anything looks "off" to you, play with it! Rearrange your stems until the wreath looks ready for your front door!
STEP 7: Your handmade fall wildflower wreath is now complete! Grab a metal hanger, center it on your front door, and proudly hang your creation. Or bring it indoors! This wreath would be lovely hanging over your fireplace, over an old-fashioned four-poster bed, or wherever you need a little dash of fall flair.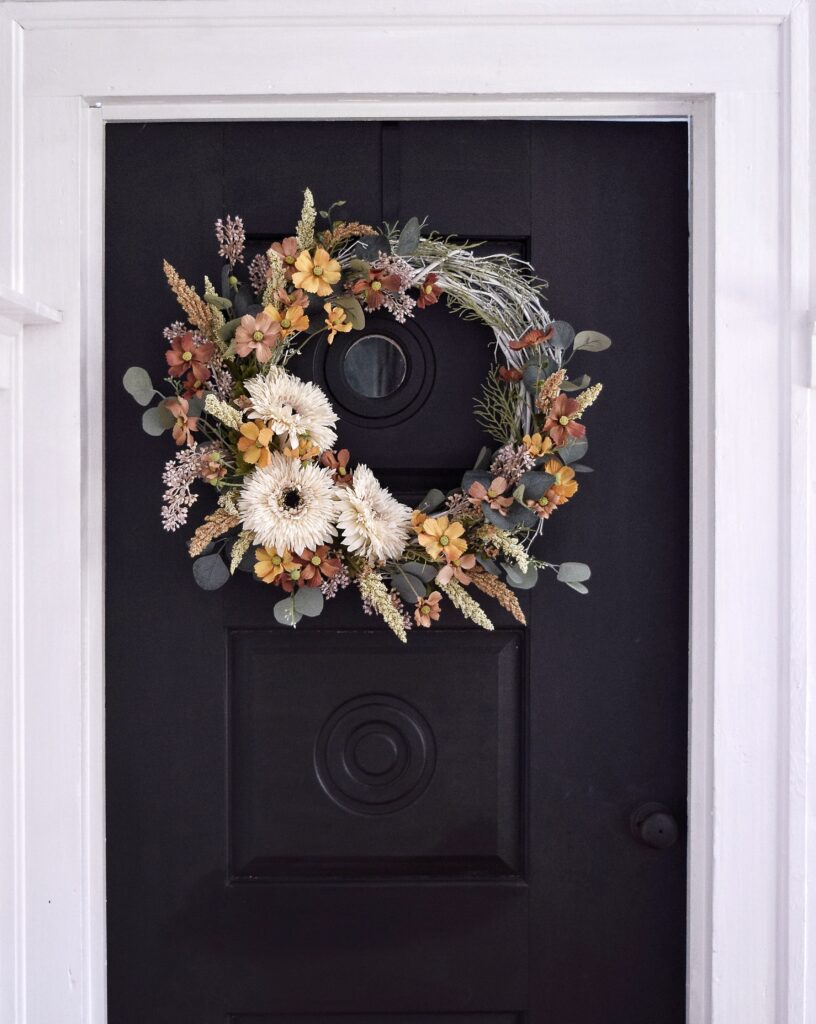 ---
Now you're ready to welcome autumn with all the hospitality the cozy season deserves! I hope you enjoyed getting your hands in a celebratory seasonal project! And remember to tag me on Instagram @giles_south so I can see your beautiful handmade wreath!
If you'd like more fall wonderfulness, come ride along with me on a Smoky Mountain Driving Tour or bake up a batch of Pumpkin Spice Cinnamon Rolls with Brown Butter Icing! Trust me, those babies MAKE a weekend breakfast. Wherever you find yourself this fall, savor every cozy moment!

handmade fall wildflower wreath, handmade fall wildflower wreath, handmade fall wildflower wreath, handmade fall wildflower wreath, handmade fall wildflower wreath