Pumpkin Spice Cinnamon Rolls with Brown-Butter Icing
When the perfect cinnamon roll comes along, you don't mess with it, right? Wrong! For a celebration of all the delicious fall spices and the official vegetable of October, we all need a little pumpkin spice in our weekend brunch go-to! Enter: Pumpkin Spice Cinnamon Rolls with Brown-Butter Icing.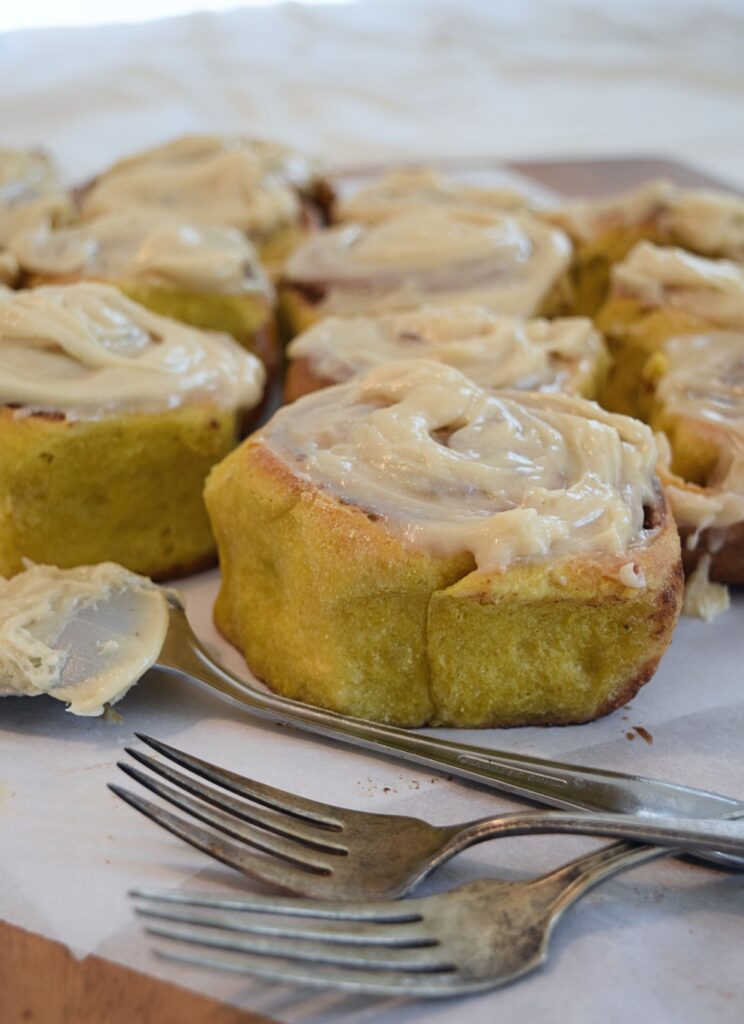 Mmmmm, Pumpkin!
Divinely rich and tender, these brioche-based rolls contain real pumpkin, lending a lovely tinge of fall color along with that unmistakable flavor. Instead of mere cinnamon in our swirl we'll use a mixture of pumpkin pie spice, vanilla bean, and brown sugar. Pressed into softened butter slathered over the brioche dough, this combo creates the stickiest, gooiest filling you've ever eaten! One note, in my recipe I've used pumpkin pie spice instead of separate ginger, nutmeg, etc. I like to make my own (find the recipe here) because I can control the exact flavor blend I'm looking for. But if you already have store-bought pumpkin pie spice there's no shame in using what you have. Keep it simple!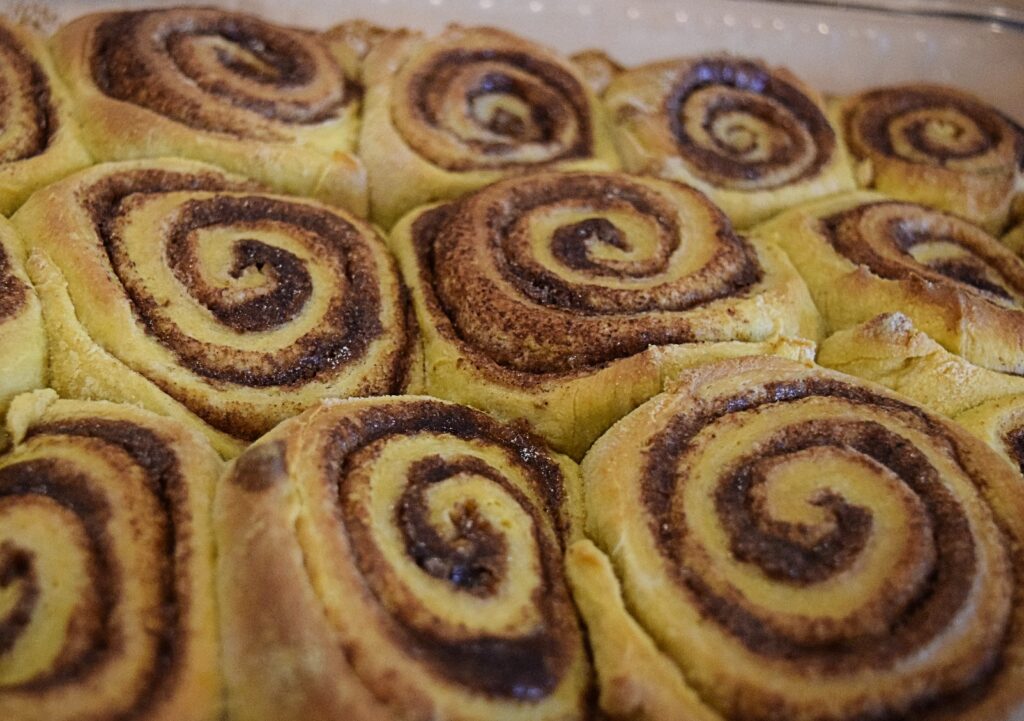 Lay it on Thick
And let's talk about this icing. I've adapted the brown-butter cream cheese icing from the lovely Tieghan Gerard's frosting recipe in her book Half-Baked Harvest. It is seriously to die for! I've tweaked it to make it my own (as I hope you do with my recipes here at Giles South!) and now the new icing recipe is perfect for these pumpkin spice cinnamon rolls. One thing you absolutely must do: brown the butter! I know it takes a little extra time for this step, and then a little more to let the butter cool, but the toasty caramel flavor that browning adds is deeply worth it!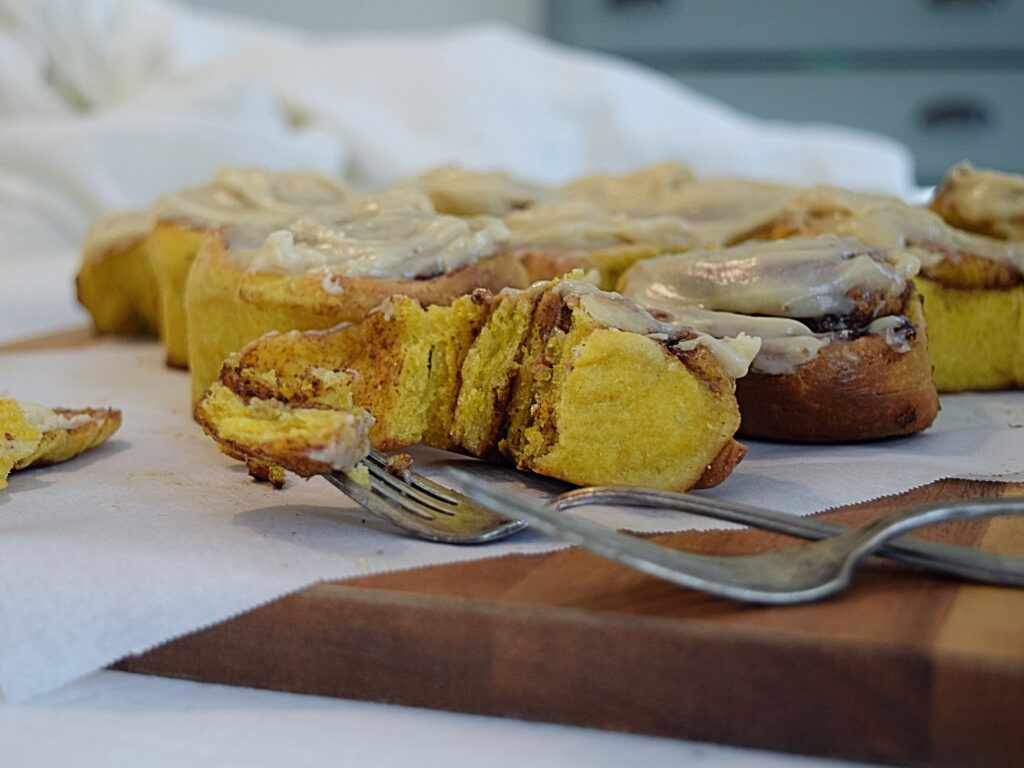 Time to Get Cooking
So if you're staying in for a lazy fall Saturday morning or feel like baking up a cozy dessert that makes the house smell heavenly, this is your recipe! When you make your pumpkin spice cinnamon rolls tag me on Instagram @giles_south to show me your creation! Want to do a whole cozy baking binge? Then go check out my Bananas Foster Upside Down Cake, Southern Red Velvet Cake, or Apple Cider Donuts!
Have fun slowing down and taking time to make something from-scratch-delicious!
(This post contains no affiliate links or sponsorships.)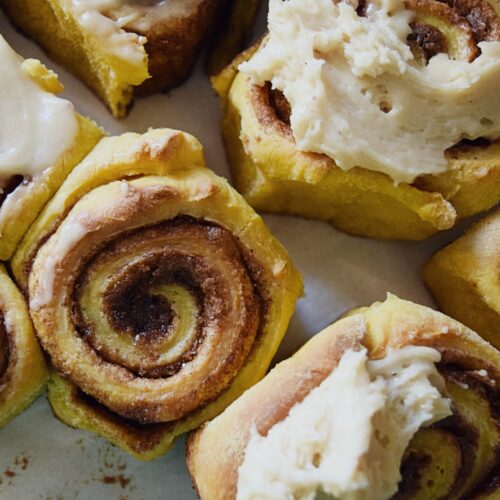 Pumpkin Spice Cinnamon Rolls with Brown-Butter Icing
The best way to start a fall morning! With real pumpkin in a brioche-style dough, a swirl of warm cinnamon, ginger, allspice, and nutmeg, topped with decadent browned-butter cream cheese icing, this is cinnamon roll perfection- pumpkin spice style!
Equipment
9×13 Baking Dish

Stand Mixer

Unflavored Dental Floss
Ingredients
Pumpkin Brioche Dough
1/4

cup

Warm Water

1

Tbsp

Instant Yeast

4

Tbsp

Granulated White Sugar

2

Tbsp

Heavy Cream, warmed

1/2

Pumpkin Puree, room temperature

3

large

Eggs, room temperature

1

tsp

Vanilla Extract

1 1/2

sticks

Unsalted Butter, melted

4

cups

All Purpose Flour (plus more for dusting)

1/2

tsp

Cinnamon, ground

1

tsp

Salt
Pumpkin Spice Filling
3/4

cup

Dark Brown Sugar, packed

2

Tbsp

Pumpkin Pie Spice

1

Tbsp

Cinnamon, ground

1/2

Pod

Vanilla Bean, seeds scraped out

1

pinch

Salt

1

stick

Unsalted Butter, very soft
Browned Butter Icing
6

Tbsp

Unsalted Butter

4

oz

Cream Cheese, softened

1 1/2

cup

Powdered Sugar

1

tsp

Vanilla Extract
Instructions
Make the Dough
Combine yeast, sugar, and warm water in the bowl of a stand mixer fitted with a dough hook. Stir with fork and then let sit until bubbling (30 seconds to a couple minutes). Add warm cream, melted butter, pumpkin puree, vanilla, eggs, cinnamon, and salt to the bowl and mix on medium speed until combined. Add two cups of flour and mix until incorporated. Then add the second two cups of flour and again mix until dough forms and pulls away from the sides of the bowl. If dough seems sticky, add a little more flour.

Lightly flour your counter and transfer your dough onto the surface. Knead dough for about a minute, forming a smooth ball. Place dough in a greased, medium sized bowl, cover with plastic wrap, and let it sit in a warm spot until doubled in size (1-2 hours). Don't let it rise longer than after it's reached this size, as the final texture will be affected.
Make the Filling
In a small bowl combine brown sugar, spices, vanilla bean seeds and salt. Mix thoroughly.
Assemble
Dust your counter with flour again and turn dough out onto this surface. Punch it down and roll it into a rectangle 18 inches wide and 14 inches deep. (It will seem thin, but this gives you more swirl in the final roll.) Spread the stick of soft butter onto the dough. Sprinkle filling over the butter and gently press it into the butter.

Starting on either long edge, gently begin rolling the dough towards the opposite long edge. Keep the dough snug as you roll. Once you have a dough log, pinch the long edge to seal it.

To slice roll, cut a 10-inch length of unflavored dental floss, slide the floss under dough log, cross the ends of the floss, and pull it tight to slice through dough. Make cuts about an inch apart. Place rolls in a greased baking dish and let sit 30 minutes or until doubled in size. You can also put the unbaked rolls in the refrigerator overnight and then bake them the next morning. (This also develops more flavor.)
Make the Icing
Place butter in small saucepan over medium heat. Cook, stirring regularly, for 5-8 minutes, until butter is light brown in color and smells fragrant. Remove from heat and let cool to room temperature.

Once butter has cooled, transfer to medium mixing bowl and add cream cheese and vanilla. Beat with electric mixer until smooth. add powdered sugar and beat until fully incorporated.
Bake and Serve
Preheat oven to 350 degrees F. Bake rolls 30-35 minutes if they're room temperature, or 40 minutes if chilled. Remove from oven when golden brown and a tap on the center of rolls sounds a little hollow. Immediately smear with browned butter icing. Serve warm with a cup of coffee for a cozy breakfast or brunch!

Store in an airtight container for up to four days… but I promise they won't be around that long!
Pumpkin Spice Cinnamon Rolls, Pumpkin Spice Cinnamon Rolls