Southern Red Velvet Cake with Vanilla Bean Cream Cheese Icing
It's everything you want in a Red Velvet Cake…tender, melt-in-your-mouth layers slathered in rich, creamy vanilla bean-flecked icing. Plus that dazzling crimson color that catches everyone's eye. This Southern Red Velvet Cake is poised to be the show-stopping centerpiece of your holiday feast!
A perfect Red Velvet Cake is one of those recipes you'll grab over and over again through the years. This one is reliably delicious and always a crowd-pleaser! Put it on your Mindful Christmas Bucket List printable and make a little Southern magic this season!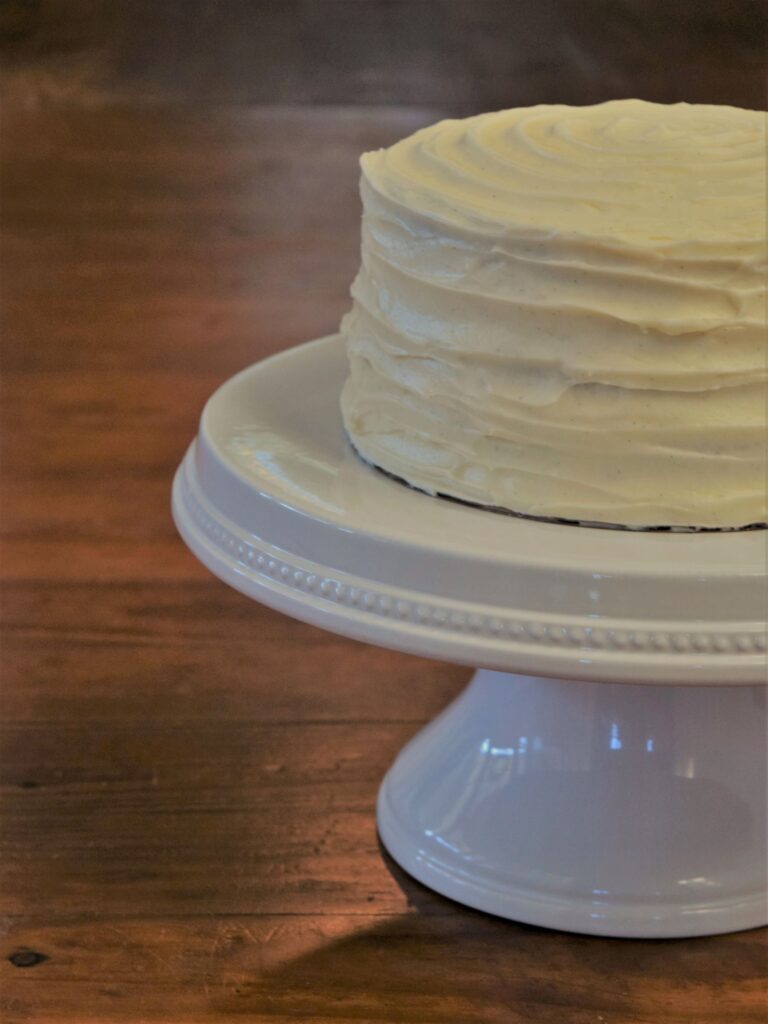 Is Red Velvet actually Southern?
First born in the 1800's, the origins of Red Velvet Cake are much debated. Some claim a New York hotel came up with the recipe, others credit a Texan dye company for the idea. What we do know is that although the red velvet cake is now synonymous with the South, it actually took some time to become popular in our lovely region. What brought this crimson stunner into the Southern spotlight? A little movie called Steel Magnolias. Yep, we can thank that 80's tear-jerker for establishing decadent Red Velvet as the cake of the South!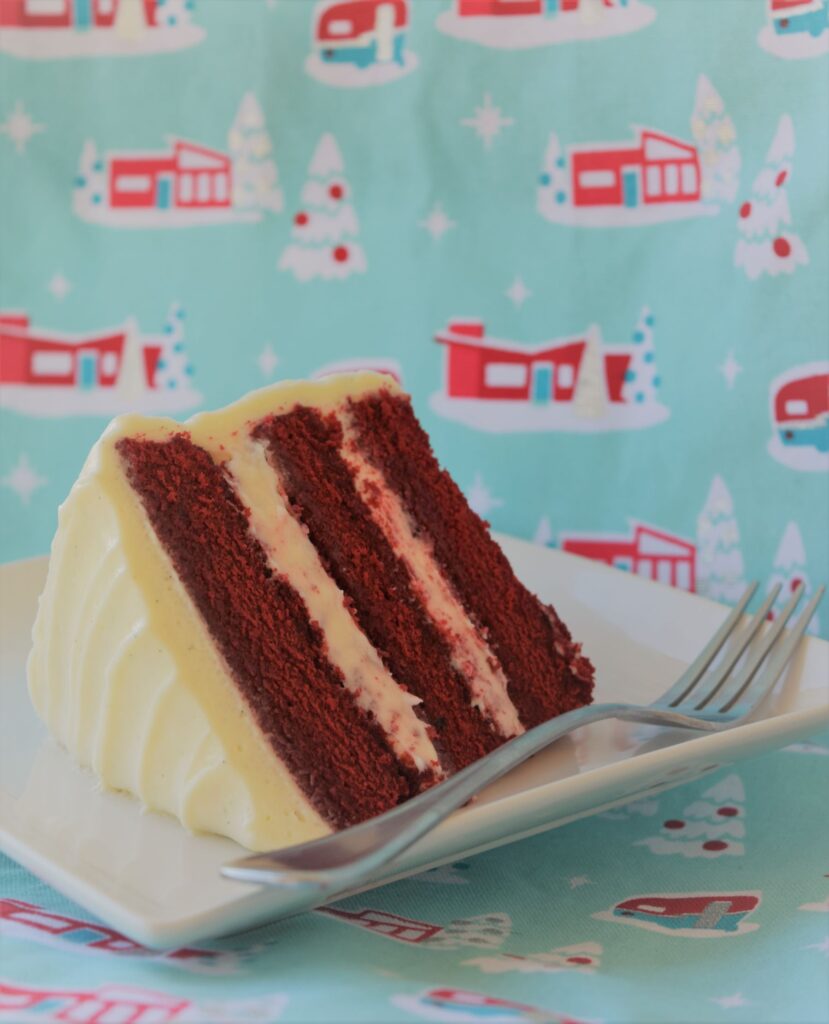 The Secret to Baking a Perfect Cake
Red Velvet Cake is a process, as most from-scratch cakes are. But it's not difficult or complicated. And as with most iconic desserts, the effort is always worth it. The real trick to consistently incredible desserts isn't complicated recipes, it's paying attention to the details. Things like making sure your butter or cream cheese is 100% room-temperature, sifting lumps out of powdered sugar and flour, and spending the full amount of time creaming your butter and sugar together will all affect the texture of your batter. Paying attention to these seemingly small nuances ensures that, time after time, your cakes will always be outstanding!
Getting Fancy, Sort of
From a turntable to create a smooth decorating surface to a cutting wire that slices off those rounded cake tops, there are a ton of tools out there to make assembling and icing a cake easy-breezy. I have none of them. But I do have a lazy susan that holds our vitamins… So I flip mine over and place a square of non-skid shelf liner on top and voila! A cake-icing turntable! Use that (or a real one!) to create the texture shown on this cake. Press the end of a spoon into the icing at the base of the cake while slowly spinning the turntable, working upward as you go. Simple but special.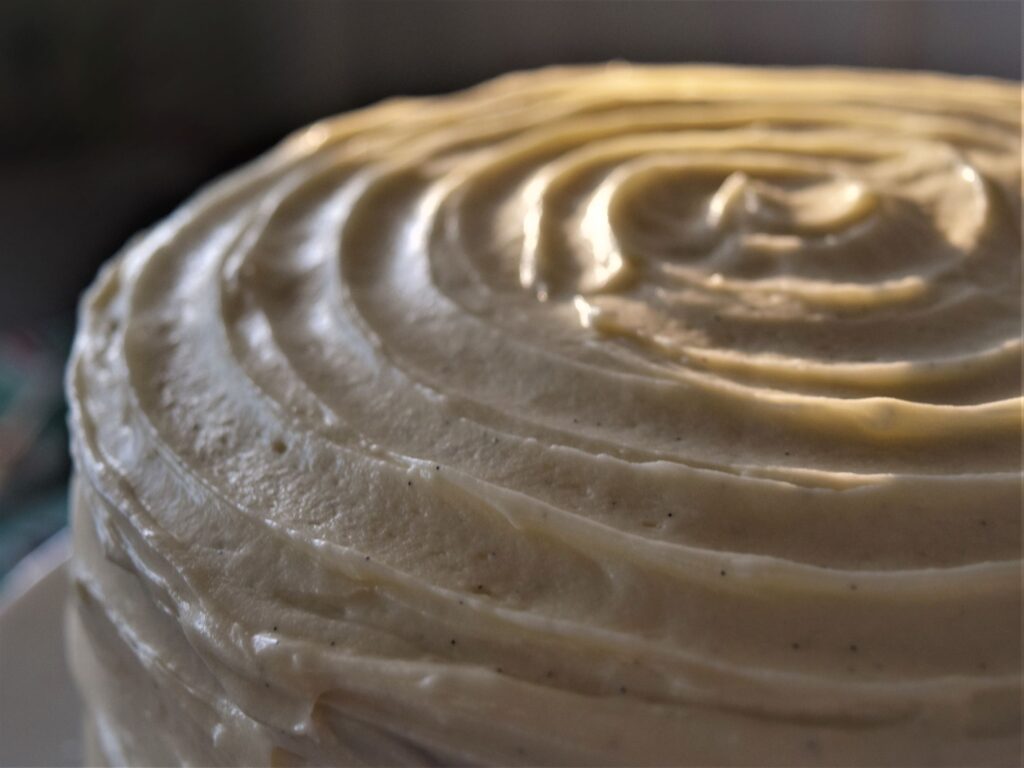 One supply I do recommend picking up is a package of cardboard cake rounds to put the bottom layer on. You'll be able to move your cake from the decorating surface to the cake stand so much more easily. I use three 8-inch pans for this recipe, but if you have 9-inch pans just make two layers and then bake four to six minutes longer than what the recipe calls for. Keep an eye on them, the red color hides the browning!
I hope you enjoy making this Southern Red Velvet Cake a part of your Christmas dinner or New Year's Eve celebration! Let me know how it goes in the comments. And if you're a fan another type of icing paired with Red Velvet Cake tell me about it!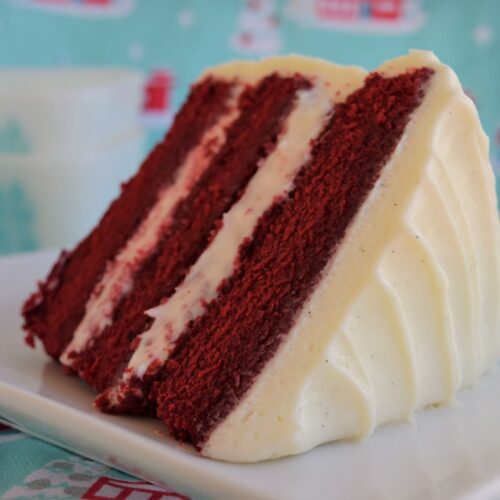 Southern Red Velvet Cake with Vanilla Bean Cream Cheese Icing
This is everything you want in a Red Velvet Cake…tender, melt-in-your mouth layers exquisitely frosted in rich cream cheese icing flecked with real vanilla bean. The perfect centerpiece for any special occasion meal!
Ingredients
Cake
2

cups

White Sugar

2

sticks

Unsalted Butter, softened

2 1/2

cups

Cake Flour

1

tsp

Salt

2

Eggs, large

2

oz

Red Food Coloring

3

Tbsp

Cocoa

1

tsp

Vanilla Extract

1

cup

Buttermilk

1

Tbsp

White Vinegar

1/2

tsp

Baking Soda
Icing
5

cups

Powdered Sugar

2

sticks

Unsalted Butter, softened

16

oz.

Cream Cheese

1

Vanilla Bean

1

tsp

Vanilla Extract

2

dashes

Salt
Instructions
Cake:
Preheat oven to 350 degrees F. Grease and flour three 8" cake pans.

In a stand mixer with paddle attachment cream butter and sugar until light and fluffy, two to three minutes. Add eggs one at a time and mix well after each addition.

In a small bowl whisk cocoa into red food coloring, then add to sugar mixture and combine.

Sift together flour and salt. Alternate adding flour mixture and buttermilk to sugar mixture, beginning and ending with the flour. Mix after each addition. Blend in vanilla.

In a small bowl combine vinegar and baking soda. Add to batter and combine. Pour batter into cake pans and place in oven. Bake for 25-30 minutes, or until toothpick inserted into middle comes out clean. Remove from oven allow to cool completely before icing.
Icing:
Combine cream cheese and two sticks of butter in large mixing bowl. Beat with hand mixer until smooth.

Split vanilla bean lengthwise and scrape out seeds into cream cheese mixture. Add vanilla extract and and salt, then beat on low to combine.

Add powdered sugar 1-2 cups at a time, mixing on low after each addition until combined. After all sugar has been added increase speed to medium and beat until light and fluffy.

Slather onto cooled cake. Slice and enjoy!
*This post may contain affiliate links. This is not a sponsored post.