Dried Orange Rosemary Garland
At Christmastime "simple" feels so right. Making things by hand, preferably fireside with your dogs curled up by your feet, is a simple pleasure. Bringing fresh greenery and fruit inside adds an organic element to your home that speaks of a simpler time. This Dried Orange Rosemary Garland is an easy DIY way to capture that nostalgic mood and add a bit of cheer to the mantel, a bookshelf, or window!
Oranges at Christmastime
I've always connected to the tradition of oranges around Christmastime. They feel old-fashioned, and they also remind me to be grateful of all I have. During the Great Depression children would frequently receive a bit of candy and an orange in the toe of their stocking on Christmas morning. Times were tough and a piece of fruit was a luxury kids got excited about!
And it's not just an old-timey situation either! Growing up, our Romanian youth pastor told us about his childhood Christmases back home. Just like Depression-era kids, he and his brother would each get an orange or half a banana every Christmas morning. They would be ecstatic about it! And this was the 80's y'all! I need that kind of simple innocence and joy in my life, so I keep oranges in the house as a visual reminder of what matters.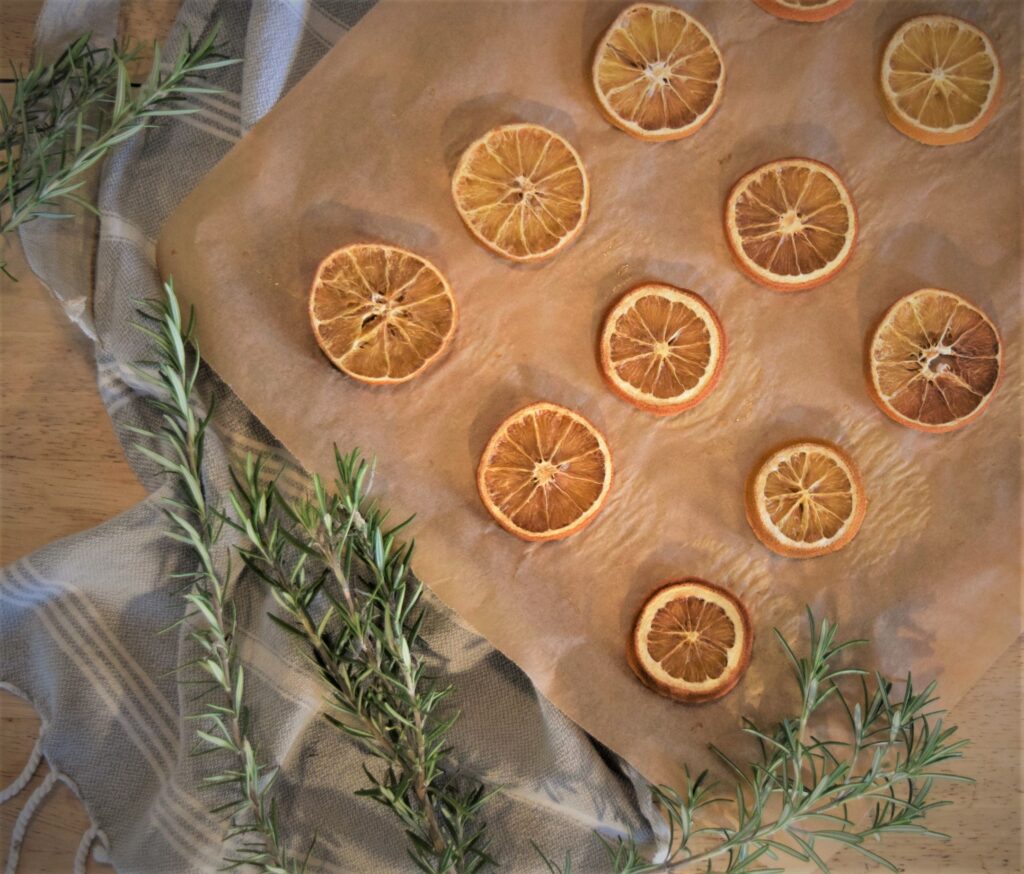 Makers Gonna Make
Ok, so let's get hands-on. I dried the orange slices the day before I made my garland. This way I was sure they were completely cool before jumping into the project. Feel free to complete this entire project in an afternoon if you have the time! Ribbon choice is completely up to you, but I do suggest one with more of an open weave. This makes it easier to poke the wire through. Linen would be a pretty option, or go rustic and use burlap!
No Rosemary? No Problem!
Feel free to switch up the greenery! I used rosemary because my herb garden overflows with it, but if you have access to noble fir, cedar, or even an olive tree, use it! All of these would work beautifully. One side benefit of using rosemary though, is that at the end of the season the garland will have dried your herbs! You'll have plenty for flavoring soups and roasts all winter long!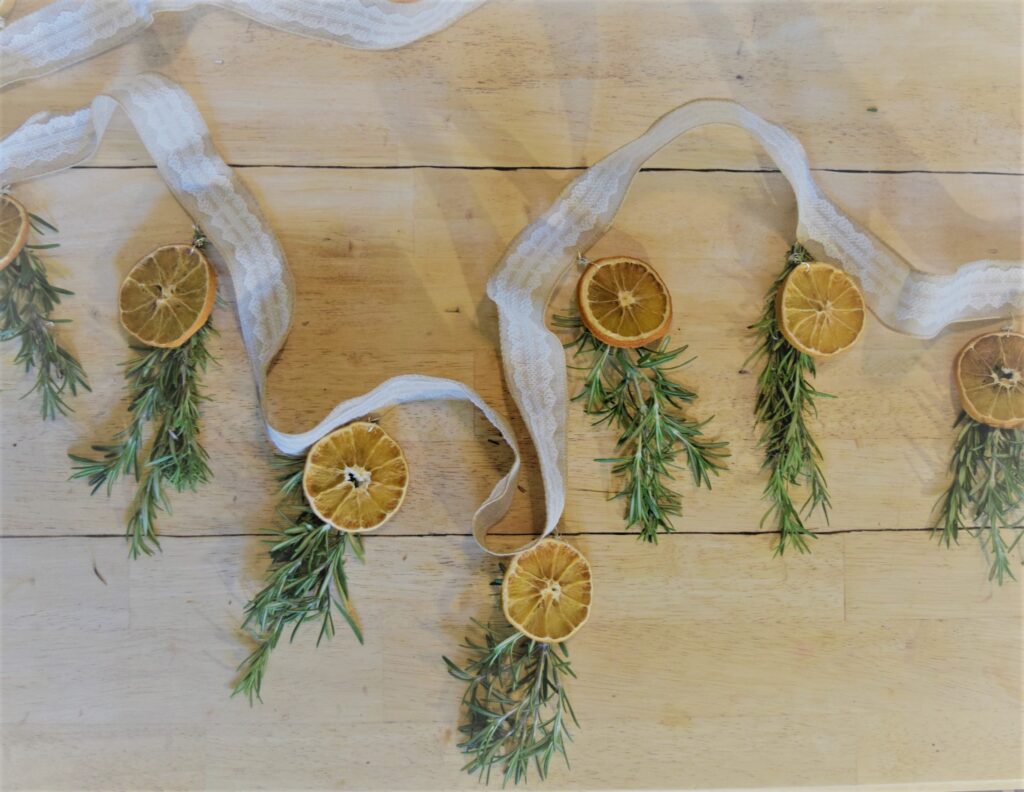 Jump In!
So light up the fire, put on some Bing, and enjoy making your own Dried Orange Rosemary Garland! For more Christmas activities, check out my free Christmas Bucket List printable! Or if you're happiest in the kitchen, make a Christmassy Southern Red Velvet Cake for your next holiday feast!
Keep it merry, friends!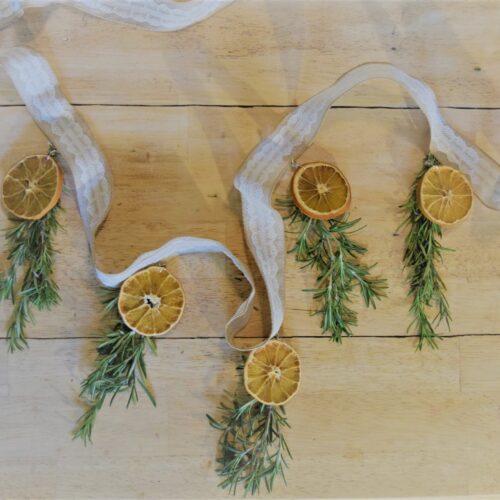 Dried Orange Rosemary Garland
Cheerful and natural, this 11-foot garland is an easy afternoon project that smells wonderful and comes together quickly.
Equipment
Scissors

Oven

Sheet Pan, Parchment

Tape Measure

Hanging Hardware, if desired
Ingredients
3-4

Medium

Oranges

36

6 inch

Rosemary Twigs

6

feet

24 Gauge Jewelry Wire

11

feet

Ribbon (linen, open weave, mesh)
Instructions
Dry Orange Slices
Preheat oven to 200 degrees F. Slice oranges about 1/4 inch thick, discard ends. Choose the twelve largest, most uniform slices and place on baking sheet lined with parchment paper.

Bake for two hours. Flip oranges, then continue baking two more hours. Flip again and bake 30-45 more minutes, or until completely dry. Don't brown. Remove from oven and cool completely.
Assemble Sprigs
Cut wire into twelve 6-inch pieces. Poke 1/2 inch of a wire piece through an orange slice near the top. Bend long side of wire around back and twist with short side of wire three times.

Bunch three rosemary twigs together. Place wired orange slice near top, where the length of rosemary underneath is visually pleasing. Use your fingers to strip needles off rosemary above orange slice. Tightly wrap long end of wire three times around rosemary bunch. Loop wire under orange slice to secure. Snip bare rosemary twigs a little above wire wrapping.

Set sprig aside and repeat process for other 11 orange slices.
Assemble Garland
You'll be attaching an orange-rosemary bunch every 9 inches, starting 19 inches from each end. (This leaves a tail to curl if ribbon is wired. Feel free to adjust measurements to your preference.)

Measure and mark your ribbon for even placement of sprigs. At each mark poke wire through bottom edge of ribbon, loop it around back and then twist it around itself once. Twist twice around rosemary twig ends (where wire is wrapped from making the sprig) and tuck wire tail under orange slice. Repeat for every sprig.

Hang over a mantel, along a bookshelf, or anywhere a bit of natural Christmas cheer is needed!
*Post may contain affiliate links. This is not a sponsored post.
Dried Orange Rosemary Garland Dried Orange Rosemary Garland Dried Orange Rosemary Garland