Homemade Natural Laundry Detergent: Fall Spice Edition!
Why does the laundry aisle always smell like flowers and tropical vacations? It's fall! Right now we want all things cozy, warm, spicy… and it's time to take it to the laundry room! This Homemade Natural Laundry Detergent is made from simple ingredients, comes together quickly, and is customizable to whatever scents you prefer. (Side note, it's technically a laundry soap, not a detergent. For info on why that's a good thing tap here.)
The basic recipe for this laundry soap is from Lisa Bass's book Simple Farmhouse Life. (This is a good time to note that this is not a sponsored post, nor does it contain affiliate links.) Her lovely blog and podcast are so inspiring for anyone pursuing a more natural or handmade home! I've always loved the simplicity and "back to my roots" feeling of making my own cleaning and body care products, but I'd never tried making my own laundry detergent until my mom made the version in Lisa's book. She loved how her laundry soap turned out, so I had to give it a whirl!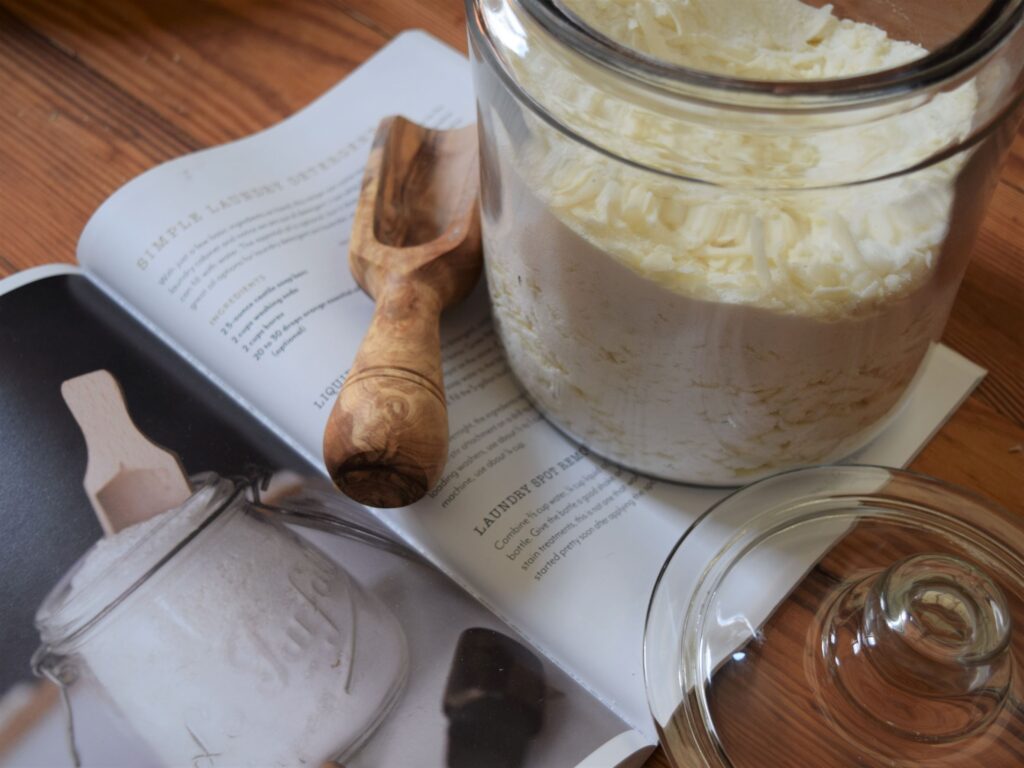 My first batch was unscented (no essential oils), and I used grated Fels Naptha soap. It's super effective, even washing the stink out of my farmer husband's work clothes! And trust me, that's saying something! But with the changing of the seasons a warmer, cozier scent sounded enchanting to me. Hence this "fall spice" version of the original laundry detergent!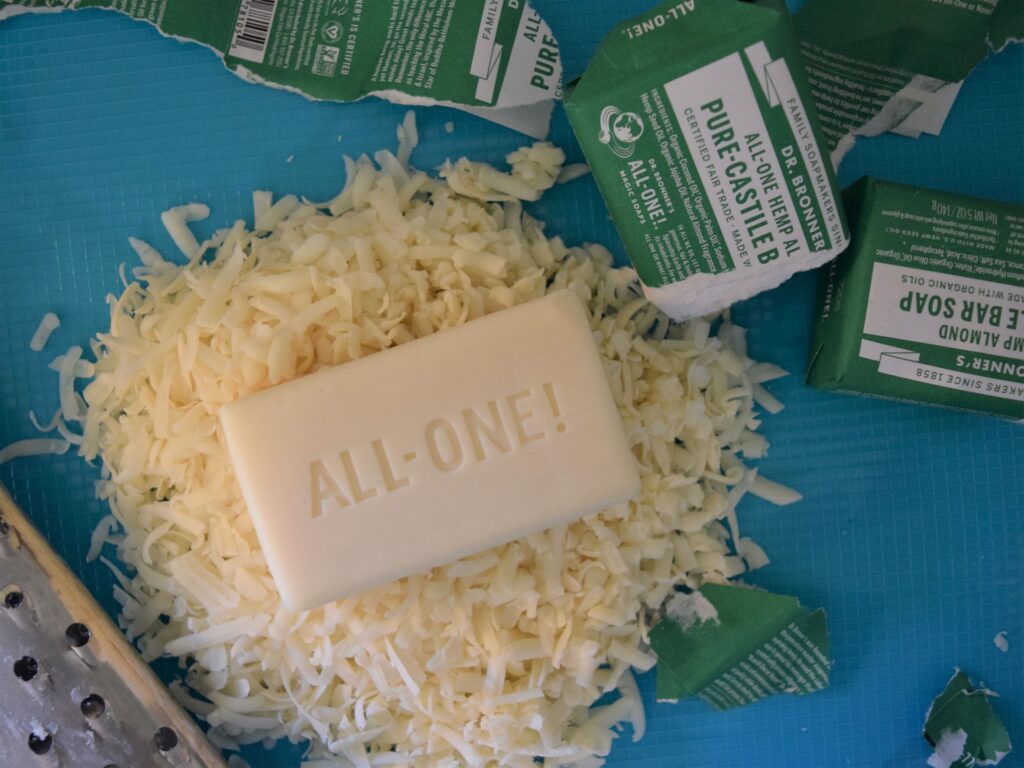 To achieve a sweater-weather scent I used Dr. Bronner's almond castile soap bars instead of Fels-Naptha soap for a sweet foundation. Then I added the delicious fragrances of orange, bergamot, and cinnamon leaf essential oils. The combination is intoxicatingly spicy, comforting, and yes- cozy!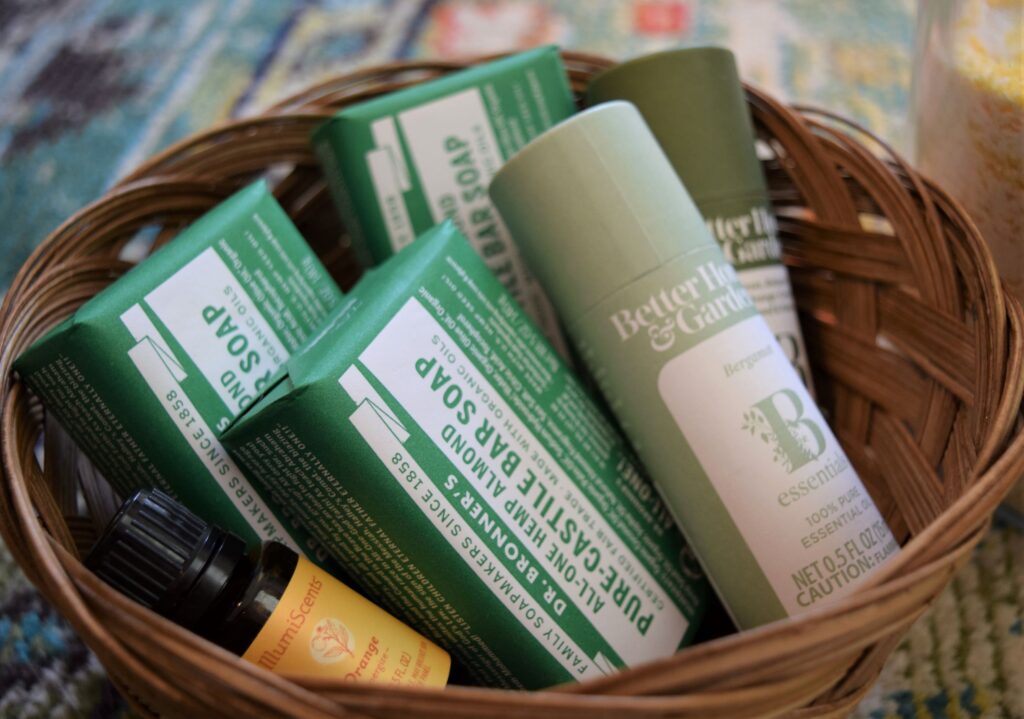 Using essential oils in your laundry soap is completely optional as they don't add to its cleaning power, but I highly recommend adding them for the full fall laundry experience! Also, if you're not a fan of the oils I've used here, feel free to sub in your favorites. Lavender and lemon always smell fresh, or maybe try balsam and clove for an invigorating winter wash!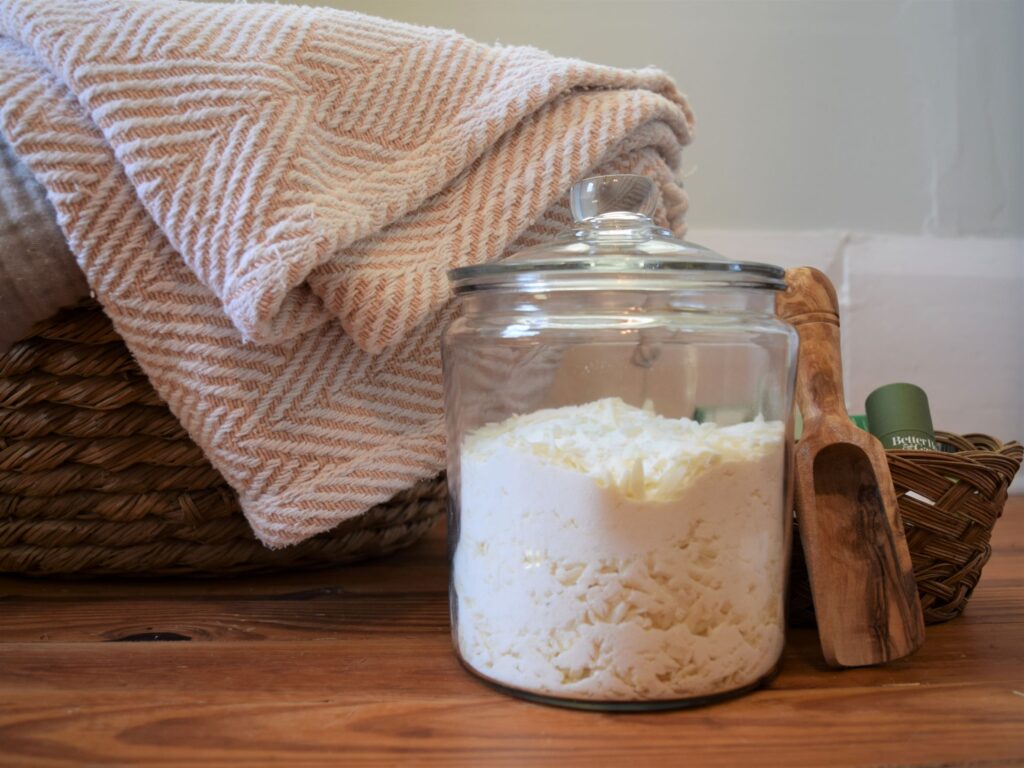 All said and done, this is a project that comes together in ten minutes flat. So if you love the satisfaction of making things yourself and prefer to keep your home as natural as possible, go ahead and give this handmade laundry soap a try! You'll love the simplicity- and the smell! Let me know how it goes, and if you're playing around and discover a dynamite essential oil combo comment below!
For more DIY projects check out my Harvest Moon Wood Art or Dried Orange & Rosemary Garland. Happy making!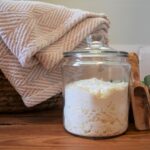 Print
Homemade Natural Laundry Detergent
When you want natural, clean clothing and linens minus commercial fragrances and detergents, try making a batch of this simple and easy laundry soap!
Equipment
Cheese Grater or Food Processor
Materials
2

cups

Washing Soda

2

cups

Borax

2

5 oz. bars

Almond Castile Soap

30

drops

Orange Essential Oil

15

drops

Cinnamon Leaf Essential Oil

10

drops

Bergamot Essential Oil
Instructions
Grate the castile soap bars with cheese grater or in food processor.

Combine borax, washing soda, and castile soap in large bowl and stir to combine. Add essential oils, stirring between additions. Transfer to lidded container.
To Use
For top load washing machines add 1/4 cup of laundry soap per large load. For high efficiency washers, add 3 tablespoons.
Homemade Natural Laundry Detergent, Homemade Natural Laundry Detergent Homemade Natural Laundry Detergent, Homemade Natural Laundry Detergent