Mexican Lasagna: Cheesy, Spicy Comfort Food
Is there a meal that excites people more than a cheesy, comforting lasagna? Well, move over Italy because Mexico wants a piece of that glory! Read on for a cheesy, decadent fiesta of flavors- Mexican Lasagna, comfort food extraordinaire. (This post does not contain affiliate links, nor is it a sponsored post.)
Comfort Food with a Kick
In our house we eat soooo much Mexican food. Maybe because it's hot-weather friendly (the South is the humidity capital of the country, after all), or maybe because I always have peppers and cilantro in the house. Either way, when I was contemplating what to make for dinner one night, I was feeling comfort food vibes and lasagna popped into my head. But dang it, we didn't have lasagna noodles. Enter: corn tortillas… and all of the sudden a vision of the complete Mexican lasagna floated into my consciousness.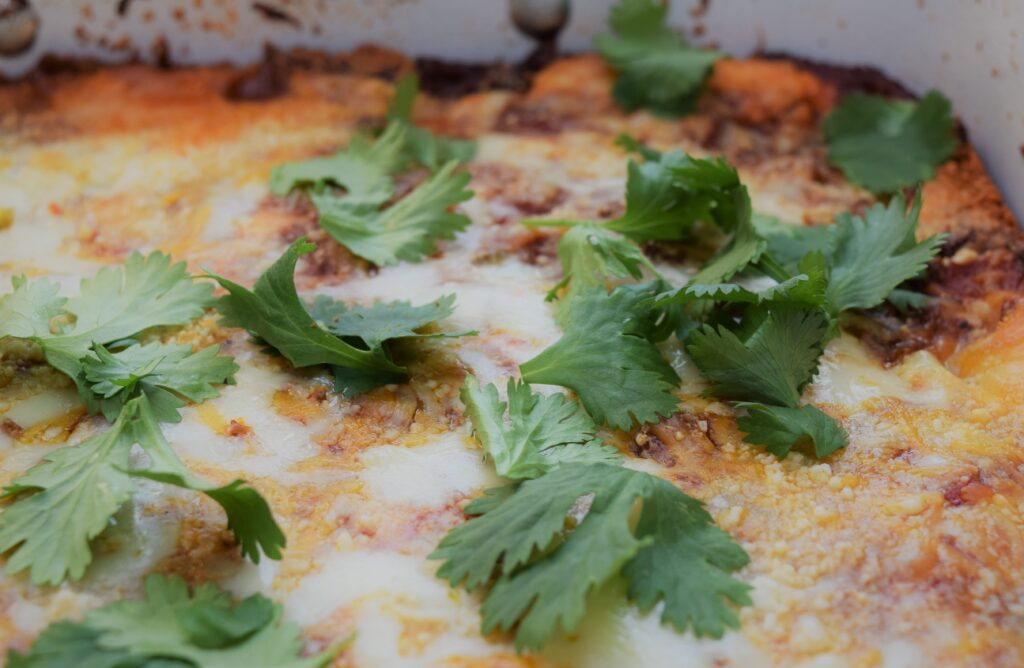 Simple Swaps
It really isn't rocket science, though. Italian lasagna has red sauce just like most Mexican dishes. Remove the rosemary and basil, add in cumin and a kick of chili pepper, and the Mexican version is equally simple. Instead of the Italian ricotta cheese layer, we'll employ cotija mixed with cream cheese and Greek yogurt (for a sour cream-like tang). And instead of mozzarella sprinkled on top, we go cheddar and pepper jack. Easy!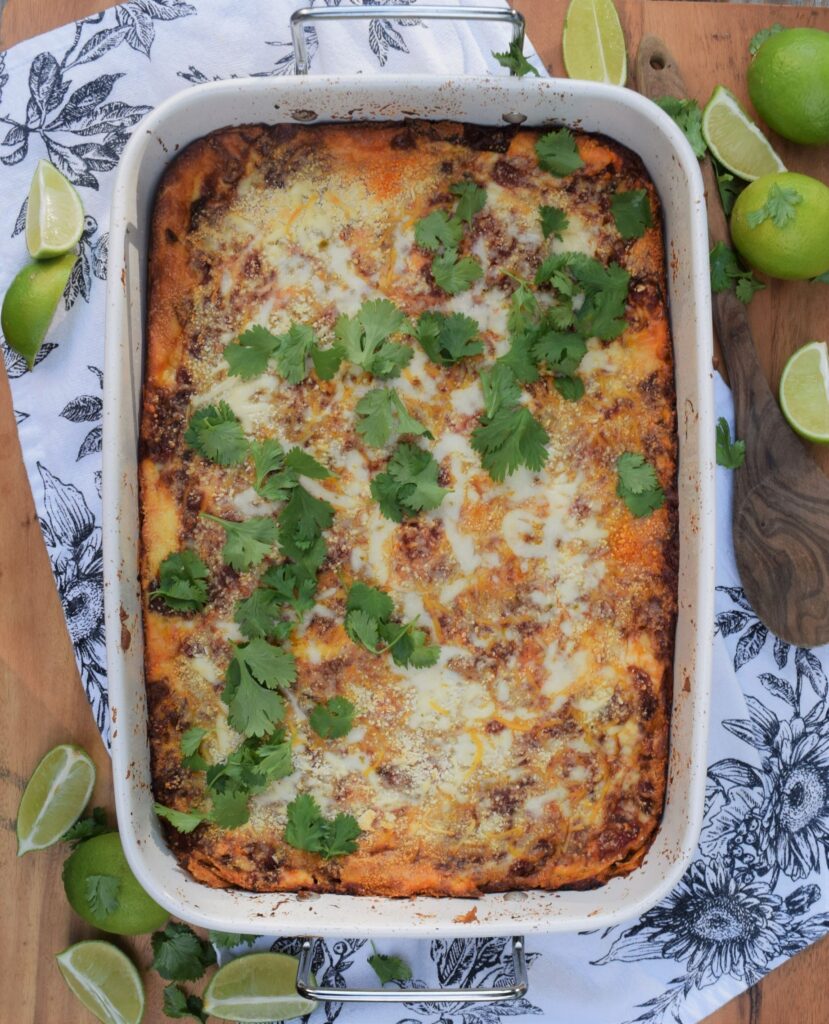 Keep it Fresh
For the cherry on top, a squeeze of lime juice and a sprinkling of bright green cilantro round out our lasagna makeover. And that's maybe my favorite thing about this dish, something Italian Lasagna doesn't have- the freshness! Go overboard with the herbs and zesty citrus and you have a comfort food for all seasons, not just the depths of winter!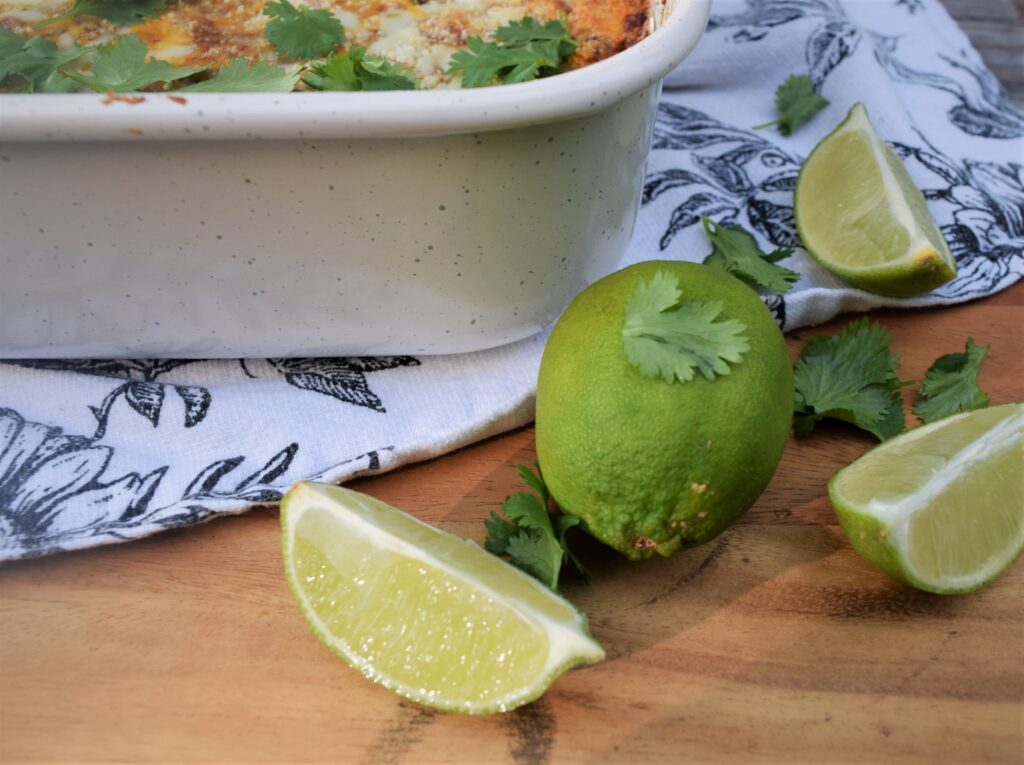 Ok you guys, do yourself a favor and make a Mexican lasagna for dinner this weekend, or for your next game-day party! You just found your next comfort food go-to!
For another crowd-pleasing comfort food, check out my Smoked Mac 'n Cheese recipe! And for a sweet treat to top it all off maybe a batch of Apple Cider Donuts? Mmmmm!
Want daily inspiration for your own simple (and delicious!) lifestyle? Connect with me on Instagram here!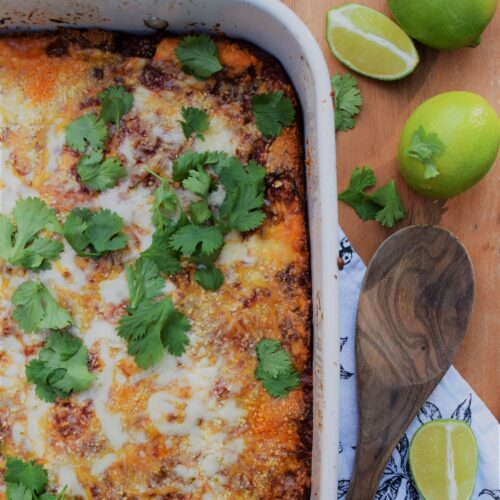 Mexican Lasagna
Cheesy, spicy, layered goodness- a few simple swaps and a classic Italian comfort food scrumptiously transforms into a Mexican fiesta!
Ingredients
15-20

4-inch Corn Tortillas, cut in half
Mexican Red Sauce
1

lb

Ground Beef

1

large

Onion, diced

4

Jalapeños, minced

4

cloves

Garlic, minced

28

oz can

Enchilada Sauce

28

oz can

Petite Diced Tomatoes

2

Tbsp

Chili Powder

2

Tbsp

Cumin

2

tsp

Oregano

1

tsp

Red Chili Flakes

1

tsp

Smoked Paprika

1

Lime

Salt to Taste
Cheese Layer
16

oz

Cream Cheese, room temperature

8

oz

Greek Yogurt

2

cups

Cotija Cheese, divided

16

oz

Cheddar, grated

16

oz

Pepper Jack, grated

1

large

Egg

2

Tbsp

Fresh Cilantro, chopped

1/2

tsp

Sea Salt

1/2

tsp

Garlic Powder
Garnishes
Fresh Cilantro, chopped

Limes, quartered

Avocado Slices
Instructions
Red Sauce
In a large heavy-bottomed pot over medium heat, brown ground beef. Drain. Add onion and jalapenos to pot and cook until softened, about seven minutes. Add minced garlic and cook one minute more. then pour in enchilada sauce and diced tomatoes. Juice the lime into the pot, add taco seasoning and all other seasonings. Stir to combine. Increase heat to high until sauce boils, then reduce to low and simmer for two hours (or more, if you have the time).
Cheese Layer
Put cream cheese in a medium bowl and beat on medium speed with hand mixer until loosened. Add Greek yogurt, 1 cup of cotija cheese, salt, garlic powder, and cilantro and beat until combined. Add egg and beat until incorporated. (The remaining cheeses will be sprinkled on top of the cream cheese mixture for the cheese layer.)
Assembly + Baking
Preheat oven to 350 degrees. In the bottom of a lightly greased 9×13 baking pan spread a ladle or two of red sauce. Arrange a layer of tortilla halves to completely cover the sauce. Spread half of cream cheese mixture over tortillas. Sprinkle grated cheddar, pepper jack, and cotija cheese over cream cheese mixture then ladle red sauce over cheese. Repeat. Add one more layer of tortillas and red sauce on top, then sprinkle with cheddar, pepper jack, and cotija.

Cover pan with foil and bake for twenty minutes. Remove foil and bake another 30-35 minutes, or until bubbly and cheese is slightly browned and melty. Remove from oven and let cool at least ten minutes, preferably longer. Serve generous portions topped with avocado slices, freshly chopped cilantro and a squeeze of lime. Keep refrigerated for up to four days. Also freezes well!
Mexican Lasagna Comfort Food, Mexican Lasagna Comfort Food, Mexican Lasagna Comfort Food