Easy Mango Frozen Yogurt
Unbelievably smooth and creamy, the last days of summer deserve this simple, no-cook Easy Mango Frozen Yogurt! (This post contains no affiliate links, nor is it a sponsored post.)
This recipe is all about letting the taste and texture of juicy mango shine! You can use fresh fruit or frozen and thawed, whatever keeps it simple for you. Mango is a winner when it comes to using fruit purees in fro-yo because unlike many other fruits, mango has a smoothness that doesn't get icy during the freezing process. It actually adds creaminess!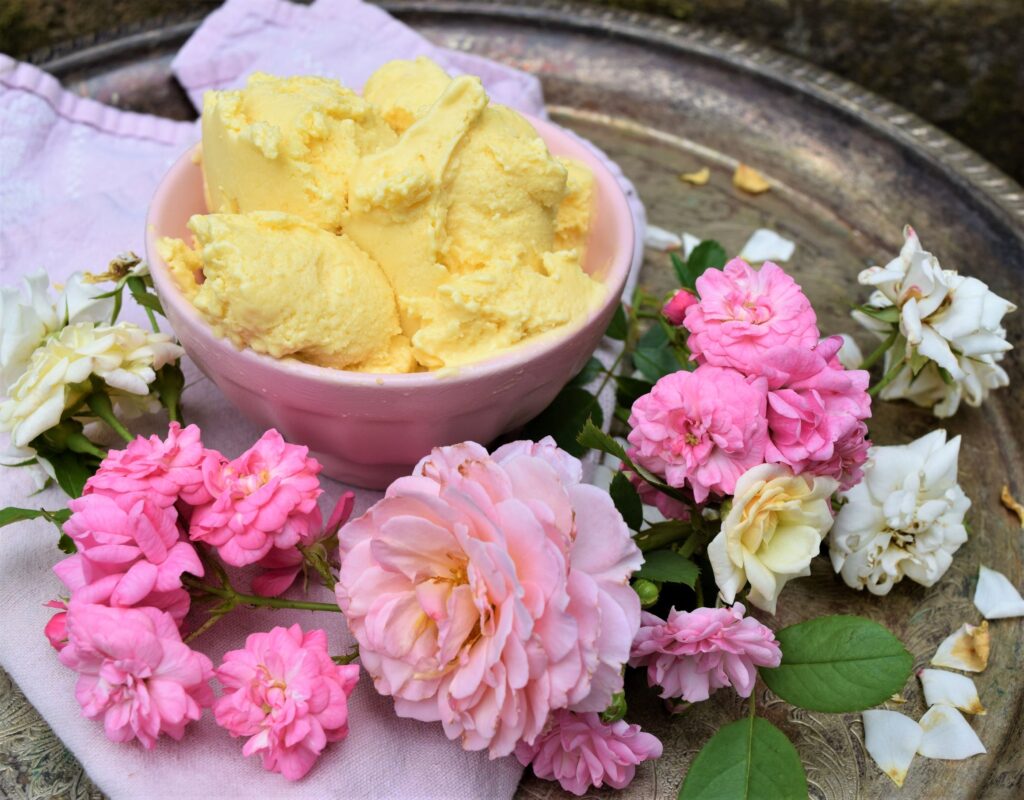 10% fat Greek yogurt is the other must-have ingredient for a super-creamy frozen yogurt! I like Cabot brand because the taste is unbeatable. (Again, not a sponsored post. I just love the stuff!) If you can't find Cabot, check the labels of the available Greek yogurts to find one that says full fat. Anything from 5% up qualifies and will yield a thick, rich frozen yogurt.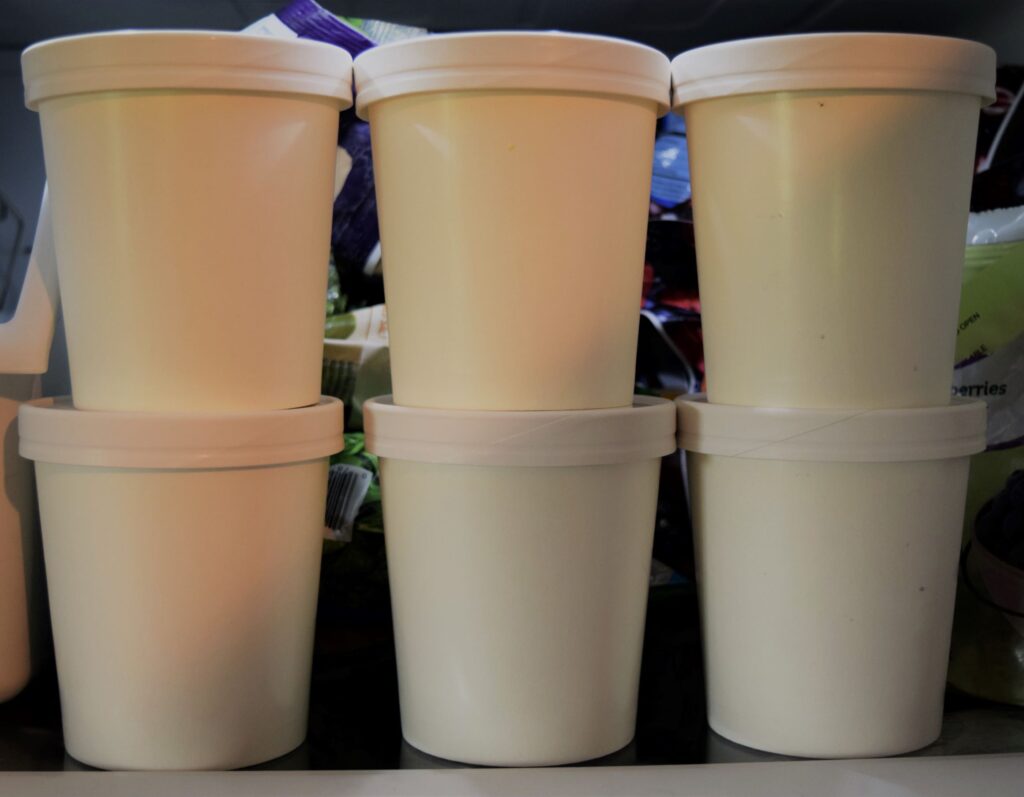 One thing that makes homemade frozen yogurt (or ice cream) convenient is the having cardboard pint containers on hand. It's hard to find freezer space for a large, awkwardly shaped ice cream machine canister! I found these little cardboard pints on Amazon and now keep my pantry stocked with them all summer. Not only are they space-saving, individual containers also keep the frozen yogurt fresh and make sharing it easy!
I hope you enjoy this fun recipe! Happy summering! For more warm-weather sweetness hop over to my Strawberry Ooey-Gooey Butter Bar recipe or Bananas Foster Upside-down Cake recipe. Yum!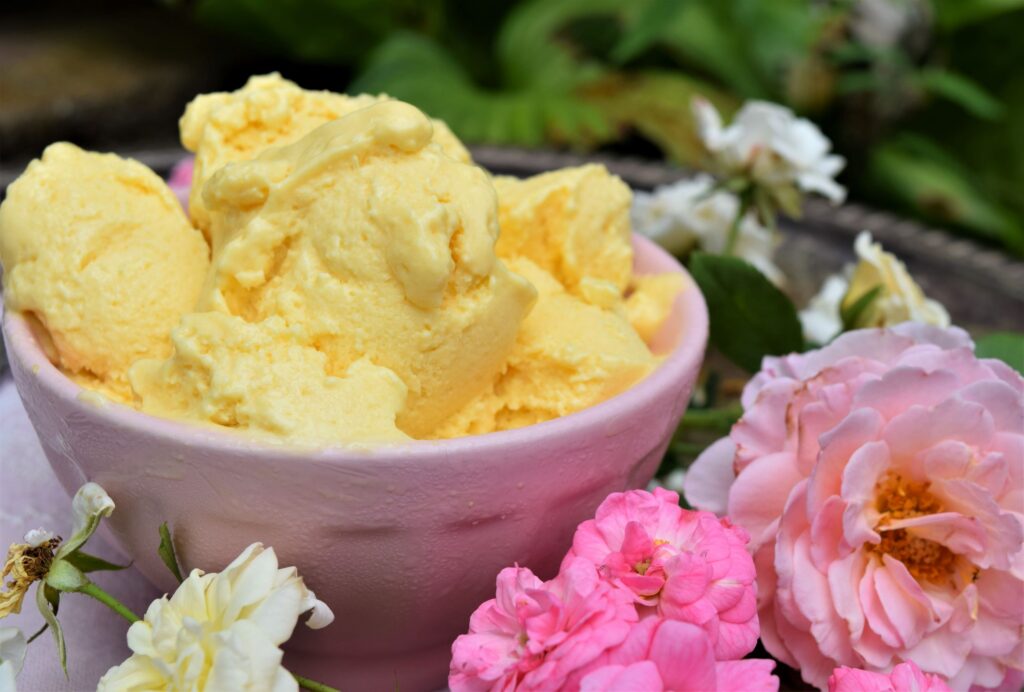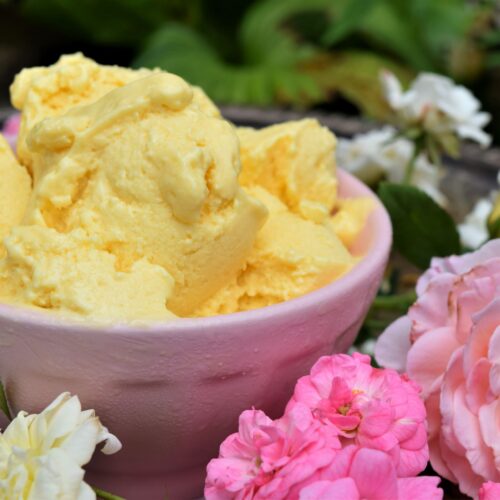 Easy Mango Frozen Yogurt
Smooth, creamy perfection! Bursting with juicy mango, this quick, easy frozen yogurt recipe screams summer!
Ingredients
3 lb

Bag

Frozen Mango, thawed

(or 10 cups fresh, cubed)

4

cups

10% Greek Yogurt (Cabot brand is lovely)

1

cup

Granulated Sugar

2

tsp

Vanilla Extract

1/8

tsp

Sea Salt
Instructions
Chill your ice cream maker's canister in the freezer. Combine yogurt, sugar, vanilla, and salt in large bowl. Mix with hand mixer on medium speed until incorporated.

Puree 1/2 bag of mango in the blender. Pour mango puree into yogurt mixture and blend together with hand mixer. Repeat with second half of mango. Switch hand mixer speed to high and mix for 30 seconds more, until fully combined and a bit fluffy. Cover bowl with plastic wrap and chill in refrigerator for one hour.

Freeze in ice cream maker according to manufacturer's instructions. This usually takes about 25 minutes in an electric ice cream maker. Serve immediately or scoop into pint containers and store in the freezer. If freezing, thaw ten minutes before eating.
Easy Mango Frozen Yogurt, Easy Mango Frozen Yogurt, Easy Mango Frozen Yogurt