What's Blooming Right Now
Southern Spring
Spring here in Georgia can mean many things. It can be a few weeks of fresh mornings and raindrops on roses. A slow, subtle warming, like wax gently melting into relaxed softness. Or spring can come on in a flush of scorching afternoons and sultry nights droning lazily with heat bugs. A quick shove off the diving board into summer. Every year is different and I'm ok with that. What matters most to me is that my yard gets whatever it needs to blossom into the cheerful Southern cottage garden I've weeded, watered, and waited for! In this first week of May, to my relief and excitement, so many flowers have burst forth that overnight it seems the garden is alive with sunny welcome! Walking out the back door is enchanting for every sense. My eyes are delighted by artful clematis tendrils and my nose bewitched by the fragrance of English roses. I don't think I ever want to leave! Here's what's blooming right now!
Pinks (Dianthus)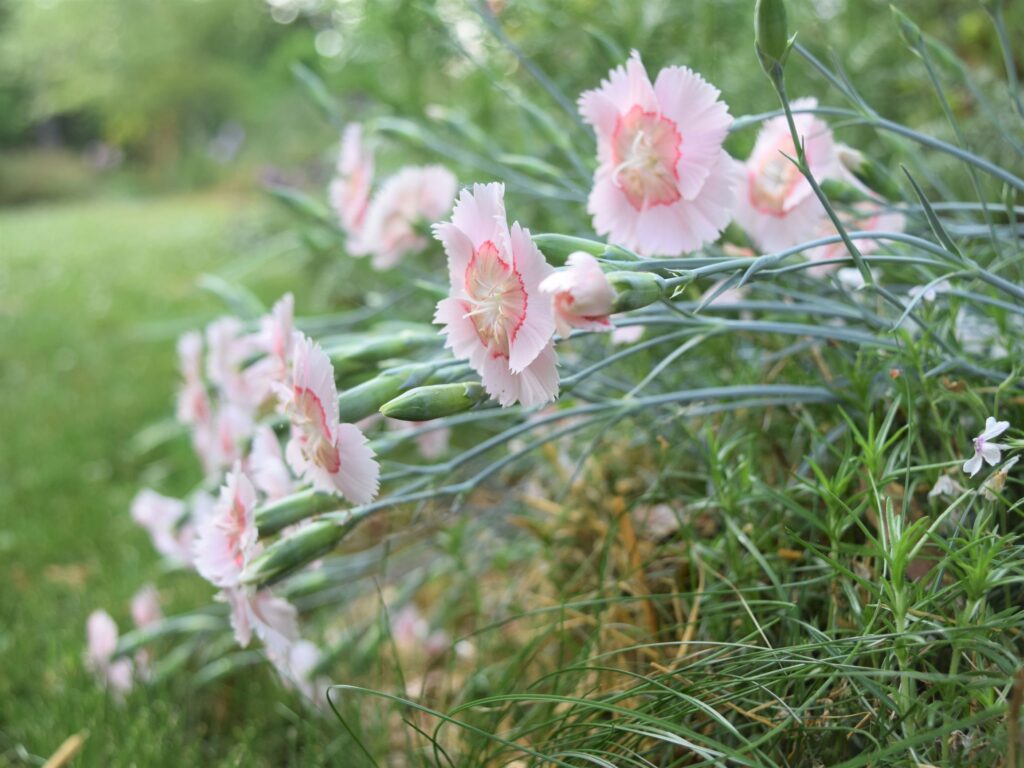 This variety is called "Georgia Peach Pie" and smells like a cinnamon dream. I love the delicate line encircling the center, the "pinked" petal edges, and that soft aqua-colored foliage.
Lavender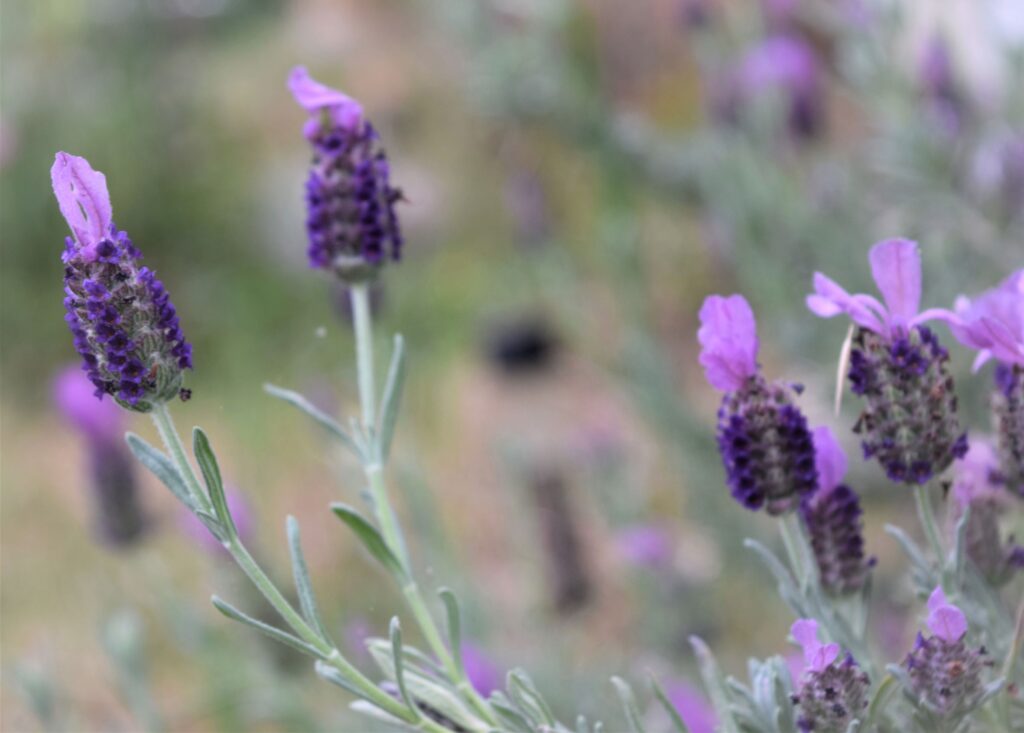 Always, always, lavender. It's the easiest way to achieve mounds of casual cottagey color! This is "Silver Anouk", a rabbit ear variety with deep purple flowers and silvery green foliage that plays beautifully with all the peaches and pink of my roses and perennials. I've found that here in the Deep South the Spanish lavenders flourish best. The French and English varieties wilt or burn, but any of the rabbit ear varieties (Spanish) hold up to both the heat and humidity. Many lavenders were murdered to bring you this information!
Roses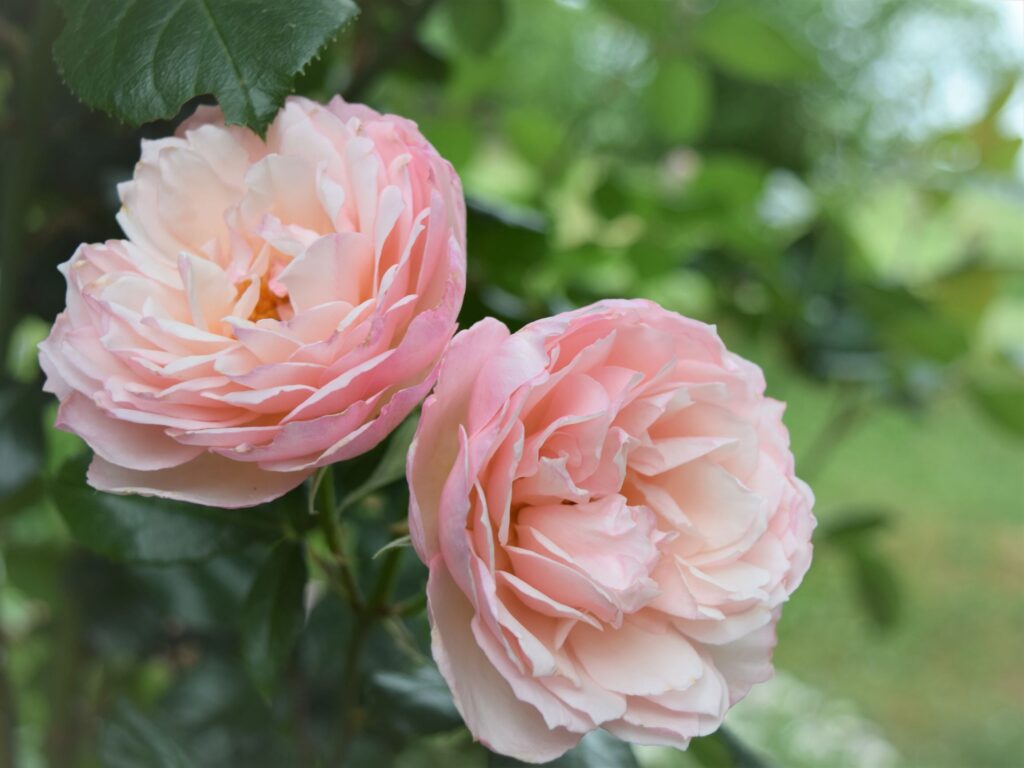 Heaven is roses in bloom. The peachy-pink beauty above is David Austen's "The Generous Gardener". I love it for its deep, true rose scent and lush, laid-back blooms.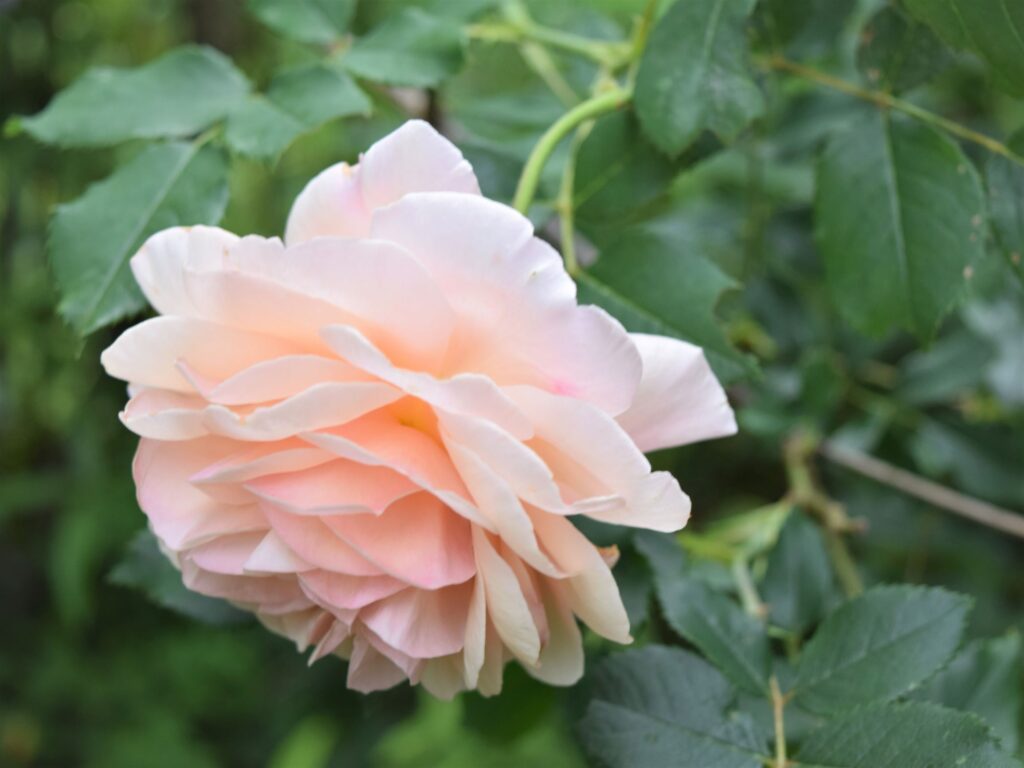 "A Shropshire Lad" is another favorite from David Austen. It's a bit more finnicky than the others, but worth the effort for its elegant flowers and captivating fragrance.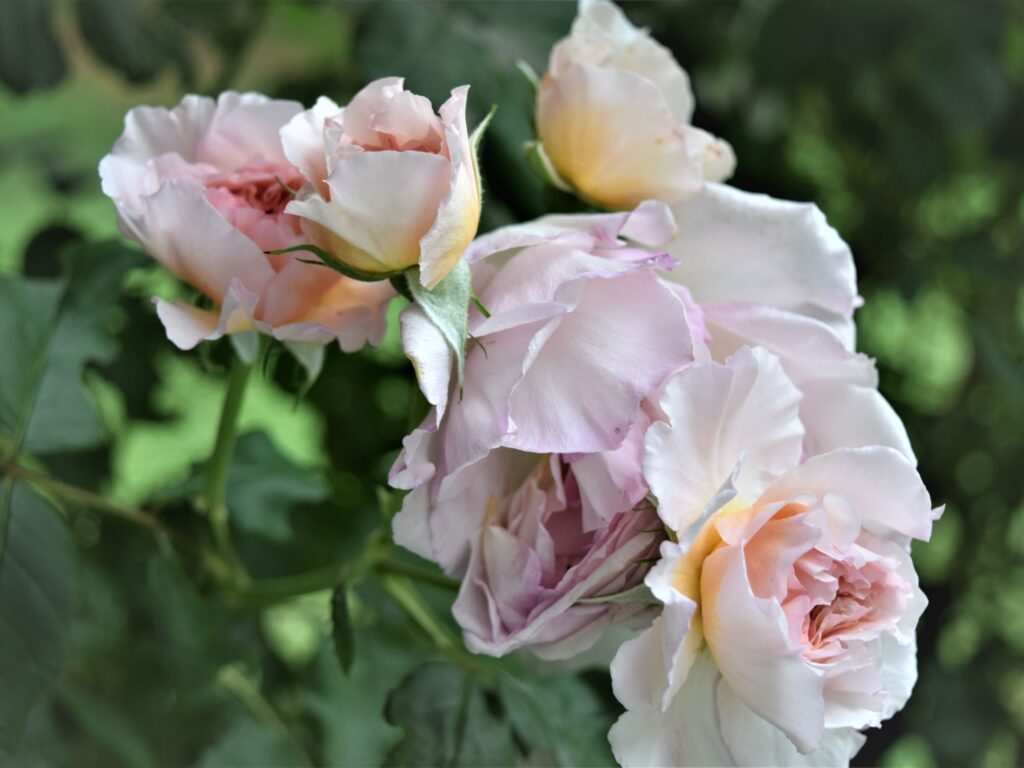 One of the most prolific bloomers in the garden is the "James Galway" rose! (Yes, from David Austen. Not sponsored, by the way!!) It always flowers first, and I love the tightly packed cool pink petals, pictured above in various stages of undress. Don't they look decadent even as they're dying? Our front porch is surrounded by these roses climbing up the posts. As the flowers fall, piles of petals gather in the flower beds below, still softly scented. So extravagant.
Woodland Phlox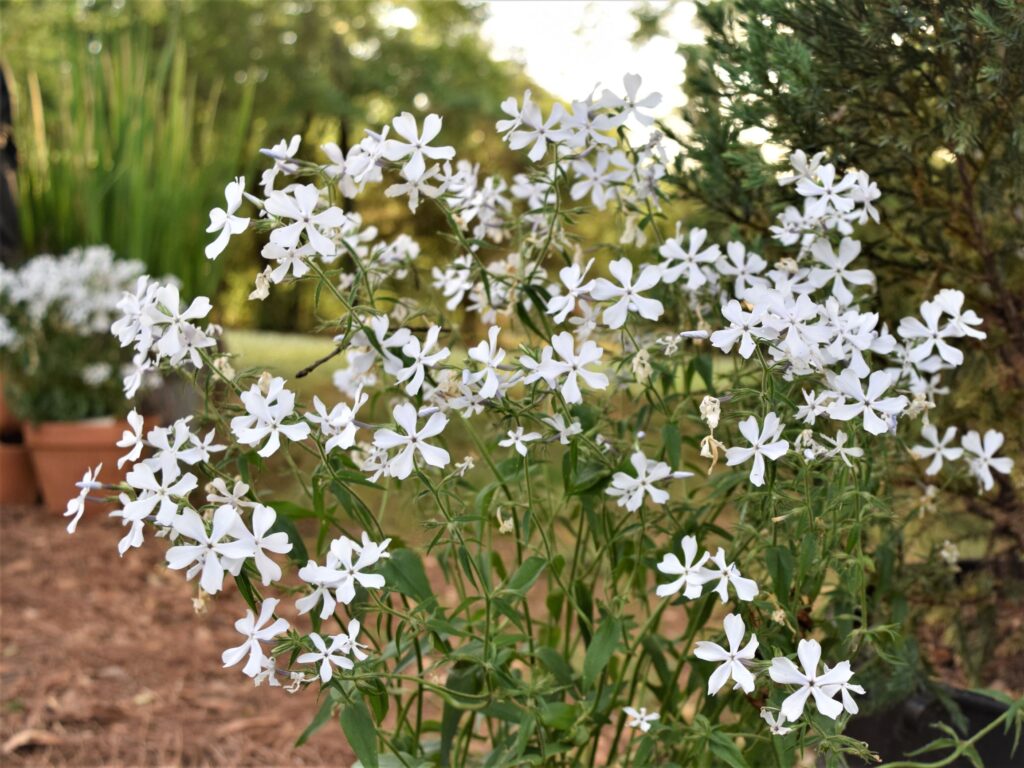 You won't believe the fragrance of Woodland Phlox! It's a mix between jasmine and honeysuckle, absolutely divine. Put a few of these in pots around your patio and the entire area will become a spellbinding evening escape. The woodland variety of phlox is taller than its cousin Creeping Phlox but shorter than its other cousin Garden Phlox. It's also a fan of partial shade, whereas the other two can handle a great deal more sun. I happen to think the woodland variety has the strongest scent, which as you can tell, is a bit of a big deal to me!
Foxglove (Digitalis)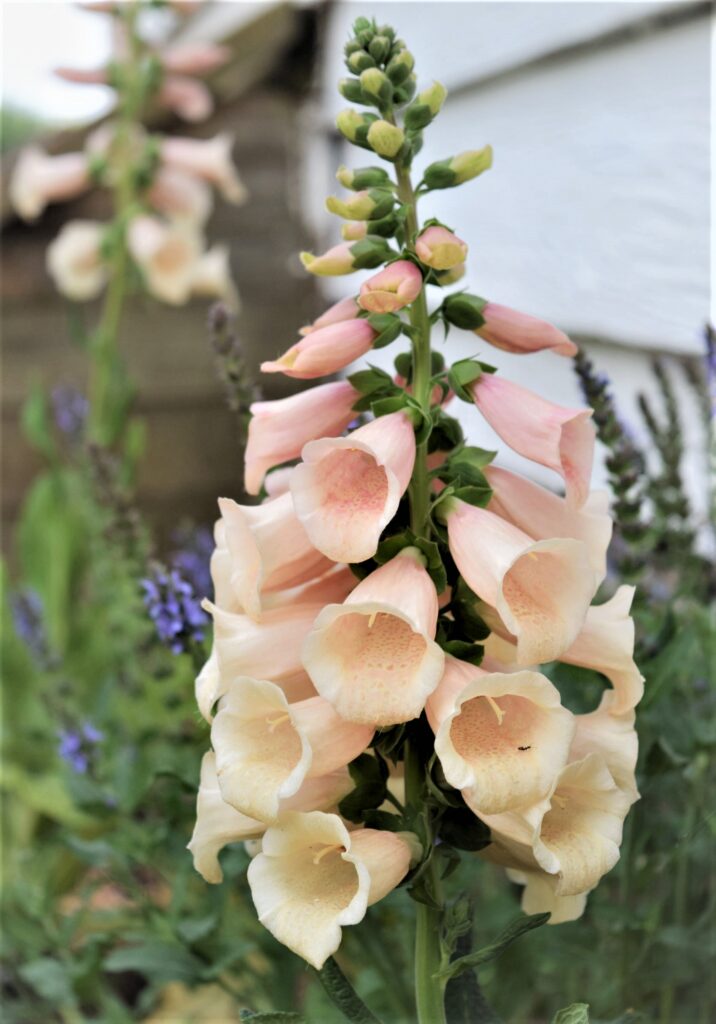 This dramatic yet delicate beauty is still rather new to me. Foxgloves are a biennial, meaning they bloom every other year. But they do self-sow, the hope being that they will spread enough to have blooms every year, just from half your plants. Bit of a diva, really. But one that's worth growing for height and classic cottage style! For inspiration take a look at American illustrator Tasha Tudor's famous 6-foot foxgloves. They create such a fairytale secret-garden feel! This is the "Dalmation Peach". Last year we planted "Dalmation Lavender", so we'll see if she likes us enough to come back next year.
Sweet William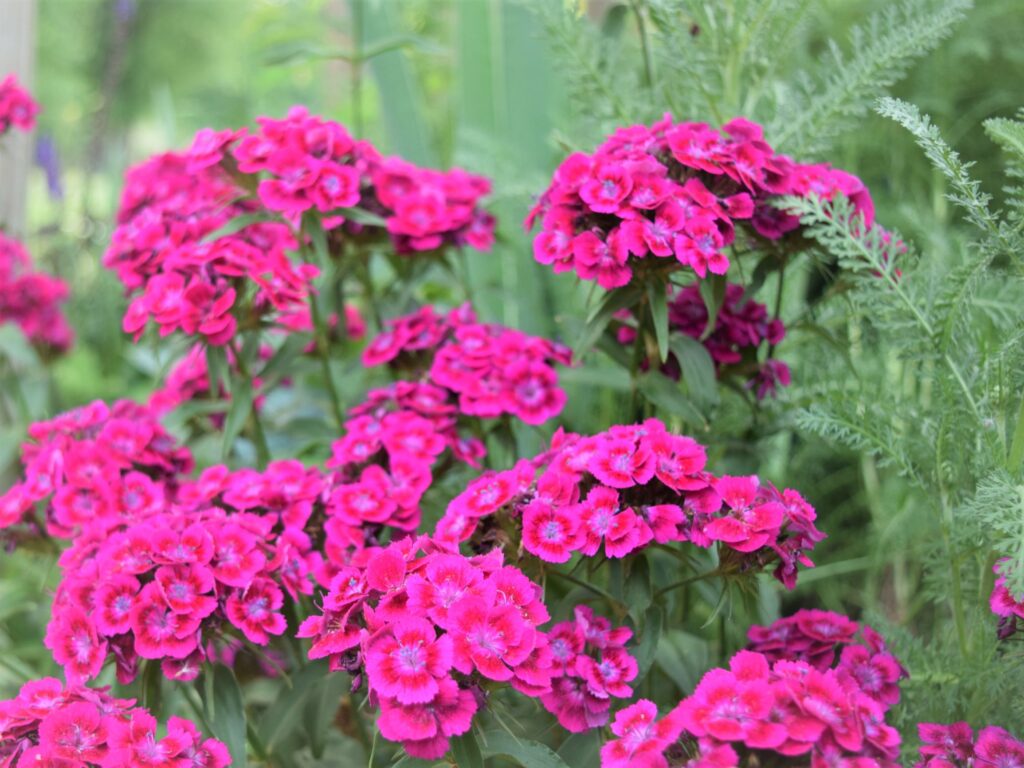 An old-fashioned flower that's underused nowadays. (Yes, I just said "nowadays" like the old lady my yard suggests I am). It's a shame because they're reliable, inexpensive, easy to care for, spread by themselves, and add masses of color to the flower bed for six weeks or more!
Clematis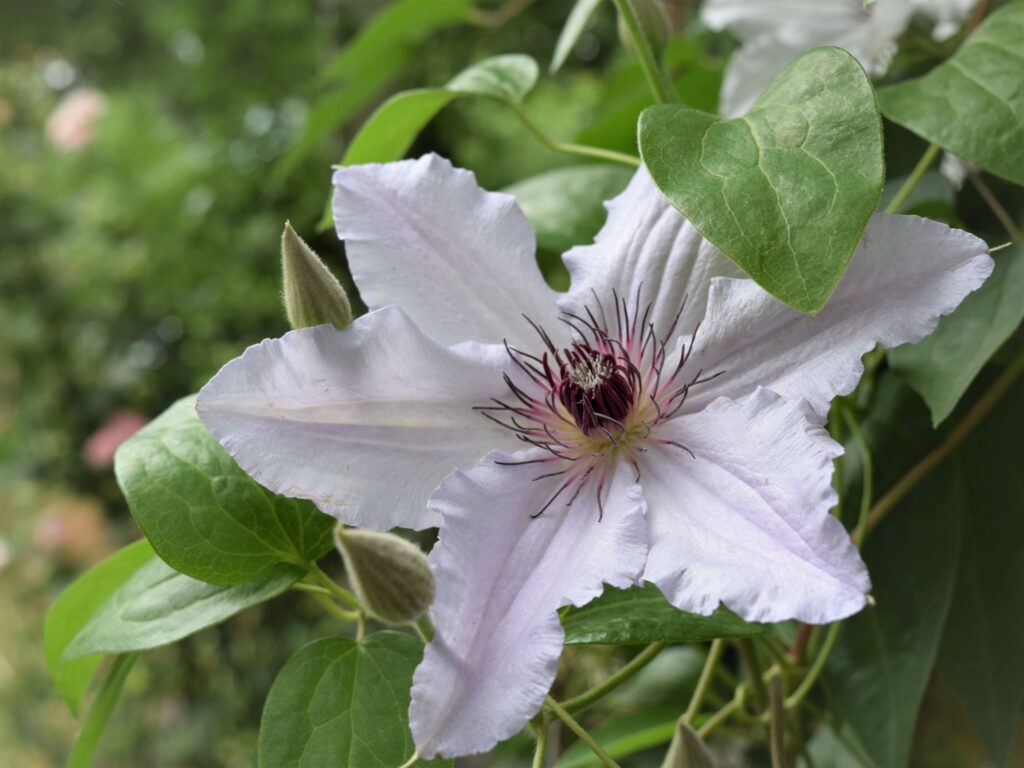 Our front porch is now a clematis bower! This particular variety is so lush and long-reaching, I'm in love with it. Unfortunately, it was an unmarked $9 Walmart plant and I have no idea what the variety is called. If anyone recognizes it I'd love to hear from you! This clematis is absolutely worth filling your yard with.
Bachelor's Buttons (Scabiosa)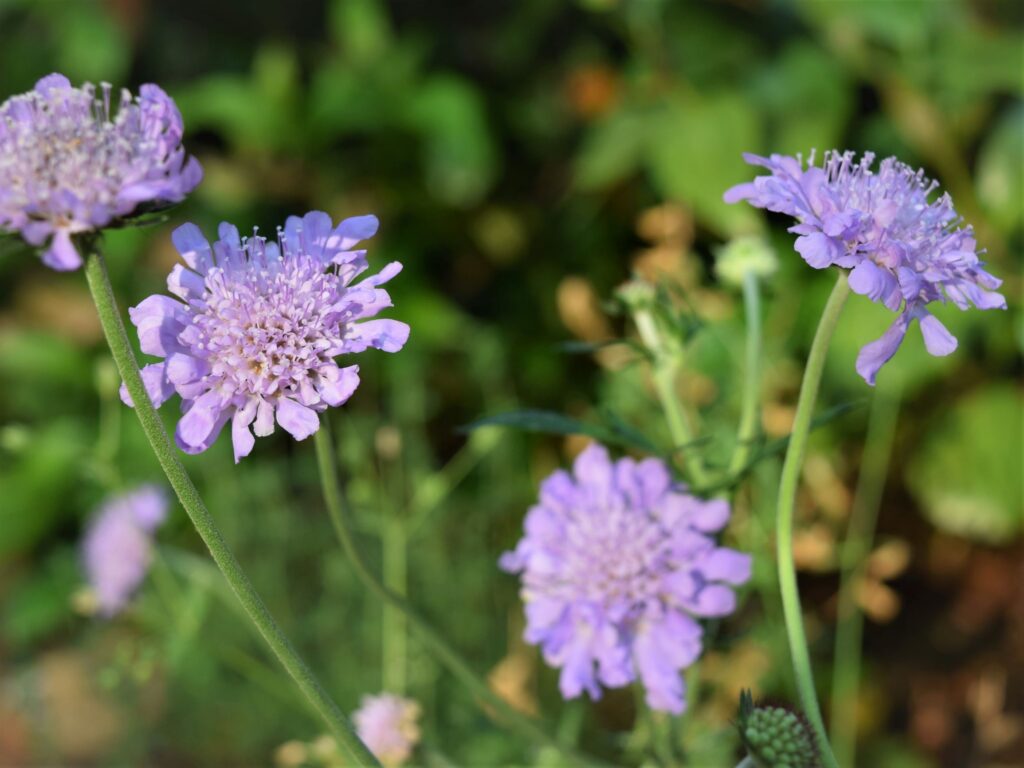 Such a perfect purpley blue color on these happy little flowers! An easy-to-grow perennial that mixes well with cottage style beds or adds a playful vibe to more traditional, structured landscaping.
How does your garden grow?
I'd love to hear about what's blooming in your corner of paradise! Are you welcoming the first brave little blossoms, or is your yard a riot of tropical color right now? Whatever state of spring you're in, make sure to get outside and savor it- summer is coming on quickly!
For further reading on how to grow a cottage garden in the South, tap here!
What's Blooming Right Now What's Blooming Right Now What's Blooming Right Now What's Blooming Right Now What's Blooming Right Now