How to Take the Perfect Christmas Card Photo
So, have you taken your perfect Christmas card photo yet? If panic just rose up in your heart you're not alone! Don't sweat it, friend. These four keys (plus a bonus tip!) are the shortcut to a photo that's full of your family's personality, and you're not going to lose your mind capturing it! A little thought, a little planning, and a couple hours this weekend and you're absolutely there. Trust me, this is going to be fun!
Choose a Meaningful Backdrop
Here is an underused opportunity to show a little personality! Do you love to be outside? Your favorite lake or hiking trail would be a beautiful spot to take your photo. A friend's land or even your own backyard could be a simple way to get an outdoorsy feel, as well. Or maybe you're a sophisticated, indoors kind of family! If your home has a beautiful staircase or wood feature wall, these would be great backdrop options for a perfectly polished picture! Want to exude warmth and welcome? Take your shoot to the front porch!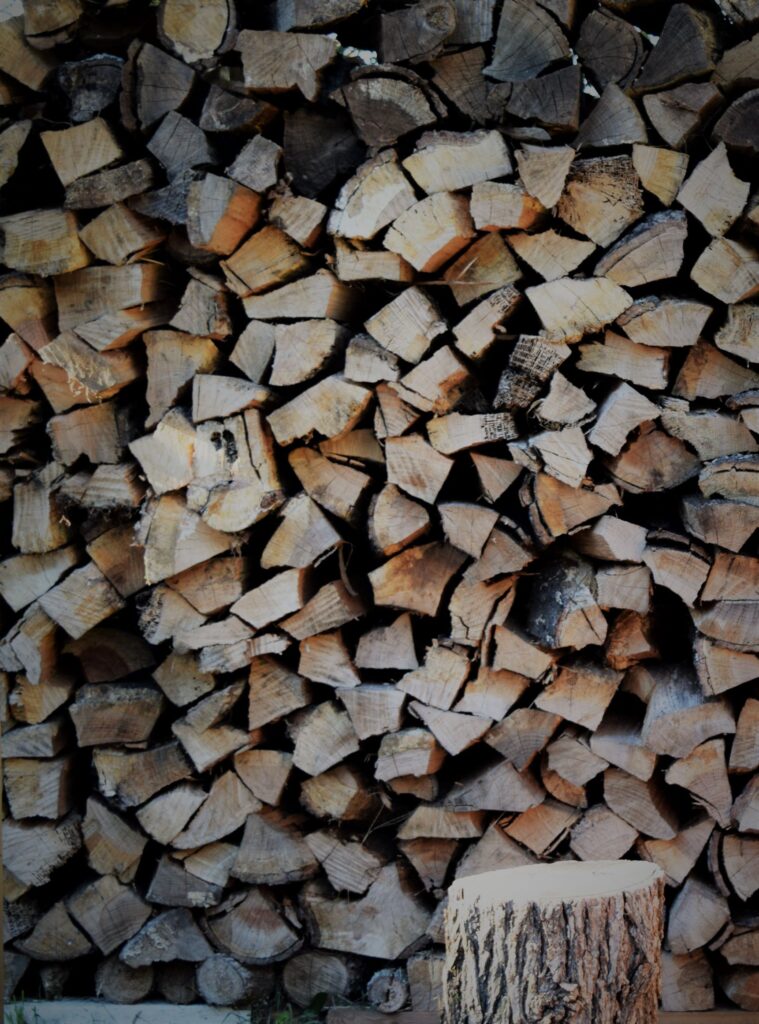 Looking to create a clean, modern feel? Then keep your eyes open for architecture that suits your taste. Think old industrial brick factories, stone slab walls, even a building painted red or turquoise. Ask permission of course, then set up your shoot in front of one of these incredible surfaces and you'll instantly have a photo with edge.
Whatever mood you wish to evoke, hanging a piece of fabric, from earthy linen to festive sparkly chiffon, is a simple way make it happen. Kim Byers at The Celebration Shoppe blog has a great tutorial for hanging a temporary fabric backdrop. It's super easy and completely customizable!
Wear Clothes You Feel Amazing In
Ok, in one way this sounds basic. Wear comfortable clothes. But also, it sounds crazy, because it's Christmas and you're supposed to dress up! But we've all seen those Christmas card photos… the ones where everyone is dressed to impress but no one looks truly happy. Not a real smile to be found anywhere! You know what the problem is? Discomfort. Itchy lace, tight shoes, fussy dresses, stiff suits. The camera is genius at catching every bit of tension on the human face. We all see how everything is pinched and cinched and no one is breathing for fear of messing up mom's hair. Now if glam is your thing, by all means glam it up! But you have to be comfortable in the outfits you all choose, even the outfits for your kids.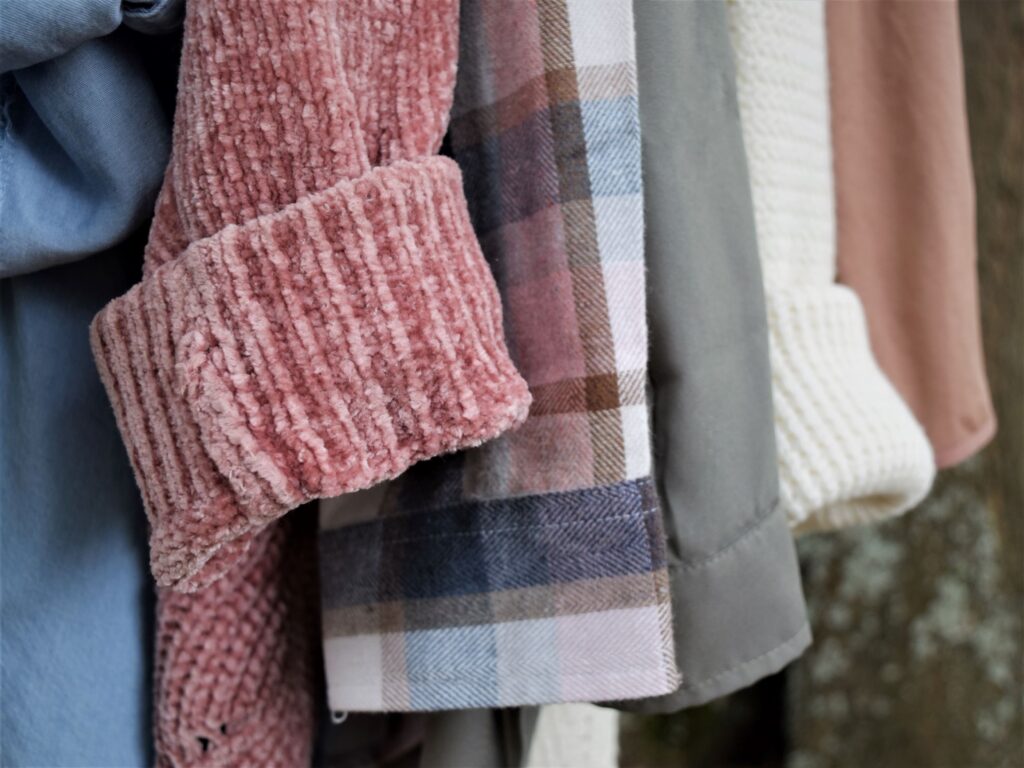 Just to be clear, I'm not telling you to take your Christmas card photo in yoga pants. But what you do need to wear are the clothes you feel amazing in. Yes, comfort is foundational, but also, let's pick clothes that sizzle with your personality! What colors do you get a ton of compliments in? Is there a sweater, silk top, or leather jacket that makes you feel the most you? Those jeans that you put on to turn a bad day good again? Yep, these pieces are your secret weapon.
Think about your kids' clothing, too. Which outfits make all the adults around them go all googly-eyed with "awwww"? These are going to be no-fail options for your perfect Christmas card photo! Play with a few outfit combinations ahead of time to see which colors play well together, then go with your gut on the final choice. Ok, clothing is under wraps. The whole family is relaxed and feeling amazing. And all of the sudden the camera loves you!
Use the Right Equipment
The right equipment could be anything from a high end DSLR, a vintage analog camera, or your phone- as long as you have the one absolutely essential thing: a tripod. Armed with this indispensable tool, even your phone will capture a card-worthy shot.
Set the tripod (This one from Targus worked well for us.) a little higher than the area where you and your family will be positioned. Just like with a selfie, a slight downward angle to the shot is flattering to chins, necks, all the things. Use the timer setting on your camera or phone, set it up to take as many photos per button-push as possible, and have a little fun! Which leads us to the most important element…
Capture the Relationships, Not Just the People
Think about all the photos in your wedding album. All the endless posing with a rotating group of people, standing stiffly side-by-side. It's good to have these shots to keep a record of the day. But you know you're skimming through those photos to get to the good ones… you shoving cake into your new husband's face, your sister coaxing a shy flower girl down the aisle, your groom dancing with his grandmother. That's where the life is, because that's where the relationships are on display! Showing the dynamic between family members (and pets!) is what gives sparkle to your Christmas card, too. Of course you need pictures of faces and bodies to document the season. But go a step further, and you'll capture a moment to treasure.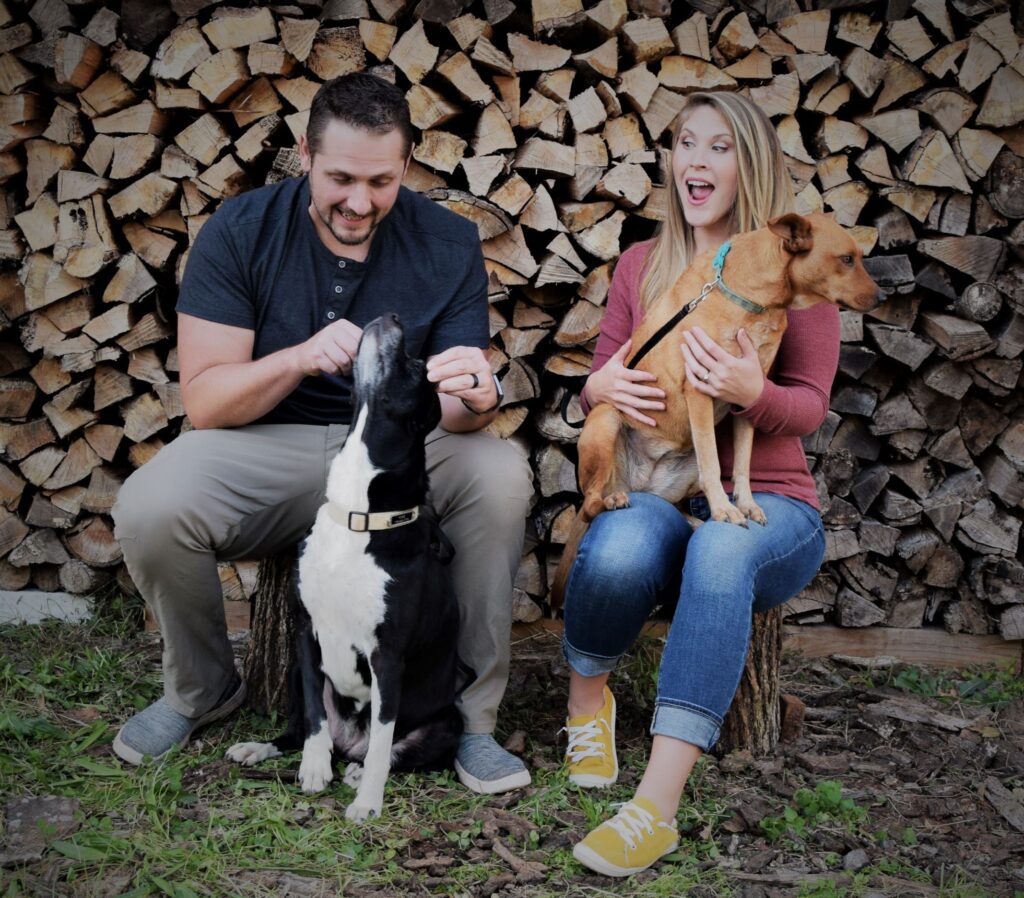 The all-important self-timer mode is your best friend here. Again, set it to take as many photos per batch as possible. Now here's the simple trick. Interact with each other. Yep, that's really it. Don't stay posed, move around between shots. Look at each other. Crack jokes to get real laughter. Make a silly face. You're going to get natural smiles and relaxed body language. I guarantee that you'll get magical shots from this. You know why? Because you're a living, breathing family who loves each other. And the camera just captured it all. How could this not be the best Christmas card ever?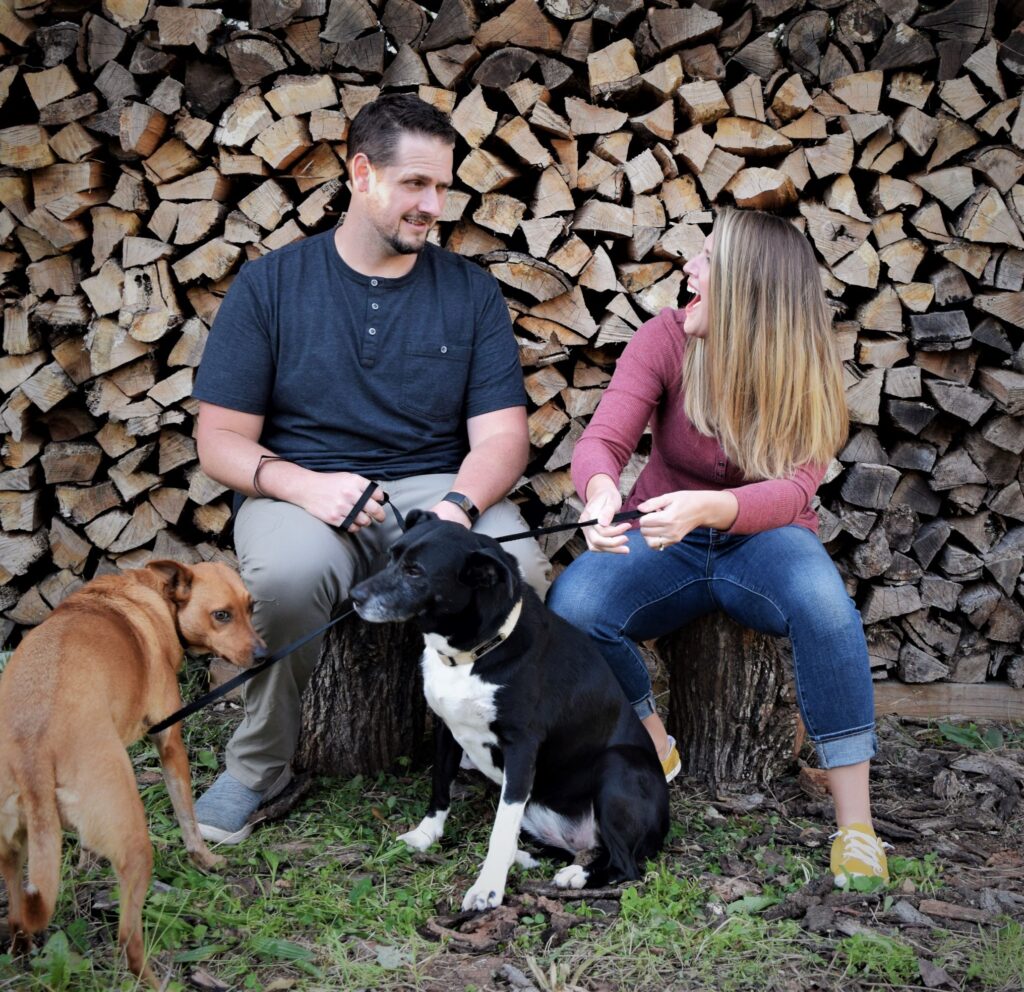 Bonus Tip! Pick Your Print Company Wisely
There are a hundred companies that have drag-and-drop photo card template options online, and believe me I've designed cards on a ton of them trying to find one that fits us. Most were too cutesy, too serious, or too #blessed. (You know what I mean because you're picturing the exact brush script font on that card template.) I look for clean but not boring, casual but not cartoonish, refined but not stuffy. Hard to please? Maybe a little! But that's what suits us, and it's worth taking the time to find a company with designs that suit you, too. Good design elevates your photo from "aw, that's sweet", to "wow, I'm actually going to keep this". My grandmother literally has our 2020 Christmas card framed on her wall a year later!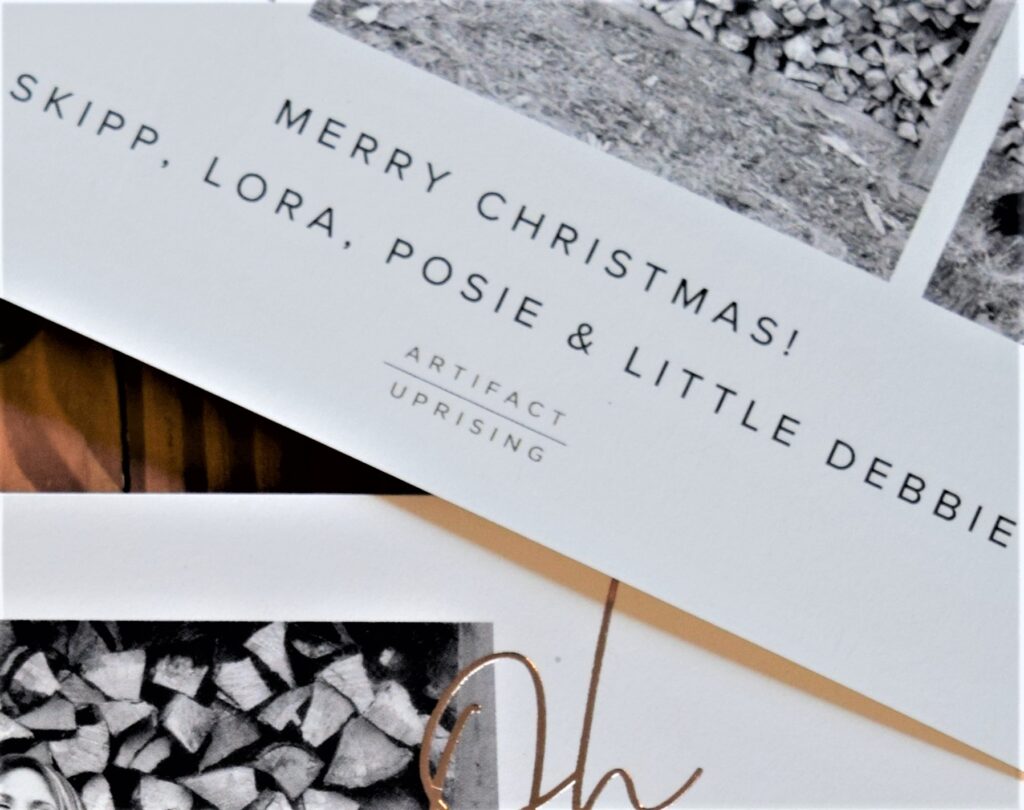 For the yearly task of representing who we are well, I trust Artifact Uprising. Now I have zero affiliation or sponsorship with Artifact Uprising. I doubt they even know I exist, so this is coming to you from my direct experience. I absolutely love their clean, modern design options, the quality of their cardstock, and the clarity of their printing. If you want a modern, keepsake-quality Christmas card, check out Artifact Uprising. (We used the "Oh What Fun" template with copper foil.) Even if you don't jive with their style, please do the work to find a printing company that jives with you. The perfect one is out there! It'll be the icing on the cake. 🙂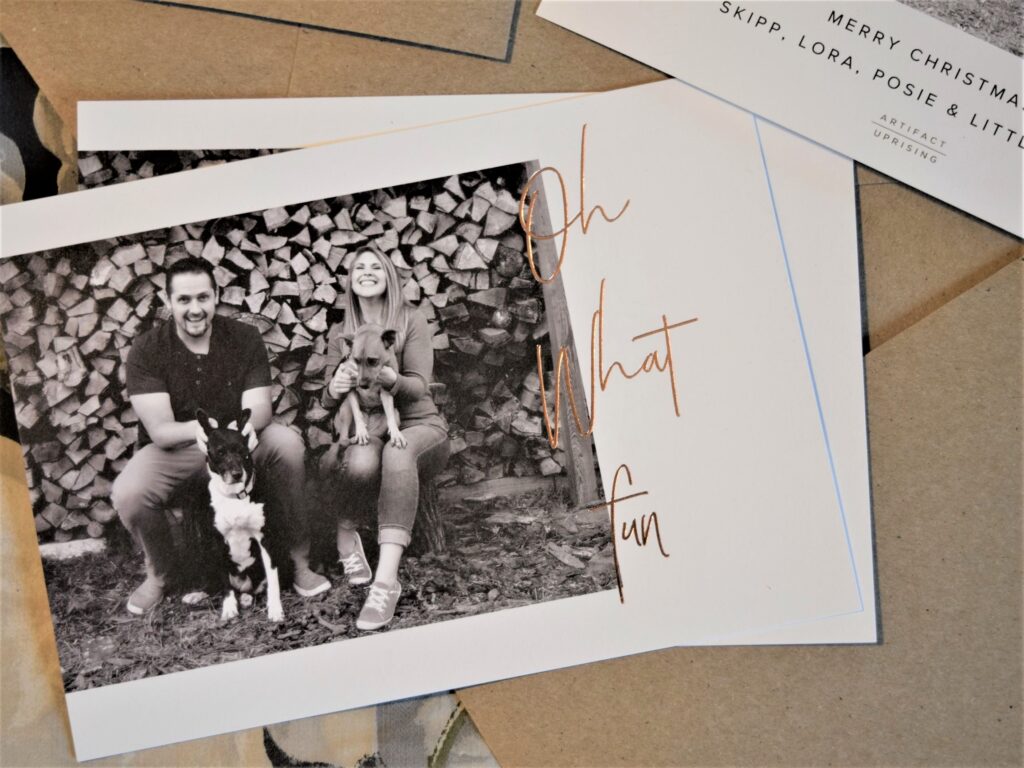 Start to finish, you've got all the tips and tricks to take the perfect Christmas card photo that's sparkling with personality! Have fun with it, friends! Have any tips for running a smooth shoot? Let me know in the comments!
For stunning outdoor spots to take your photo this year, check out my post about driving through Great Smoky Mountains National Park! There are some lovely, easy-to-get-to views that would make an unforgettable Christmas card photo!

*This post does not contain affiliate links. This is not a sponsored post.