Peach Tiramisu: a Summer Dessert with a Twist
Let's start at the beginning. Before the delicious peach tiramisu happened, inspiration took hold with backyard trees teasing me with hopes of a fruitful harvest. I imagined myself picking fleshy, warm fruit off twisting branches… Standing in the sun with juice dripping down my chin as I bit into heavenly sweetness… All sorts of summer desserts baked up fresh from my own little backyard bounty.
No one ever compared a peach tree to clockwork. Or to a piece of cake, falling off logs, taking candy from babies, or shooting fish in barrels.
If you're looking for a reliable, easy-to-grow fruit for your yard, the peach ain't it.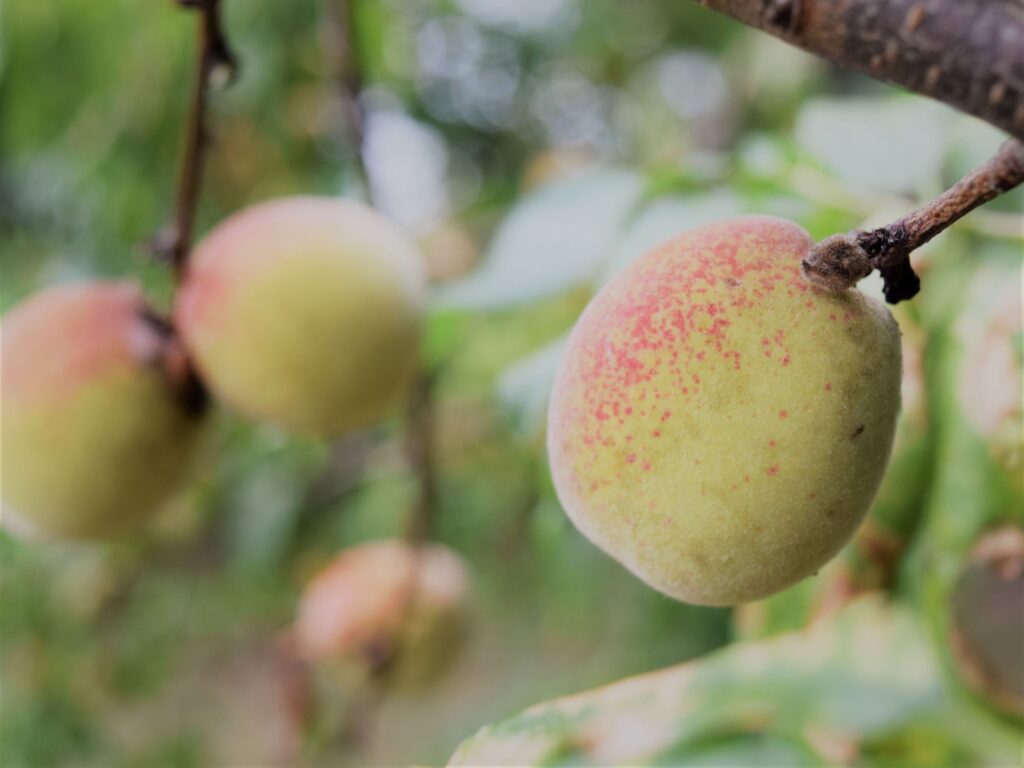 A peach tree is needy. Fragile. Attracts all sorts of seedy characters. It requires at least three rounds of pesticide spray and enough chill hours in the winter to fruit. If it does actually yield a crop you must cull half of it to prevent branches from breaking off. Oh, and then net the entire tree to guard against birds.

See? Needy.

And yet…a sweet Georgia peach still warm from the sun, stand-over-the-sink-to-eat-it juicy might just be worth the trouble.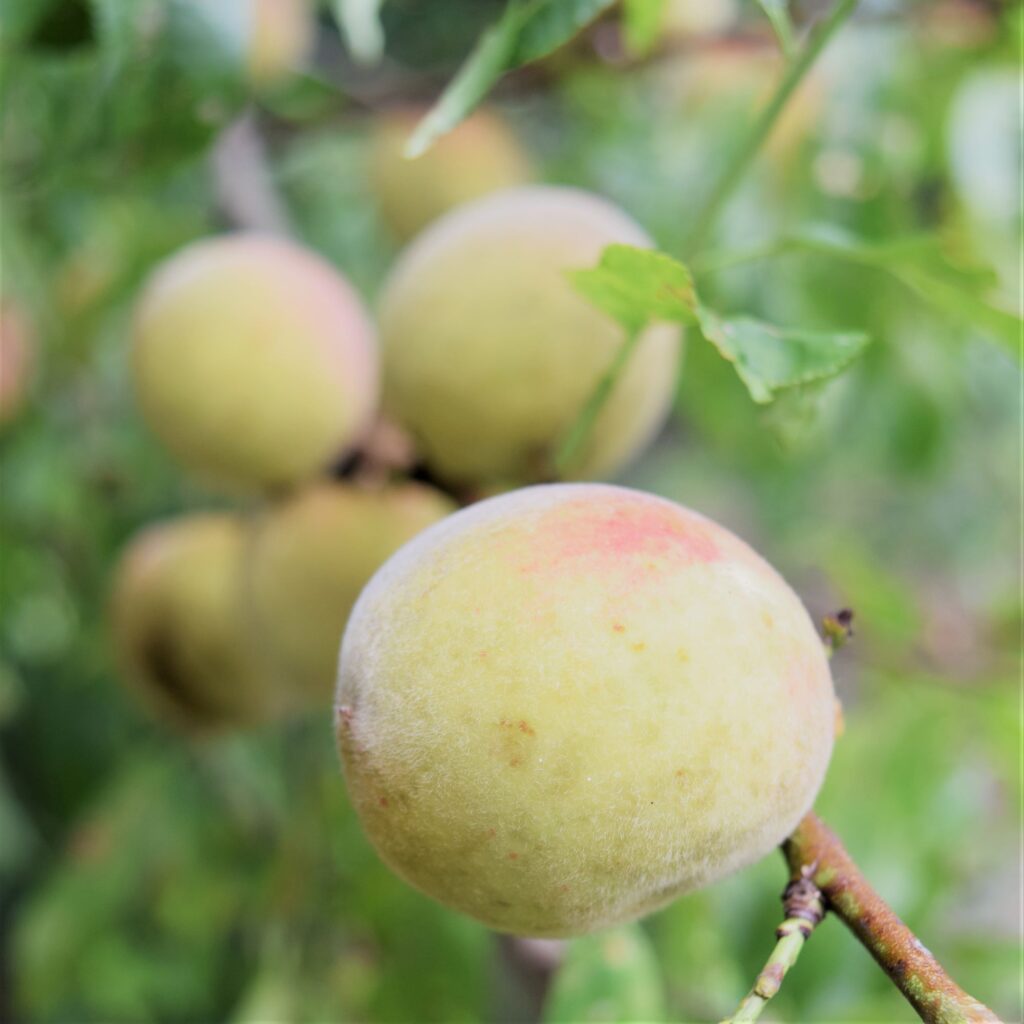 Sadly, my relationship with our peach trees is passive-aggressive. I'm passive about keeping their needs met, they're aggressive about dropping hard fruit-bombs on my head. I'm not prepared to do the spraying, the netting, pruning required to really get a good harvest of peaches. Ever-vigilant, I am not. Maybe someday I'll buckle down and work with those trees. Until then, the grocery store will have to fulfill my summer peach fantasies!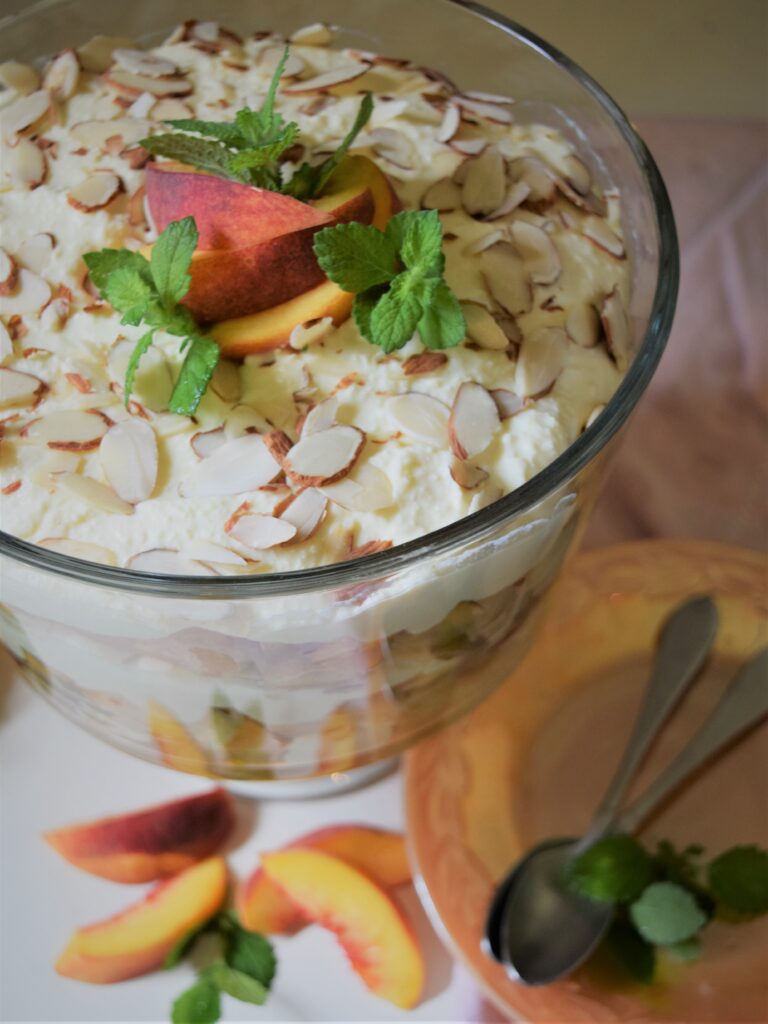 This recipe came from wanting a cold peach dessert.
Cobblers and pies are great, but it's 94 degrees and I'm not turning on the oven until the season changes! Tiramisu has been my go-to Christmas Dinner contribution for years, but a few simple swaps makes a whole new dessert that sings of summer!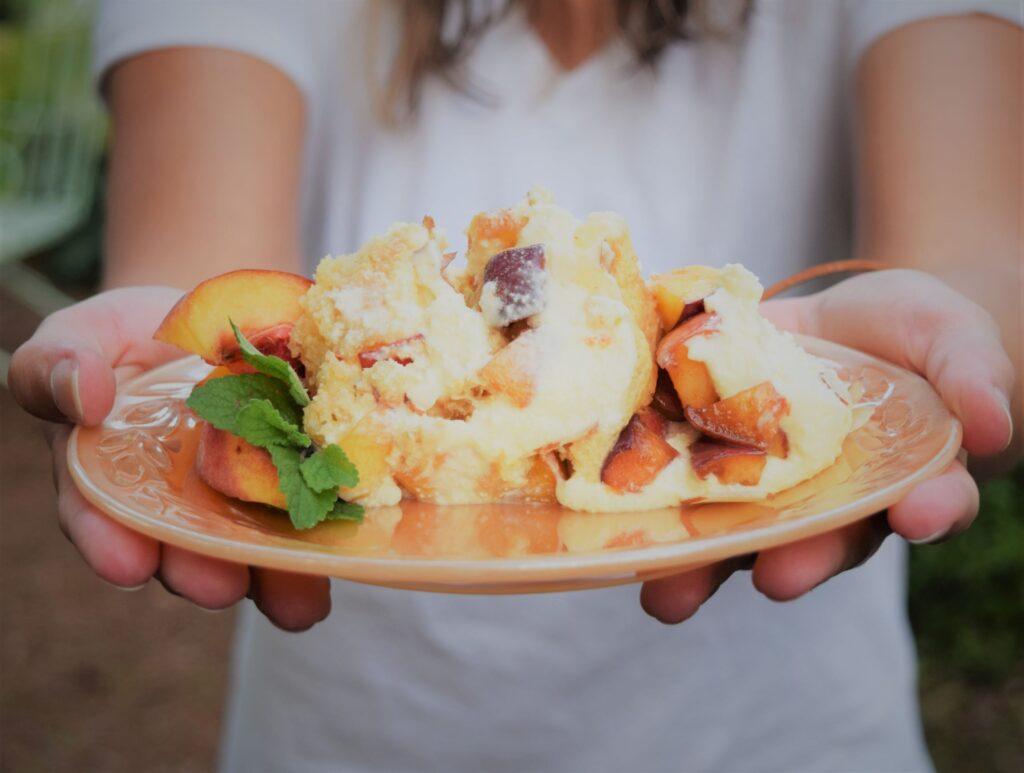 A fruit dessert should never be one-note
If it just tastes like flour-sugar-fruit, what's the point? Almond is such a natural fit with peaches, so our tiramisu has sliced almonds between the layers. This also provides crunch, a pleasing contrast to all the creamy.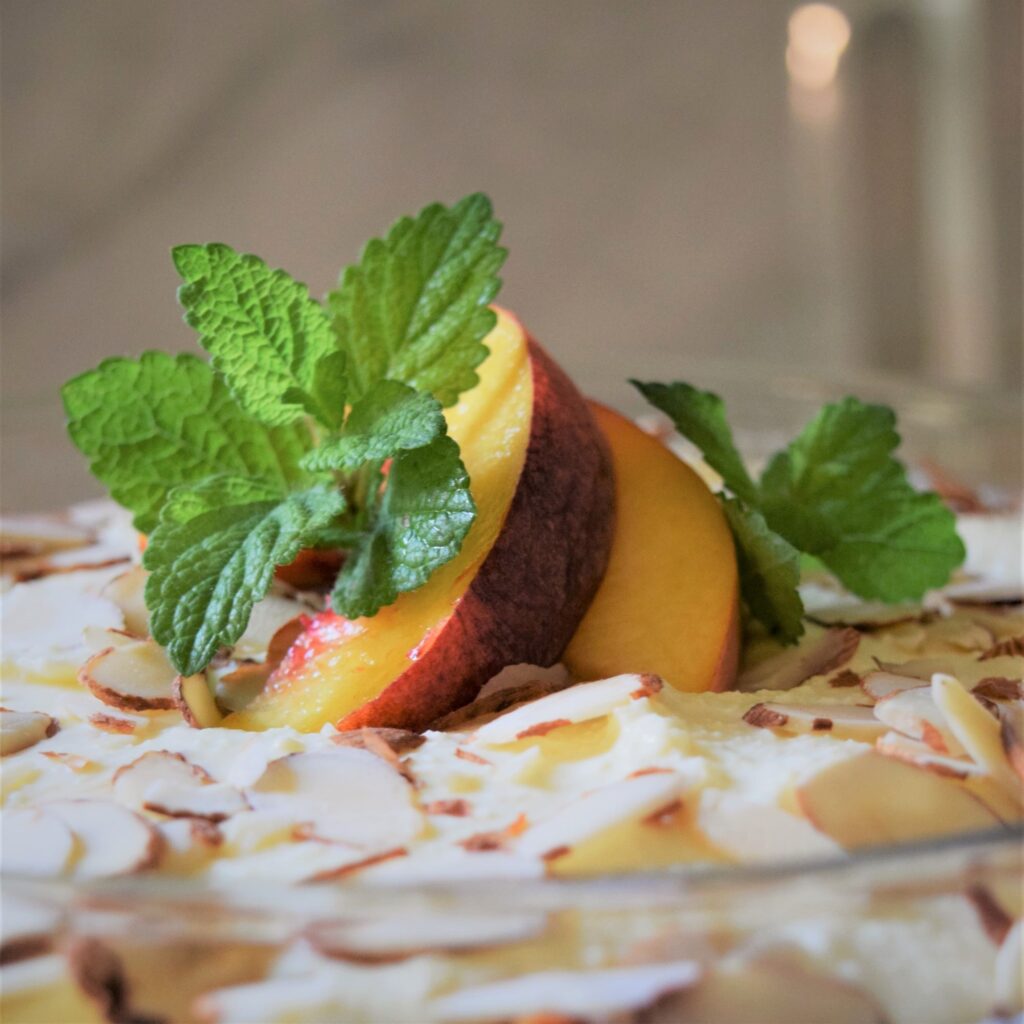 Another flavor that kicks it up a notch is the addition of local honey.
I suggest a strong honey, one on the darker side. It's not just the sweetness we're after here, it's that wild little background flavor that makes this tiramisu taste like a Southern summer.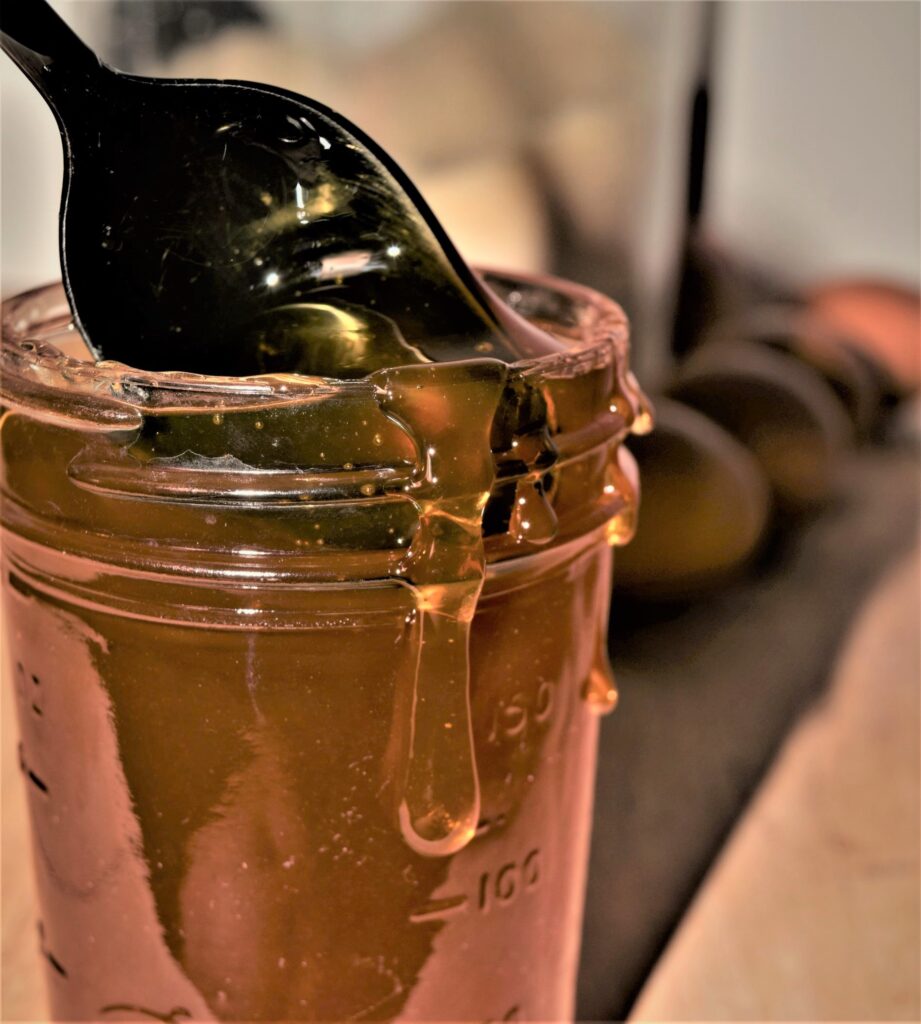 So give this recipe a try! Tell me what you think in the comments! Try another favorites summer recipe: Perfect Key Lime Pie or the always refreshing Easy Basil Lemonade!
If you are ready to commit to growing a peach tree, the book The Southern Gardener's Guide to Growing Fruit Trees is your bible. Pick up a copy if you want to grow a bumper crop!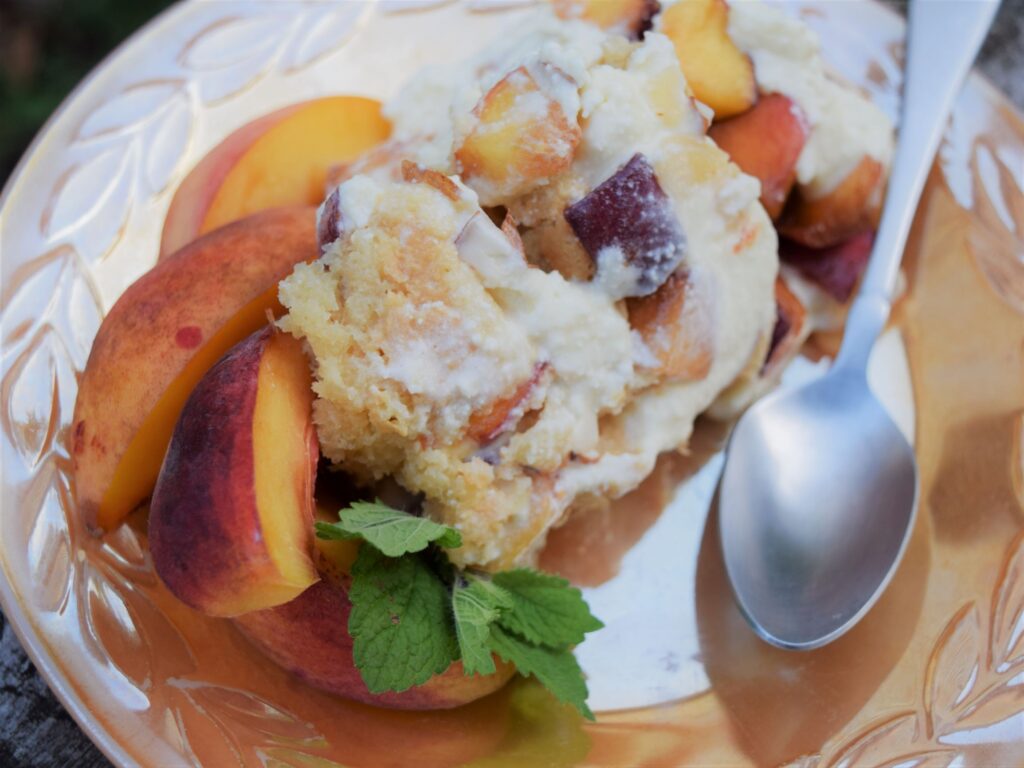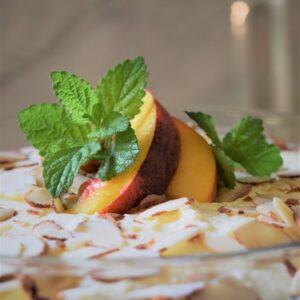 Peach Almond Tiramisu
Fresh peaches, almonds, mascarpone, and a touch of honey make this layered dessert a show-stopping summer stunner.
Ingredients
5

Peaches, diced

2/3

cup

Granulated Sugar

6

Egg Yolks

16

ounce

Mascarpone Cheese

1 3/4

cup

Heavy Whipping Cream

2

Tbsp

Honey

(dark)

1

cup

Peach Nectar

50

ml

Peach Smirnoff

(to your taste, or sub in Ameretto)

7

ounces

Lady Fingers

(cake or cookie style)

2

ounce

Sliced Almonds

1

tsp

Almond Extract

1

tsp

Vanilla Extract

1/8

tsp

Sea Salt

Mint or Lemon Balm for Garnish
Instructions
Combine diced peaches and honey. Stir to coat. Set aside.

In a medium saucepan over low heat combine sugar, egg yolks, salt, and extracts. Whisk to combine. Cook for 7-10 minutes, stirring constantly, until sugar is dissolved. Don't scramble the eggs!

Remove egg mixture from heat and pour through a fine mesh strainer into a medium bowl. Use a hand mixer on medium speed to beat until yolks are thick and buttery yellow in color. Add mascarpone and beat to combine. Chill.

In a separate bowl beat whipping cream on high until very stiff peaks form. Remove egg mixture from fridge and fold whipped cream into it gently. Return to refrigerator.

Combine peach nectar and peach Smirnoff in small bowl. Open all packages and get ready to assemble!

Dip lady fingers into peach nectar mixture and line the bottom of round trifle dish one layer deep. Spoon 1/3 of the peaches over lady fingers. Follow with 1/3 of the mascarpone cream and then 1/3 of the sliced almonds. Repeat twice.

Garnish with mint or lemon balm. Extra peaches sliced on top is beautiful, too. Chill for 4-6 hours. Serve cold and store in refrigerator.
*This contains no affiliate links. This is not a sponsored post.
peach tiramisu summer dessert, peach tiramisu summer dessert, peach tiramisu summer dessert , peach tiramisu summer dessert peach tiramisu summer dessert peach tiramisu summer dessert