Fresh Basil Lemonade: The Most Refreshing Thing You'll Taste All Summer
This easy, fresh basil lemonade is about to make a lazy-bone out of you.
Are you sitting down?
The front porch is your shady refuge from the heat shimmering above the blacktop. Everything is still except the slow and steady rocking of your chair. The sun may be sinking lower but the cicadas are telling you the temperature is still sky-high. It's hot. It's sweaty. Dang it your sweat is even sweating.
Friends, it's officially the dog days of summer. And plain old water just won't cut it. (cue Waterboy quote)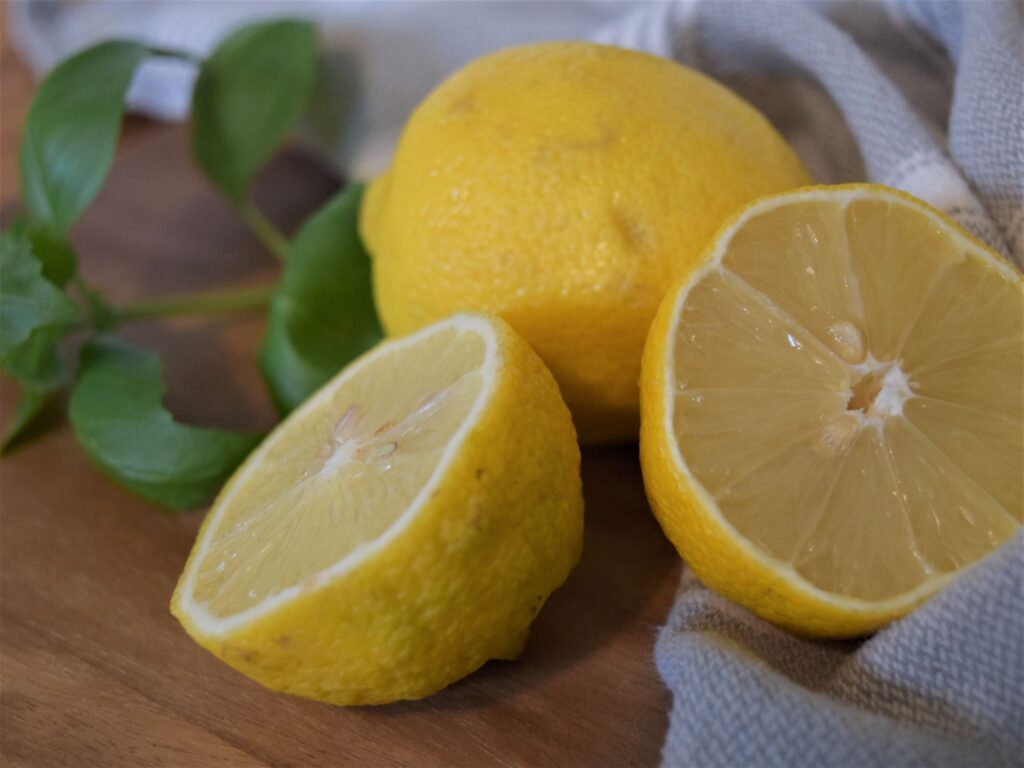 You need the only drink that actually chills you out: a glass of lemonade! And not just any lemonade, fresh basil lemonade.
Basil is just so invigorating! The cool, green flavor of the herb turns regular lemonade into A/C in a glass! Something about the acidity of lemons combined with that clean, herby layer keeps the thirst at bay.
We all know that anything made from scratch tastes better, so even just making lemonade without the basil is worthwhile. But oh you guys that basil takes it to the next level!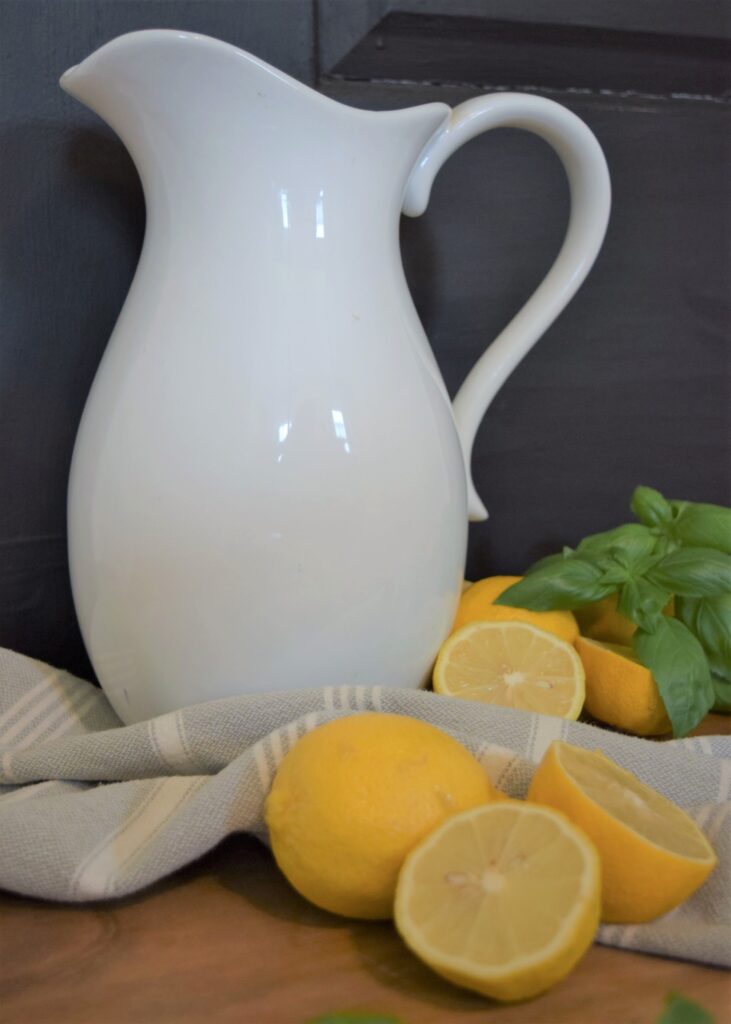 My friend who passed along this basil lemonade concept likes to add a little bourbon to the pitcher. Now this is definitely delicious! But I rarely have bourbon lying around the house, so my regular recipe is a bit less spirited. (Sorry, Kentucky) I do love the irony of adding liquor though, since lemonade was encouraged during Prohibition as an alcohol alternative!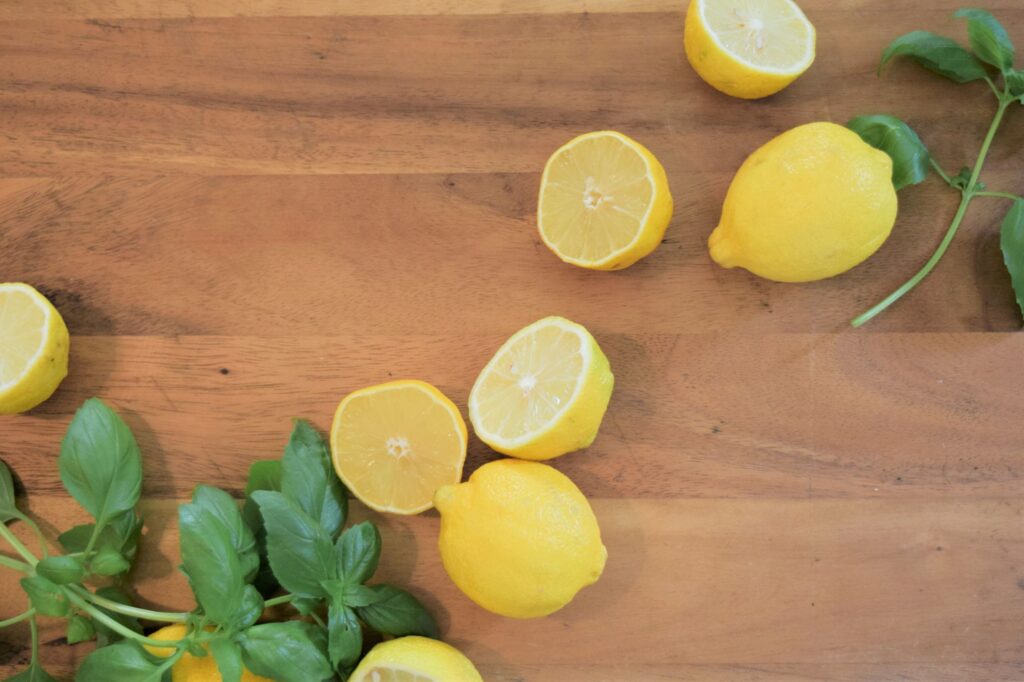 Making basil lemonade is pretty much effortless.
This wooden citrus reamer makes quick work of the lemon-juicing process. But If you wanted to make your drink even faster, you could always just make the basil simple syrup and mix a few tablespoons into to a glass of store-bought lemonade.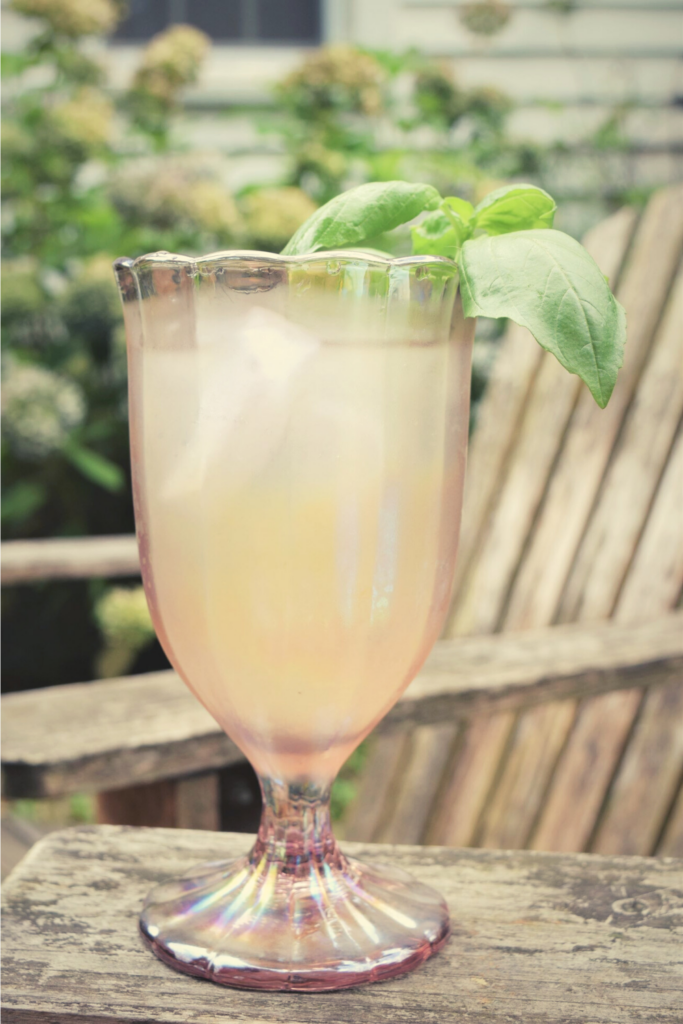 I'll keep this short and sweet. This is the absolute greatest thirst-quencher on the planet and you need to make a batch right now.
Your front porch told me so.
Let me know how it goes!
For another all-time favorite citrus recipe, check out my Perfect Key Lime Pie!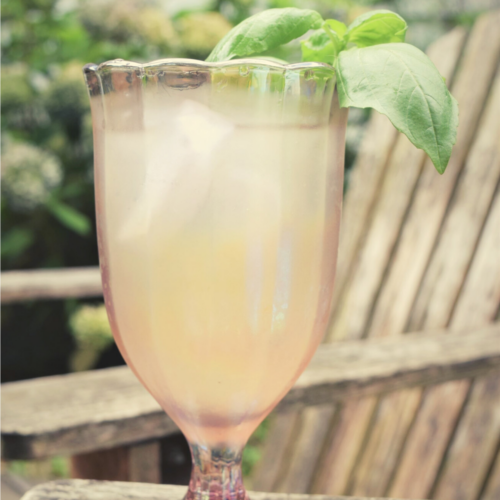 Fresh Basil Lemonade
This is the perfect balance of sweet and tart. The invigorating flavor of basil combined with the zing of fresh lemons- the ultimate summer beverage!
Ingredients
1

cup

Fresh Lemon Juice

(equals about 6 large lemons)

1 1/2

cups

Granulated Sugar

1/2

cup

Fresh Basil Leaves, packed

6 1/2

cups

Water, divided
Instructions
Basil Simple Syrup:
Over medium heat, combine sugar, 1 1/2 cup of water, and basil in a medium saucepan.

Bring to a boil, stirring frequently.

Turn heat to low and simmer until sugar has dissolved, stirring frequently. Remove from heat and let sit 30 minutes to infuse syrup with basil flavor.

Remove basil from pot and discard. Chill simple syrup until ready to use.
Lemonade:
Combine basil simple syrup, lemon juice, and water in pitcher. Stir to thoroughly mix.

Serve over ice. Store in refrigerator for up to 4 days.
*This post does not contain affiliate links, nor is this a sponsored post.
easy fresh basil lemonade, easy fresh basil lemonade, easy fresh basil lemonade, easy fresh basil lemonade