Easy Oreo Cheesecake Bars
Easy Perfection
Out of the dozens of times I've made these Easy Oreo Cheesecake Bars they've never failed me! They're always delicious and simply turn out perfect every time! The cheesecake base is a creamy, not-too-sweet contrast to the deep chocolate flavor and almost cakey texture Oreos develop during baking.
Recipe Gold
Because it's such a quick dessert to pull together, this is the recipe to keep in your back pocket if you're bringing something sweet to a cookout or picnic. But an even better reason to make these is that nobody doesn't like Oreo Cheesecake Bars! Literally. They're such a crowd-pleaser that I've never brought any leftovers home!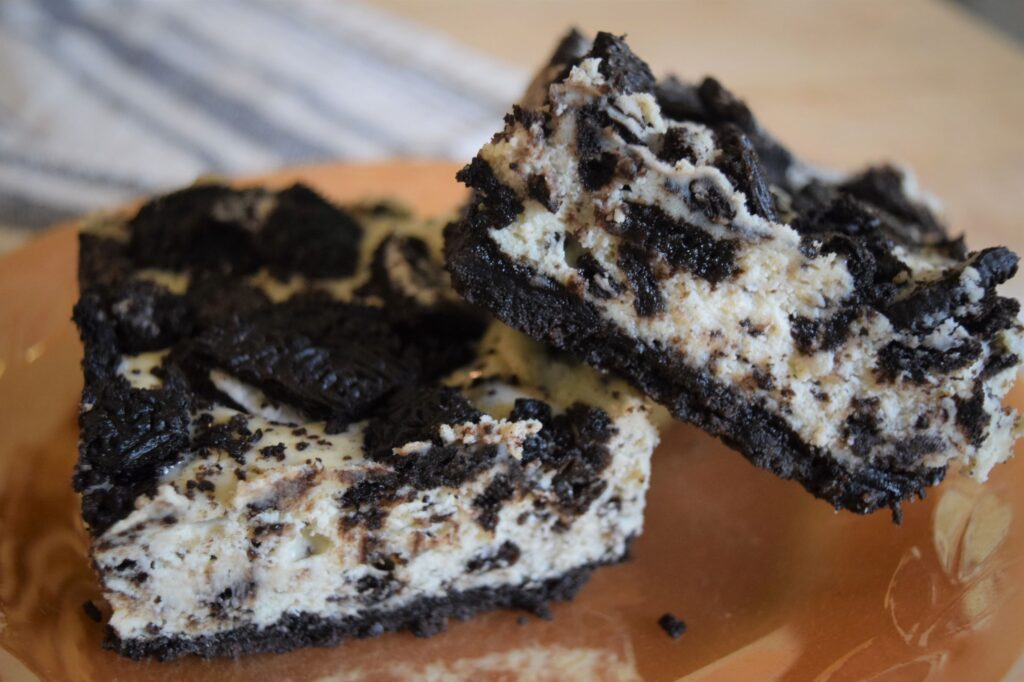 Oreos + Beyond
Of course Oreos make everything tasty, but this recipe plays well with any of your favorite cookies. For my birthday last month my sweet husband made these bars with Nutter Butters (peanut butter sandwich cookie) and it was stop-you-in-your-tracks incredible!! You could try different flavors of Oreos like lemon or spice versions, or even dress up the dessert by using Amaretti cookies. There's no wrong move here!
Cheesecake Tips
It's a good idea to pull your cream cheese out of the fridge the night before making your bars. As with any cream cheese recipe, a thorough softening is key for consistent results. Also, I really do taste a difference between brands of cream cheese. (As usual, I use no affiliate links and this isn't sponsored.) Philidelphia brand tastes best for recipes where the cream cheese shines. I'm not above using store brand if cream cheese plays more of a supporting role, but in this recipe, Phili is the way to go.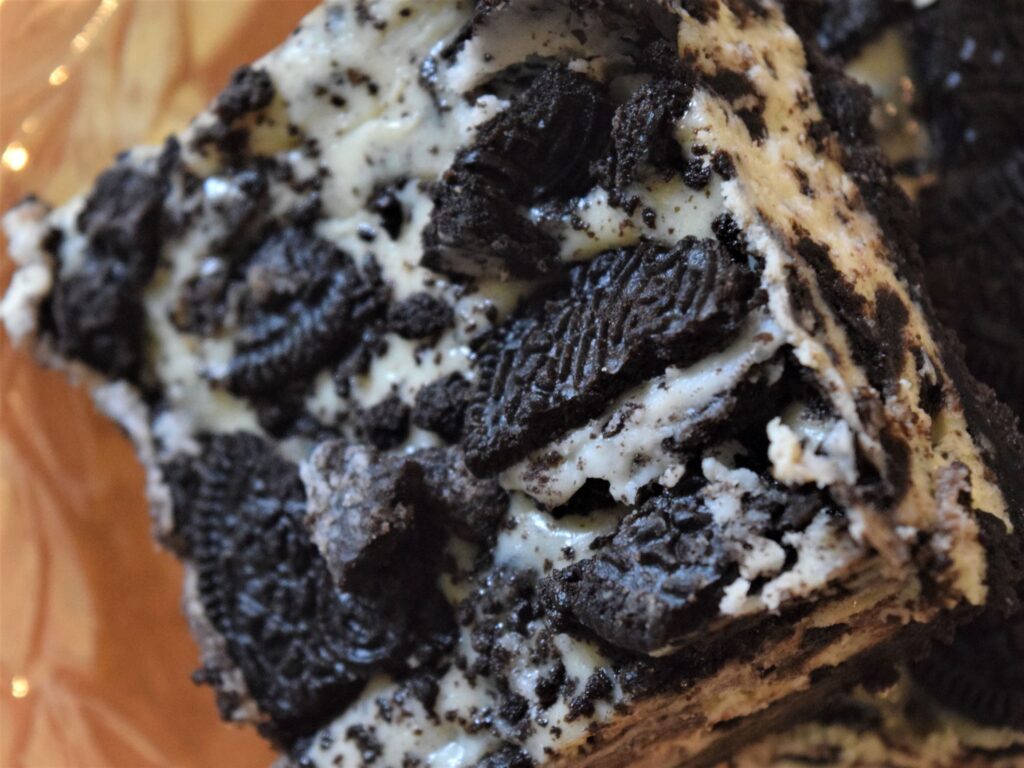 Take Me with You
The best way to transport Oreo Cheesecake bars is to let them chill completely, then lift the parchment out with the cheesecake in one piece. Set it on your workspace and slice the edges off for uniform presentation. Then slice into twelve even squares. Line the bottom of a 9×12″ (ish) lidded airtight container with parchment paper and pack bars two layers deep, separating the layers with another piece of parchment. Top with parchment before closing the lid. Pop back into the fridge until it's time to leave!
And that's it, friends! Have fun in the kitchen!
For more crowd-pleasing foodie fun, check out my Southern Red Velvet Cake or Smoked Mac 'n Cheese. Both are great for gatherings, or when you're in the mood for comfort food!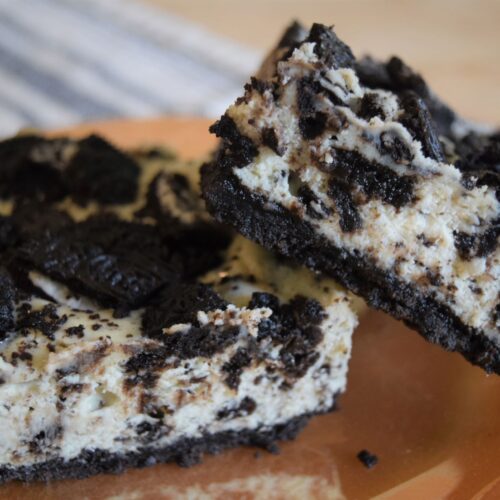 Easy Oreo Cheesecake Bars
A simple and easy crowd-pleaser! There are never leftovers of this creamy, cookie-stuffed dessert. A favorite of kids and adults alike!
Ingredients
3

8 oz. Bars

Cream Cheese, softened

1

25.5 oz. Pkg

Oreos, divided

(this is the "party size" package)

4

Tbsp

Unsalted Butter, melted

(half a stick)

3/4

cup

Granulated Sugar

3/4

cup

Sour Cream

3

Eggs, large

1

tsp

Vanilla Extract

1/2

tsp

Sea Salt
Instructions
Crust:
Pre-heat oven to 325 degrees F.

Pulse 28 Oreos in food processor until finely ground.

In a large mixing bowl combine melted butter and Oreo crumbs. Stir until thoroughly incorporated.

Line a 9×13 glass baking dish with parchment paper. Pour crumb/butter mixture into baking dish. Spread evenly over bottom of dish and press in firmly with your hands.

Bake for 10 minutes. Remove from oven and set aside.
Filling:
While crust is baking, set aside 10 Oreos and then, using the food processor or a gallon size plastic bag, crush the remaining Oreos into course pieces.

In the same large bowl combine cream cheese, sugar, salt, and vanilla. Using a hand mixer on medium speed, mix until smooth.

Add sour cream to bowl and mix until smooth.

Add eggs one at a time, mixing after each one until just incorporated.

Add crushed Oreos to bowl and mix in using a rubber spatula. Pour into baked crust.

Break the 10 Oreos you set aside into large pieces. Press gently into top of cheesecake, leaving plenty of cookie exposed.

Bake for 35 minutes. Remove from oven and cool completely. Chill thoroughly before slicing into 12 bars.

*This post contains no affiliate links, nor is it a sponsored post. All opinions and enthusiasms are my own.