The 2022 Ultimate Slow-Living Holiday Gift Guide
Holiday Gift Guide 2022, Holiday Gift Guide 2022, Holiday Gift Guide 2022, Holiday Gift Guide 2022
It's time, friends! Can you feel it? Cozy smells float from every kitchen, lights sparkle from every window, there's a cheerful song in the air. The season of magic is here- it's Christmastime!
If this simultaneously excites you, yet overwhelms you with thoughts of cooking, shopping trips, decorating, and hosting, you're not alone. A little holiday bustle is fine, even fun! But when it comes to shopping for "perfect" gifts, the pressure to buy NOW, buy BIG, buy it ALL does nothing for our Christmas spirit.
Now I don't believe that giving nothing to your loved ones is very Christmasy, either. After all, doesn't it deeply cheer your heart to choose something beautiful to give your sister or friend? And isn't their smile at feeling thought about light up brighter than your Christmas tree? Generosity is a picture of the actual, literal meaning of the holiday, so let's celebrate with a thoughtfully considered gift for every extraordinary person who makes your life rich.

Each of the hand-picked items you're about to discover is something extra-special. Not only is every gift idea a quality product (that's a non-negotiable), they also each set the stage for a meaningful experience, memory-making, or a hands-on connection. This gift guide unashamedly leans into analog activities. Because the timeless satisfaction of doing something real? That's the true gift.
This is a good time to note that you're reading a non-sponsored, un-affiliate-linked, ad-free post. It's a labor of love to gather incredible products, many handmade, and all sourced from lovely real people pouring their heart and soul into their small businesses. This is a carefully curated gift guide made for savoring, not stressing. No pressure, just pleasure. (Merry Christmas to YOU!) My hope is that you'll grab a cup of hot chocolate, settle into your coziest chair, and enjoy a slow and meaningful Christmas shopping experience.

Enjoy! And cheers to the season!
---
Gifts for Well-Being + Self-Care
The Flourish Wellness Journal from Jen Simpson Design would be a lovely way to start 2023 healthfully. With plenty of space to express gratitude, explore thoughts, track habits, and set intentions, this beautiful journal truly supports a mindful lifestyle. (Jen was so kind and offered a coupon code for 10% off your purchase! Simply type in LORA10 at checkout.)
The Spa Gift Box from Soulistic Root includes everything they'll need to relax and rejuvenate after a busy holiday season. Eucalyptus Shower Spray, Oatmeal Rose Bath Soak, Herbal Bath Salt, and a Relaxing Blend Essential Oil Roller arrive all boxed up and ready to gift!
The lovely blend of natural oils in Herb and Earth Soap Co's Southern Gentleman Beard Conditioner will keep his pride and joy soft and well-maintained. It also doubles as a pre-shave oil, so if he's a facial hair waffler, this has the situation taken care of, baby-faced or mountain man!
A stunning set of handmade soaps perfect for someone who needs a little pampering this season! Made with all-natural shea butter, cocoa butter, and clay, these soaps come in an array of scents. Mix and match!
What a lovely thing to turn family stories into an heirloom! This Family Memory Journal from Jen Simpson Design does just that. It has spots for photos, room to record everything from simple moments to big accomplishments, reflection prompts, and more! You'll be giving more than a gift, you'll be giving a treasured keepsake! (Jen was so kind and offered a coupon code for 10% off your purchase! Simply type in LORA10 at checkout.)
I know someone on your list needs pampering! The natural Mango Shampoo and Conditioner Bars from Juturna Studio smell sweetly refreshing and won't leave a residue on the hair.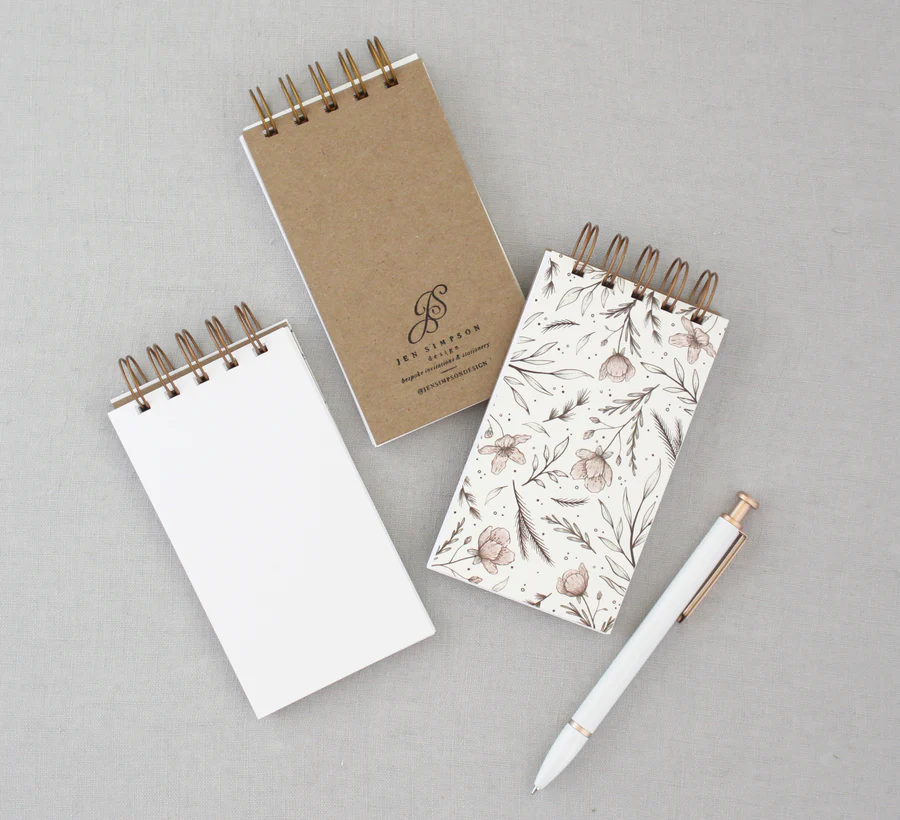 A great little stocking stuffer for anyone full of ideas! The Pink Floral Mini Jotter from Jen Simpson Design is also perfect if you're looking for a little freedom from your phone notes app. This is an area where analog really supports a slower, more mindful lifestyle. And why not, when analog is this pretty? (Jen was so kind and offered a coupon code for 10% off your purchase! Simply type in LORA10 at checkout.)
Have a yogi on your list? Help her keep her mat clean and disinfected with this tea tree oil-empowered yoga mat cleanser from Soulistic Root. It also comes in a rose quartz-infused version!
Spoil them with this Organic Manuka Honey Spa Bath Set! Handmade with natural ingredients, the set includes a "Honey Bee" scented soy candle, jojoba-honey lip balm, whipped creamy oat-honey body butter, luxurious soap, and a hydrating bath bomb.
Tuck a little much-needed sinus relief into their stocking with the Allergy Relief Blend Essential Oil Roller from Soulistic Root.

Gifts for a Cozy Home
It's the perfect spot to hold extra blankets, their knitting, or current reads. Or simply left empty, the Woven Dancing Basket will add beautiful, organic warmth to a vacant bit of tabletop or sideboard. Made in Zambia using traditional techniques and local Ilala palm, this will be a gift they'll treasure.
These centerpiece-worthy dough bowl candles from Hive and Home decor come in many wick counts, but I love the stunning size of the wooden 6-wick above….
…And the white 9-wick candles here. Such beauties!
Organic yet clean, this ceramic match holder from Hands on Ceramics is also the match striker and a safe discard area for the used matches.
These snowflake patterned organic linen hand towels will beautify their bathroom all winter long!
Not only is this a handmade mid-century style stand for your giftee's record player, it also stores their favorite selection of records, as well! Find in 3ft Furniture's shop!
A custom leather family name sign from Iron and Grain warms up a room, adding a personal touch to any home decor. You can also have personal messages, scripture, or a quote engraved on a sign instead!
A wonderland for indoors or out, these Glass Moroccan Lanterns will shine up anyone's holiday. We all need a little glow! Find them in Color of Fabric's shop.
Clean yet organic, this handmade ceramic soap pump would look beautiful in any bathroom. Elevating the everyday is the truest luxury!
I can think of a hundred ways to use these handmade Rustic Farmhouse Baskets! And I can think of so many people on my list who would love to receive one (or three!), as well. These adorable baskets are crocheted by Dancing Jewels by Aimee, and you guys I just have to say, Aimee is the absolute sweetest. You must go visit her lovely shop!
What a lovely "welcome home"! This durable, high-gloss House Number Tile adds long-wearing style and beautiful curb appeal!
How lovely would this be in a breakfast nook or over a clawfoot tub in a boho bathroom? The Woven Pendant Light Shade from Eden Found Co. is a thoughtfully stylish gift for the homebody or home improvement enthusiast!
I love this wooden Instant Mini Photo Holder for its clean lines and analog-friendly purpose! And it can be personlized!
There's still time to bring home a beautiful advent calendar this season! While technically I'm suggesting you gift this to yourself, we can't talk Christmas without including this handmade wooden beauty from Busy Puzzle. It comes in your choice of wood tones, as well!
Who on your list needs a cozy spot to relax and enjoy a good book? Probably everyone! The cotton canvas Hammock Chair from Komorebi Collection comes with two cushions, a hanging kit, and its own travel bag. Perfection.
Any time you can elevate a daily chore with beautiful, quality tools or products, its gift-worthy. The Zero-Waste Dish Cleaning Set from Juturna Studios is packed with purpose-built brushes made from beechwood and bamboo, a natural dishwashing bar, and plastic-free soap dish and scouring pad.
A set of handmade concrete candle holders from Concrete by FERIS would add warmth, calm, and an organic vibe to anyone's home! So beautiful!
Book people need a spot to prop their current read! This handmade wooden bookstand from Blank Canvas by Potter looks fantastic on the end table and has a little nook to tuck their reading glasses in.
A beautiful handmade piece of art brightens the home and lifts the mood. This 20″ round Cactus Art is made of laser-cut wood, then stained into the modern layered landscape you see here. Vintage Adventures also makes mountain scenes and holiday art pieces as well!

Gift for the Food Enthusiast
Make the espresso lover's day with this handmade wooded Espresso Knock Box Tamp Station from Vanilla Bean. Oh so sophisticated.
This wildflower Embossing Rolling Pin creates beautiful cookies effortlessly! Enchant the baker on your list with a stunning new tool, and you just might have to help taste-test their experiments. For quality control purposes, of course.
For the foodie, avid chef, home cook, or charcuterie board enthusiast, making their own cheese is a must-try experience! This DIY Cheese Kit from Urban Cheesecraft makes four batches of mozzarella, ricotta, and farmer's cheese (mix & match). A great pick for the absolute beginner!
Or for the cheese connoisseur, try the Deluxe Cheese Kit! With this kit they'll learn how to make eight different cheeses from around the world! Burrata, goat cheese, paneer, and more, all crafted by your lucky giftee.
A wheel-thrown ceramic honey pot would look great on the counter, wouldn't it? I think it would be a stunning addition to a coffee bar or tea station, as well. The matte charcoal glaze on the honey pot above is rich and moody, but it also comes in a glossy cream for a lighter, brighter feel.
I don't know anyone who doesn't like peach tea, even non-tea drinkers. Homestead Peach Tea Blend is a lovely loose-leaf organic tea made with real peaches and rose hips. Hand blended in small batches!
Anyone who loves to cook with cast iron needs a few of Luttrell Leather's Handle Covers in their stocking! When does practicality ever look this good? I love these!
The Mighty Mead Kit is great for anyone who already loves to home-brew, or just likes to play in the kitchen! This kit comes with all the equipment and ingredients they'll need to make one of the oldest fermented beverages known to man!
The streamlined metal pour over coffee set is an essential for the minimalist coffee aficionado.
Cascade Cherry Handcrafted Tea from Winterwoods is a cherry-flavored green tea blend made with organic ingredients and blended in small batches. Comforting and sweet!
Isn't this a genius idea? The Terracotta Spice Keepers from Centered Vessel will keep their spices humidity-free, so no clumping! This would be an unexpected and deeply useful stocking stuffer for anyone who likes to experiment with flavor.
These handmade ceramic pour over sets are an earthy, yet refined, gift for the coffee fan!
The Trailhead Huckleberry Tea from Winterwoods Tea Co. is a handcrafted loose-leaf blend of organic blackberry leaves, wild huckleberries, elderberries, rose hips, and more. Delicious!
Give them a lovelier way to strain their tea! Made from natural bamboo, this tea strainer makes a thoughtful stocking stuffer for the loose-leaf lover on your list.

Gifts for the Little Ones
This is so neat! The DIY Kaleidoscope Kit is part craft, part nature exploration, and all toy! Kids collect flowers, leaves, shells, anything they like, and press them between the kaleidoscope lenses. Each unique combination creates an explosion of mesmerizing color and shapes! Then, separate the lenses (held together by magnets), and add new items to make an entirely different display!
Isn't this dreamy? What a beautiful little bohemian wonderland this Natural Tent Playhouse would create for the child who receives it! So special!
What a sweet little puzzle! The Personalized Montessori Busy Board from Buzy Puzzle is a fantastic sensory activity, and those muted tones are just lovely.
Can you even? It's cuteness overload with a this felted wool baby mouse necklace. Having a little pocket-home for a toy so it doesn't get lost is a genius idea, too.
But maybe you'd like to gift a whole set of baby mice in a hedge? Another adorable option from Fairyshadow.
They'll love watching beneficial Mason bees build a home in this Mason Bee house from Wudwerx USA. The color in the photo above is "Old English Green", and it also comes in a soft gray-blue called "Wild Thyme". Take note, these bee houses can even be personalized!
Is your child an aspiring gardener or entomologist? Then you need to house a LOT of bees. Maybe go up a size and choose a Mason Bee Hotel instead!
A wooden Montessori Toddler Gym will keep even the most active kids occupied while they also learn spacial awareness skills and visual perception skills.
Little hands will love making this beautiful rainbow, especially because it's made just for them! A personalized rainbow craft kit is fun to make and then after it's completed, would look lovely displayed on a bookshelf or over your child's bed.
The space-themed cookie kit from Once Events has everything they need to fully decorate 15 freshly baked vanilla cookies. So fun! So cute! And tasty, too!
This twin-sized Canvas Tent Bed Canopy transforms the ordinary into an adventure! Choose from a multitude of different banners to suit your child's personality perfectly, and watch them escape to their "tent" as a fort, a reading nook, or whatever their imagination dreams up.
This is an adorable wooden mushroom game for little hands! Made of solid wood, hand painted with non-toxic paints, and finished with beeswax, this is a beautifully crafted toy.
What kid wouldn't want a real leather aviator hat? Secretly you'll swoon over how cute they look in it, but just keep that to yourself! : )
Kids will love both painting and putting together this cutie! The Hanging Sloth Craft Kit from Whisker Works comes with paint and yarn, so no trip to the store is needed. Great for display, too!
This teeny-tiny baby doll comes with her own calico sleeping bag! It's handmade and comes in a variety of skin tones and floral fabrics. Can't you see your child wanting to start a collection?
Made of solid oak and finished with linseed oil, this child-safe Montessori wooden kitchen knife set lets your little chef get in on the action. It cuts fruit, vegetables, cheese, bread, but never the skin!
Three, two, one… liftoff!! These Outer Space Painting Craft Kits come with everything your child will need to make a masterpiece!
If you're thinking this kit is too pretty to be in the kid's section, I'm as impressed as you are! The trinket dish craft kit is the appropriate skill level for ages 6-10 under supervision (teens and 'tweens unsupervised), but the result is beautifully grown up! She'll love rolling out the air-dry clay, stamping it, and makng it her own!
Toddlers will learn fine motor skills and visual perception skills while having fun "planting" and "harvesting" hand-painted carrots in this Wooden Carrot Harvest Toy. Adorable!
Although this baby pocket star ornament would be an adorable gift for children, I really think it would be an outstanding "Baby's First Christmas" ornament! Parents would appreciate the unique, handmade aspect of this as a commemorative gift, and their baby would grow up to have a skillfully-made heirloom.
The Personalized Wooden Archery Set from Busy Puzzle is great outdoor fun for boys and girls! Check out the shop's wooden target set to round out the gift!

Gifts for the Adventurer
Does someone on your list love to rough it? An artisanal bushcraft oilskin tarp is something they will get excited about, and probably don't have! This heritage-quality handmade tarp from Bushcraft Spain is made from waxed canvas for a natural waterproof shelter in the woods.
Lightweight and packable, a linen throw blanket is a travel must-have!
A leather camp stool is a great gift for anyone who spends time outdoors, not just campers. This durable tripod-style version is easy to set up, portable, and made with genuine cowhide.
Have a wanderlust-filled traveler on your list this year? Help her preserve every precious memory, story, and insight with this gorgeous guided travel journal from Jen Simpson Design. I've never seen more mindfully thought-out prompts in a travel journal. It's sure to be treasured keepsake! (Jen was so kind and offered a coupon code for 10% off your purchase! Simply type in LORA10 at checkout.)
Firewood is a camping essential. Make it a bit easier to manage with this leather and waxed canvas log carrier from Helko Axe Shop. The camper on your list will be endlessly grateful!
This thick, undyed Linen Sleeping Bag is actually filled with hemp fiber for natural insulation! Keep them cozy, naturally. (The lovely people at Hemp Organic Life have a coupon code for you! Type in HEMP10 at checkout for 10% off your purchase.)
This waxed canvas lunch sack is a reusable way to keep food safe and dry while out on an adventure!
The perfect spot to hold tools, bushcraft gear, utensils, or even woodworking knives! This handmade leather tool roll is ruggedly made and ready to work!
This French Stripe Linen Beach bag would hold all the essentials for a day at the shore, packing up a picnic, or day-tripping to explore a new small town. They'll be ready for anything!
Classic, rugged, and 100% waterproof, this Waxed Canvas Roll Top Backpack elevates utility to heritage-level quality. It's offered in a range of soft earthtones, so you're sure to find the perfect pick!
Warm and rollable, this Swiss Army Mountaineer Blanket is made of 100% Australian Wool for deep warmth and renowned durability. A classic for a reason!
This Waxed Canvas Duffel Bag holds it all! Something extra-special? The cotton canvas the duffel is crafted from is made in a British factory that has been manufacturing this fabric for over 100 years! Perfect for everything from road trips to camping, this is the bag your adventurer needs.
Wearable Gifts
If they're inspired by walks in the woods, being in the mountains, or appreciate the tree as a symbol of strength, then they'll love this hand-stamped Aluminum Trees Ring from Live Life Inspired. It's such a beautiful texture, and a more refined interpretation of "woodsy".
The first thing you need to know about this Front Pocket Wallet is that it's made of moose leather. Yes, actual moose. Obviously, this is a durable, buy-it-once kind of gift! Second thing you need to know, the front pocket design means no back pain from sitting on a bulky traditional wallet, and it's safer from pick-pocketing! Bet you're thinking of a certain rugged person on your list who'd love that moose/no pain/no pick-pockets combo!
It's a cozy, wintery scarf, yes. But it's not knitted, it's made of organic linen! This would make an especially great gift for people who love to dress cozy but run a little hot… or for those of us who live here in the South!
Perfectly sized. Heritage quality craftsmanship. And would you look at that gorgeous leather? This is the only leather tote your lucky giftee will ever need!
The enduring style of walnut and ebony woods make this a pair of forever-sunglasses! Effortlessly cool, trend-proof, and well-made, and to take it up one more notch- these sunglasses can even be engraved!
These beautiful Mushroom Hoop Earrings are unexpectedly elegant! The pair shown is made of hammered bronze, but they also come in silver.
I'd compliment the Zebrano Wood Watch's timeless style, but I'd rather you not groan as you read this gift guide. : ) Instead, can we talk about how stunningly handsome it is? The wood grain is a show-stopper, the gold accents are understated and elegant. What an exceptional gift this would make!
Extra thick and hand-knitted, organic wool socks are a must-have in winter! Tuck a few pairs in a stocking and keep it cozy.
Forest and Linen's heavyweight linen tote is handmade and durable. It also comes in a lovely array of muted colors!
Incredibly sleek, yet richly warm, the Dahlia Watch from Botanica Wooden Watches is a high-style gift for the more exacting man in your life. He'll be floored.
So soft! So cozy! The Embroidered Sheepskin slippers from Folkee are a handmade dream!
Organic stonewashed linen charms in this jumpsuit from Kingdom of Comfort. When has getting comfortable looked so stylish?

Gifts for Pets and Those Who Love Them
An adorable tug toy for the cute canine in your life! This fishy squeaker from Sweet Beest is made of denim and cotton rope, so it's easy on your hands and your pet's pearly whites!
These adorable wooden stacking cats would make the cat-lover on your list purr with happiness!
Sometimes it's hard to find quality, handmade toys for large-breed dogs, so I'm very excited to have found this! "The Biggie" is a natural leather and rope tug toy made for your larger lovable pups! Thank you, Sweet Beest!
These adorable waxed-canvas doggie treat bags clip on to a belt loop or key ring for on-the-go training and rewards. Because we all know he's been a good boy!
Made of hemp canvas and organic cotton, your pup will love the Natural Orca Toy from Purrfect Play!
The doggie duvets from Little Yellow Nest are not only adorable, they're also practical! Easy to remove and wash, these duvets keep the home and pets clean and fresh!
Talk about analog! Your cat will look so cute curled up in this arcade game cat house!
I bet the pet lover on your list doesn't have one of these! Upload a photo of their dapper dog or cutie of a cat to Happy My DIY's shop and receive a custom pet portrait stamp shortly after. This is so fun!
These cute little Shibori Stars from Sweet Beest would make the perfect stocking stuffer! I love that the toys are made of denim, too. So fun!
Your feline will be the coolest cat around with this mid-century pastel food and automatic watering bowl set!
What an incredible gift a custom watercolor pet portrait would make! Hand-painted original art beautifully renders not only their precious pup's face, but also its unique personality. This would truly become an heirloom!
A felted wool cat cave is a glorious hidey-hole for the cat who needs an escape! This is the Tipi version.
And this is the felted wool cat head cocoon!
Hold their leashes and waste bags in style with this Personalized Dog Bone Tray! Made of solid wood and custom engraved with their pet's names, this makes a thoughtful gift for any dog owner.
I guarantee the cat lover on your list doesn't have a wooden whack-a-mole game for their furry feline! It's entertaining fun for the humans, as well. : )

Fun & Games
A beautiful (engraved!) set of wooden playing cards seriously takes rummy or poker to the next level! Made of birch plywood, these cards will be around forever, wearing beautifully year after year.
With its vintage illustrations and old-school academia vibes, this Minerology Puzzle is 1,000 pieces of cool!
Not only is a Solar Printing Kit a fun craft to do as an adult or with kids, it also yields some beautiful art to hang on the wall. In addition to the foliage kit above, Carla also offers wildflower kits, and personalized message kits for birthdays and special occasions!
Wouldn't this William Morris "Strawberry Thief" puzzle be both fun to put together and gorgeous to display? It's a stunner, friends! Find it here in H. C. Woodcut Painting's shop.
Remember the fun we had making mix tapes? Well this is one better. Choose a custom playlist of songs and a meaningful cover image and Brandswaggin will turn it into your very own 12″ Vinyl Record!
As someone who collected stickers as a kid (and filled maybe too many sticker books with my hoard) I absolutely love how everyone is decorating their hydroflasks, notebooks, and car windows with stickers that show their personality. Tuck this little watercolor fox into a sticker fan's stocking!
No judgements here, but you know that friend that you're always borrowing books from… and never remembering to return them to? This is a gift you know she'll love. A personalized book embosser adds elegance and old-world charm, while politely reminding her friends to return that book already!
Make your own adorable felted gnome with this needle felting kit from Bear Creek Felting! Great for beginners, this kit come with everything needed to complete one (or all three, depending on the kit you choose) of the little guys above, no prior felting or sewing experience required!
Bear Creek Felting also offers quite a few animals felting kits, including this cute little sheep, so check out her shop for all your options! (All still beginner friendly!)
Spend a little time with this 1,000 piece Mushroom Illustration Puzzle and learn a thing or two while you're having fun!!
A little more solar printing is always a good idea. In this kit your giftee will make a tote with a wonderfully inspiring wildflower quote solar printed on the front. So lovely!
Celebrate everyone's favorite pollinator with this vintage-style Illustrated Honeybee Puzzle! It also features a few of the honeybee's favorite flowers, so take note, and add a couple to the garden come spring.
---
And there it is, all wrapped up!
Thank you for spending time reading through all the gift ideas! I hope you not only found some incredible items for your loved ones, I also hope that you truly enjoyed your time here. That you got to savor every moment reading this Ultimate Slow-Living Holiday Gift Guide! This was a chunky list, but if you want still more ideas, you can find last year's guide here.
Enjoy your Christmas season, friends! Savor every second! ~Lora
Holiday Gift Guide 2022, Holiday Gift Guide 2022, Holiday Gift Guide 2022, Holiday Gift Guide 2022, Holiday Gift Guide 2022, Holiday Gift Guide 2022, Holiday Gift Guide 2022, Holiday Gift Guide 2022, Holiday Gift Guide 2022, Holiday Gift Guide 2022, Holiday Gift Guide 2022, Holiday Gift Guide 2022,